Search and Buy Blue Air Flights
Let's fly!

Select your payment method to view total prices including any payment fees:
Buy
Blue Air

Flights

Book Flights Direct with Blue Air and Alternative Airlines

Make a Blue Air reservation and find some amazing deals with discounted Blue Air tickets at Alternative Airlines
---
Blue Air founded in 2004 is a smart flying carrier based in Bucharest, Romania.
Blue Air operates an extensive network of short and medium-haul flights to and from Romania and flies to 30 destinations including: Alghero, Barcelona, Birmingham, Brussels, Bucharest, Cluj-Napoca, Dublin, Hamburg, Koln, Lisbon, Lyon, Menorca, Naples, Paris (Beauvais), Stockholm, Timisoara, Athens, Bari, Bologna, Brussels, Castellon, Constanta, Florence, Iasi, Lamezia Terme, Liverpool, Madrid, Nice, Rome, Stuttgart, Turin, Bacua, Berlin, Bruxelles, Catania, Glasgow, Ibiza, Larnaca, Malaga, London, Milan, Malaga, Palma de Mallorca, Sibiu, Thessaloniki and Valencia.
Competitive prices and exclusive routes make Blue Air a passengers first choice carrier when travelling to Romania.
Blue Air is committed to offering a high level of service and quality to the customer for a safe, reliable and comfortable transportation. Operating to most main airports within Europe, Blue Air assign seats at check-in through their specialized Blue Air staff. Free check-in, free luggage and a dedicated Blue Air UK office combined, make travelling with Blue Air simple, convenient and cost saving.
Blue Air offers you six warm menus to enjoy. Menus can be booked up to 14 hours before the flight before doing online check-in. Menus are available only from flights departing from/to Bucharest and Sibiu, and only for regular flights operated by Blue Air.
Blue Air passengers can enjoy special treatment in the Bucharest International Airport Business Lounge. The services provides added comfort and those who have purchased "Business Lounge" services will receive a personalised invitation with access to one of the two lounges.
Blue Air fleet consists of Boeing 737, 737-300 series, 737-400, 737-700 and 737-800.
---
News
April 2017
Announced that Blue Air had launched it second batch of routes from its Liverpool base this week, having opened its first UK station last week. On 31 March the airline commenced four weekly flights to both Hamburg and Milan Bergamo. However, it should be noted that for the start of W17/18 Ryanair is planning to begin flights from Liverpool to Milan Malpensa.
Both routes will be flown on Blue Air's 737-800s. Currently Blue Air has a further two routes to be launched from Liverpool this summer, with flights to Alicante scheduled to begin on 29 April, while services to Larnaca are expected to premier on 17 June.
In January 2016, Blue became a full member of IATA and followed the recent IOSA certification, which is a complex audit that assesses more than 900 standards and best practices for flight safety. In October 2016, Blue Air announced that it will establish a base in Liverpool in 2017, with new routes from the UK city to a range of European destinations outside Romania. This is a sign that Blue Air is taking the fight to airlines such as Ryanair and easyJet as it embraces the pan-European LCC model. Blue Air, which commenced operations in 2004, is now larger than TAROM by number of annual passengers carried.
In November 2016, Romanian low-cost airline Blue Air has opened its sixth operational base on the "Avram Iancu" International Airport in Cluj-Napoca, to which it allocated a Boeing 737-800 aircraft with a capacity of 189 seats. Starting this December, Blue Air will connect Cluj-Napoca to Birmingham, the second-biggest city in England, and from the next year on, it will have direct flights from Cluj-Napoca to London, Larnaca, Nice, Hamburg, and Constanta. Blue Air started operating flights from the Cluj-Napoca airport on June 3 this year. It started with flights to Bucharest, Liverpool and Dublin. On October 1, the company came with a triangular flight on the Cluj-Timisoara-Iasi route.
In July 2016, Blue Air announced continued expansion to its route network. During 2016,, Blue Air has added the following airports to its network: Alghero, Berlin Tegel, Birmingham, Castellon, Cluj-Napoca, Glasgow, Hamburg, Iasi, Lamezia, Lisbon, Lyon, Menorca, Palma de Mallorca and Stockholm Arlanda, with anna.aero having been on the airline's first flight to Castellon. The airline has gone through a major expansion during the past year, with it having increased its weekly seat capacity by 43%. In September 2016, Blue Air announced it had launched direct flights between Birmingham and Larnaca. Flights will be operated from 26 March 2017, each Tuesday, Thursday and Sunday throughout the summer schedule. In June 2016, Blue Air direct flights between Birmingham and Cluj-Napoca – a city in the heart of Transylvania, one of the most spectacular regions in Romania. Flights will be operated from 16 December, each Monday, Wednesday and Friday throughout the winter schedule.
Route Map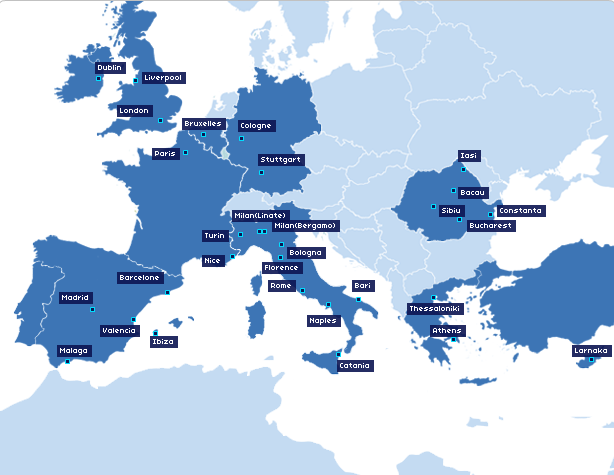 Popular Routes
Liverpool

Bucharest
London

Bacau
Paris

Bacau
London

Iasi
Stuttgart

Sibiu
London

Bucharest

---
The Fleet
---
Bucharest Henri Coanda International Airport
Blue Air's Hub Airport
Bucharest Henri Coanda International Airport is Blue Air's hub airport and is located in Romania. Blue Air flies to 22 destinations from this airport, including London, Liverpool, Paris, Brussels, Dublin, Rome, Milan and Nice.
Bucharest Henri Coanda International Airport opened a new terminal in 2012, which doubled the airport processing capacity. It has 2 runways and can process 6 million passengers per year with 104 check-in counters and 38 boarding gates. Blue Air also operates a second operating base at Bacau International Airport (BCM), which Blue Air flies to 10 destinations including Liverpool, London, Dublin, Brussels, Paris, Turin, Milan and Bologna.

---
Book Direct with Blue Air and Alternative Airlines
Make a Blue Air reservation and find some amazing deals with discounted Blue Air tickets at Alternative Airlines. Blue Air flies to destinations around Europe, offering a cost effective and safe service to all its passengers. Let Alternative Airlines help find you cheap Blue Air tickets and make international and domestic flight reservations on Blue Air today.
Browse the most popular Blue Air flight routes to cities all over Europe. Alternative Airlines can help you make reservations on Blue Air for international flights to lots of destinations within Europe. Use the following list of routes to help you plan your next flight. Book Blue Air flights on Alternative Airlines to save big! Alternative Airlines is an online travel agency which focuses on booking lesser known airlines and remote destinations.
Latest News:
Blue Air Launches Direct Flights From London To Cyprus
Blue Air Launches Direct Flights From London To Cyprus   Blue Air the Smart Flying carrier based in Bucharest, Romania, inaugrated its direct flights between London Luton and Larnaca, Cyrpus, today 25th April.
Blue Air is now an IATA member
Blue Air is now an IATA member The Romanian Smart Flying carrier has been operating for 11 years to over 65 destinations across Europe including the United Kingdom, France, Spain, Italy, Romania, Cyprus, Germany and Greece.
How to pay
You can pay for your flights with Blue Air in the currency and payment method of your choice when booking through Alternative Airlines.
We accept PayPal making flight purchases with Blue Air easy and more secure for customers. PayPal is one of the leading forms of online payment, with more than 169 million accounts worldwide.