BH Airlines is the regional airline operating to Serbia, Croatia, Germany, Switzerland and Turkey from its Sarajevo base.
---
BH Airlines Flights
Bosnia & Herzegovina is a virtually land locked country, hence air travel is very important, add to this the immense growth in tourism since the end of hostilities, and this little airline is ideally placed for a period of substantial growth.
BH Airlines or Air Bosna
A little confusing as to the branding position of what is essentially Bosnia and Herzegovina's national carrier. So let us clarify, B&H Airlines is the holding company and the aircraft have this on their fuselage. However it operates through the travel agency distribution channels as Air Bosna (note no 'i') and has this name on its offices in its main destinations, oh, and it uses both names on its web site.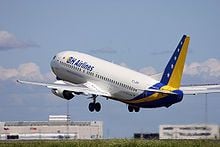 B H Airlines Fleet

Two ATR-72 Aircraft, one Boeing 737-400 and one Airbus A319.


B&H Airlines operates flights
to the following destinations (at September 2010): Austria Vienna - Vienna Airport Bosnia and Herzegovina Sarajevo - Sarajevo International Airport Hub Banja Luka – Banja Luka International Airport [begins 31 October] Denmark Copenhagen – Copenhagen Airport Germany Frankfurt – Frankfurt Airport Netherlands Amsterdam - Amsterdam Airport Schiphol [begins 2 December] Serbia Belgrade – Belgrade Nikola Tesla Airport Sweden Gothenburg – Gothenburg-Landvetter Airport Stockholm – Stockholm-Arlanda Airport Switzerland Zürich – Zürich Airport Turkey Istanbul – Atatürk International Airport

BH airlines (Air Bosna) and Montenegro Airlines announce new routes
From mid June 2009, Montenegro Airlines from Podgorica and BH Airlines from Sarajevo will add connections between Montenegro and FYRMacedonia.