Search and Buy Israir Airlines Flights with Alternative Airlines
Make an Israir Airlines Booking and Find Some Amazing Deals
---
About
Israir Airlines is an Israeli airline headquartered in Tel Aviv. The airline operates both domestic and international flights within Israel, Europe and Asia mainly from its bases at Ben Gurion International Airport, Sde Dov Airport and Eilat Airport. It is currently Israel's third-largest airline after El Al and Arkia Israel Airlines.
The airline was established in 1989 where it was named Kanfei HaEmek. It wasn't until 1996 that the airline changed its name to its current form; Israir Airlines. The airline originally only operated domestic flights, but has slowly expanded its route network to international services beginning in 1999 with an international charter flight. Although the 2000s saw restrictions on Israeli airlines, in 2008 the airline had these restrictions lifted, meaning they were able to fly to more destinations such as London, Amsterdam, Budapest, Rome and Miami.
---
Destinations
Domestic Destinations
| CITY | AIRPORT |
| --- | --- |
| Eilat | Ramon Airport (ETM) |
| Haifa | Haifa Airport (HFA) |
| Tel Aviv | Ben Gurion Airport (TLV) |
International Destinations
| COUNTRY | CITY | AIRPORT |
| --- | --- | --- |
| Albania | Tirana | Tirana International Airport Nënë Tereza (TIA) |
| Bulgaria | Varna | Varna Airport (VAR) |
| Croatia | Dubrovnik | Dubrovnik Airport (DBV) |
| Croatia | Rijeka | Rijeka Airport (RJK) |
| Cyprus | Paphos | Paphos International Airport (PFO) |
| France | Nice | Nice Côte d'Azur Airport (NCE) |
| France | Paris | Charles de Gaulle Airport (CDG) |
| Georgia | Tbilisi | Tbilisi International Airport (TBS) |
| Germany | Berlin | Berlin-Schönefeld Airport (SXF) |
| Germany | Düsseldorf | Düsseldorf Airport (DUS) |
| Germany | Munich | Munich Airport (MUC) |
| Germany | Stuttgart | Stuttgart Airport (STR) |
| Greece | Heraklion | Heraklion International Airport (HER) |
| Greece | Rhodes | Rhodes International Airport (RHO) |
| Italy | Brescia | Brescia Airport (VBS) |
| Italy | Rome | Leonardo da Vinci-Fiumicino Airport (FCO) |
| Italy | Verona | Verona Airport (VRN) |
| Netherlands | Amsterdam | Amsterdam Airport Schiphol (AMS) |
| Portugal | Lisbon | Lisbon Portela Airport (LIS) |
| Slovakia | Poprad | Poprad-Tatry Airport (TAT) |
| Spain | Barcelona | Barcelona–El Prat Airport (BCN) |
---
Fleet
The following table summarises the current fleet of Israir, which is correct as of August 2019.
| AIRCRAFT | IN SERVICE | ORDERS |
| --- | --- | --- |
| Airbus A320-200 | 4 | 1 |
| ATR 72-500 | 3 | / |
---
Class Information
Economy Class
Economy class is currently the only class of fare that is provided on Israir flights. Food and drink refreshments are available at a small additional cost, and there is currently no in-flight entertainment system. The service by the cabin crew, however, is of a high standard. Passengers are comfortable on their cabin seats with ample personal space.
Premium Economy
There is currently no premium economy option for this airline. Passengers can choose to upgrade their economy class ticket for one with more legroom.
Business Class
There is no business class onboard this airline.
First Class
First-class is currently not available on this airline yet.
---
Baggage
Carry-on Baggage
For flights to and from Eilat, passengers are permitted one item of hand luggage onto the plane, which must weigh no more than 5kg. The item must not exceed the dimensions of 50 x 40 x 20cm.
For international flights, passengers are permitted 5kg on ATR services, or 8kg on Airbus services.
Checked Baggage
Israir Airlines is operating like a low-cost airline, which means they have unbundled their fares meaning you only pay for what you need. Therefore, Israir does not currently include checked baggage as part of their fare on most flights (be sure to check your flight details to check your allowance). Instead, passengers can opt to purchase baggage before flying for a small fee. See our guide to adding baggage to a booking here.
---
Check-In Information
Online Check-in
Online check-in is currently not available for Israir Airlines flights.
Airport Check-in
Passengers need to check-in at the airport for their flights. For domestic flights, passengers should check-in no later than 90 minutes before the flight is due to depart. For international flights, arrive at the airport around 3 hours before as the check-in desk closes 1 hour before the flight is due to depart.
---
Alternative Airlines to Israir Airlines
Please click on the logos below to find out more about airlines that fly similar routes to Israir Airlines:
---
In-Flight Entertainment
Israir Airlines do not currently provide its passengers with any form of in-flight entertainment. However, passengers are welcome to bring their own books, magazines or personal devices with them in their cabin allowance.
---
Food
On some flights and routes, passengers will get a free light snack and water free of charge. However, as a move to unbundle their fares to provide cheaper flights, Israir is looking to adopt a paid food service onboard their flights. This may involve items such as drinks, sandwiches, salads all available onboard for a fee.
All food onboard is Kosher.
---
WiFi
There is currently no Israir Airlines WiFi onboard flights.
---
Frequent Flyer
Currently, Israir is not part of any frequent flyer programmes.
---
Airline Alliance
Israir Airlines is not currently part of any airline alliances.
---
Hub Airport
Ben Gurion International Airport
Ben Gurion International Airport is the main international airport of Israel and the busiest airport in the country. It is located on the northern outskirts of the city of Lod, which is about 45 km (28 mi) northwest of Jerusalem and 20 km (12 mi) to the southeast of Tel Aviv. Israir Airlines' main hub airport is located at Ben Gurion International Airport with additional operating bases found in Ramon Airport and Sde Dov Airport.
Israir Airlines is not the only airline based at this airport; Arkia, El Al and Sun D'Or all have hubs at TLV. In addition, other airlines that fly to Ben Gurion include Adria Airways, airBaltic, Air France, Air Canada, Air Europa, and Air Serbia.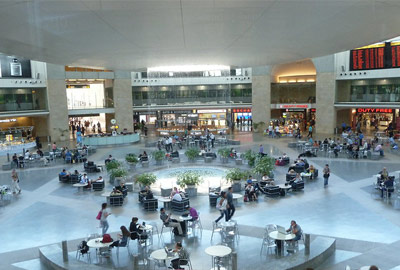 ---
Buy Israir Airlines Flights in English
Use Alternative Airlines to book your Israir Airlines flights in English. Simply use the search bar at the top of the page to enter your search query, and search for flights in English. All the flight details and booking Ts&Cs are in English, meaning you understand every part of the booking process. In addition, we have a dedicated english-speaking customer service team available to answer and queries you may have.
---
Israir Airlines Special Services
Flying with a bike
Israir state that passengers are welcome to bring their bike with them onto the plane, providing they follow set rules of packing and transporting the item. They will also be charged a fee of $70. For more information about flying with a bike, check out our bike on a plane; tips and guidance.
Flying with a pet
Israir will carry animals as hold luggage, providing the transportation of animals adhere to the rules laid out such as vaccinations and travel certificates. For more information, read what items you may need to take your pet on a plane.
Flying whilst pregnant
Israir airlines are happy for pregnant women to go on their flights up to week 27. From weeks 28 to 35, pregnant passengers will need a fit to travel notice from their doctor. Women over 36 weeks pregnant are deemed too risky to fly. See our advice and tips for flying whilst pregnant.
---