Search and Buy FlexFlight Flights with Alternative Airlines
Make a FlexFlight Booking and Find Some Amazing Deals
---
About FlexFlight
FlexFlight is a Danish charter flights business and airline, based in Copenhagen-Roskilde Airport. They offer the ability to provide on-demand charter services to destinations worldwide every day and hour of the year.
FlexFlight operates airline tickets, aircraft charter and aircraft management. The airline partner is fully in charge of booking, booking changes, online check-in, refunds, baggage allowance and other practical issues related to your flight. It is also the only the Marketing and Validating carrier. Founded in 2006, FlexFlight's IATA code is W2, which it allows other airlines to use. Airlines associated with FlexFlight's IATA code W2 include:
| | Associated Airlines | |
| --- | --- | --- |
| Air Alsie | Air Djibouti | Airlink |
| Airwing | AIS Airlines | AlbaStar |
| DAT Danish Air Transport | Direktflyg | Evelop |
| FANair | FLY ERBIL | FlyAllways |
| GREAT DANE AIRLINES | JC Cambodia International Airlines | Jetclass |
| JIAJIA Group | JonAir | Jonika |
| Karinou Airlines | Lanmei Airlines | LEAP |
| Monac Air | Novaturas | Razone |
| Rhein-Neckar Air | Ruili | Silver Air |
| Spot Group International | Voyage Air | YANAIR |
---
FlexFlight Fleet
For its charter business, the FlexFlight fleet includes: Challenger 604, Citation CJ2+, Citation Bravo, Citation Sovereign, Gulfstream 2000 and Learjet 45.
The Challenger 604 intercontinental business jet sets the standard for comfort, low cabin noise levels and unprecedented cabin space. It features an arrangement of eight club seats, all upholstered in custom dyed soft leather. The cabin also includes three comfortable divan seats. The CJ2+ is the fifth generation of the popular Citation Jet series, a class of private jets designed to be both economical and high-performing. The design goals of the Citation Jet series can be summed up in three words: simplicity, economy and performance. Seats are available for six passengers, which can track into the aisle and away from the sidewalls for greater comfort. Folding side tables are available in the club seat are all seats and can be stored in the side walls. This jet is the ideal aircraft for European flights, combining cost-efficiency with excellent access to Europe's smaller airports. The aircraft cabin has comfortable, swivel chairs, seats up to seven passengers, has a hot and cold beverage area as well as a well equipped mini-bar.
The airlines associated with FlexFlight operate their own separate fleets, which are different models from those used for FlexFlight's own charter business.
---
FlexFlight Destinations
As FlexFlight is a charter business, there are no set destinations. However, FlexFlight is based in Rosklide at Copenhagen-Rosklide Airport. Some destinations that FlexFlight's associate airlines serve include:
International Destinations
| Country | City | Airport |
| --- | --- | --- |
| Azerbaijan | Baku | Baku Heydar Aliyev International Airport (GYD) |
| Cuba | Havana | José Martí International Airport (HAV) |
| Denmark | Bornholm | Bornholm Airport (RNN) |
| Denmark | Copenhagen | Copenhagen Kastrup Apt (CPH) |
| Denmark | Esbjerg | Esbjerg Airport (EBJ) |
| Denmark | Karup | Midtjyllands Airport (KRP) |
| Denmark | Sønderborg | Sønderborg Lufthav (SGD) |
| Djibouti | Djibouti City | Djibouti-Ambouli International Airport (JIB) |
| Ethiopia | Addis Ababa | Addis Ababa Bole International Airport (ADD) |
| Finland | Helsinki | Helsinki Airport (HEL) |
| Finland | Pori | Pori Airport (POR) |
| Finland | Savonlinna | Savonlinna Airport (SVL) |
| Finland | Turku | Turku Airport (TKU) |
| France | Nice | Nice Côte d'Azur Airport (NCE) |
| Germany | Berlin | Berlin Tegel Apt (TXL) |
| Germany | Hamburg | Hamburg Airport (HAM) |
| Germany | Mannheim | Mannheim City Airport (MHG) |
| Germany | Greven | Münster Osnabrück International Airport (FMO) |
| Germany | Stuttgart | Stuttgart Airport (STR) |
| Iraq | Erbil | Erbil International Airport (EBL) |
| Italy | Catania | Catania Fontanarossa Airport (CTA) |
| Italy | Lampedusa | Lampedusa Airport (LMP) |
| Italy | Palermo | Palermo Airport (PMO) |
| Italy | Pantelleria | Pantelleria Airport (PNL) |
| Italy | Trapani | Vincenzo Florio Airport Trapani–Birgi (TPS) |
| Mexico | Cancun | Cancun International Airport (CUN) |
| Monaco | Monaco | Monaco Heliport (MCM) |
| Netherlands | Eelde | Groningen Airport Eelde (GRQ) |
| Netherlands | Eelde | Groningen Airport Eelde (GRQ) |
| Norway | Bergen | Bergen Airport (BGO) |
| Norway | Tuven | Notodden Airport (NTB) |
| Norway | Brekstad | Ørland Airport (OLA) |
| Norway | Oslo | Oslo Airport (OSL) |
| Norway | Sola | Stavanger Airport (SVG) |
| Norway | Stord | Stord (SRP) |
| Spain | Madrid | Madrid-Barajas Adolfo Suárez Airport (MAD) |
| Suriname | Zanderij | Johan Adolf Pengel International Airport (PBM) |
| Sweden | Östersund | Swedavia AB Åre-Östersund Airport (OSD) |
| Sweden | Hagfors | Hagfors Airport (HFS) |
| Sweden | Hemavan | Hemavan Tärnaby Airport AB (HMV) |
| Sweden | Jönköping | Jönköping Airport (JKG) |
| Sweden | Karlstad | Karlstad Airport (KSD) |
| Sweden | Kramfors | Höga Kusten Airport (KRF) |
| Sweden | Luleå | Luleå Airport (LLA) |
| Sweden | Lycksele | Lycksele Airport (LYC) |
| Sweden | Pajala | Pajala Airport (PJA) |
| Sweden | Stockholm | Stockholm Arlanda Apt (ARN) |
| Sweden | Sveg | Härjedalen Sveg Airport (EVG) |
| Sweden | Torsby | Torsby Airport (TYF) |
| Sweden | Umeå | Umeå Airport (UME) |
| Sweden | Sagadal | Vilhelmina Airport (VHM) |
| Turkey | Istanbul | Istanbul Airport (IST) |
| United Kingdom | Aberdeen | Aberdeen International Airport (ABZ) |
| Yemen | Aden | Aden Adde International Airport (ADE) |
---
FlexFlight Route Map
Due to the nature of FlexFlight being a chartered airline and a distributer, there is no set Route Map. However, the individual airlines associated with FlexFlight may have their own route map.
---
FlexFlight Baggage
Carry-on Baggage
The carry-on baggage for FlexFlight will depend on the kind of journey you wish to make and which operating airline you wish to travel on. For example, there are no clear restrictions if you fly on a FlexFlight chartered aircraft. However, if you are travelling with one of their associated airlines then they will have their own individual restrictions on carry-on baggage that you will need to confirm before flying.
Checked Baggage
The same variations for carry-on baggage, as described above, also apply to checked baggage. Check with the individual airline operator you wish to travel with for more specific information.
---
FlexFlight Check-In Information
Online Check-in
Around half (55%) of the airlines associated with FlexFlight offer online check-in. Online check-in most often opens 24 hours in advance of the flight time, but to ensure that your journey goes smoothly it is best to check with the airline before your journey. Check our guide to online check-in out to see if your chosen itinerary is available for online check-in.
Airport Check-in
The time of airport check in will vary depending on the individual airline. We advise that you arrive at the airport in good time before your flight. Individual airlines will have their own airport check-in open times so check the correct tiem in advance and make sure you leave plenty of time to travel to the airport.
---
FlexFlight Hub Airport
Copenhagen-Roskilde Airport
FlexFlight airlines' hub airport is Copenhagen-Roskilde Airport, also known as simply Roskilde Airport or Copenhagen Airport, Roskilde. This airport first opened in 1973, and supports the main airport in Copenhagen; Kastrup. Most flights from this airport are smaller airlines operating taxi-flights or smaller planes offering flights to smaller domestic islands. Roskilde airport is served by its two runways.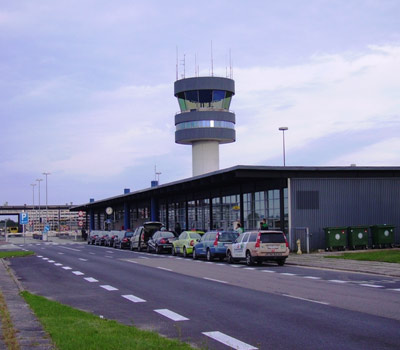 Photo Accreditiation: Casper
---
FlexFlight Class Information
FlexFlight charters flights with their own fleet, designed for the passenger's comfort and to appeal to business travellers. Aircraft features vary depending on the aircraft you wish to charter, but they may offer a self-service bar, cold Business Class meal, comfortable padded seats, an entertainment system and more.
---
Alternative Airlines to FlexFlight
Please click on the logos below to find out more about airlines that fly similar routes to FlexFlight:
---
FlexFlight In Flight Entertainment
Some FlexFlight chartered flights do offer an entertainment system. However, individual operator's entertainment provision will vary.
---
FlexFlight Food
On FlexFlight's chartered planes you can expect to be served a cold Business Class meal, alongside a self serve bar. However, the food available on individual airlines will vary. You may expect a snack or meal, alongside drinks and hot beverages, but you will need to confirm with the airline beforehand.
---
FlexFlight WiFi
FlexFlight does not offer WiFi. Associated airlines may offer WiFi, but you will need to confirm with the individual carriers.
---
FlexFlight Frequent Flyer
As a chartered airline, there is no current frequent flyer scheme for FlexFlight. Very few of the airlines associated with FlexFlight currently offer a frequent flyer scheme.
---
FlexFlight Airline Alliance
FlexFlight is not a member of an airline alliance.
---
FlexFlight Special Services
As FlexFlight are a chartered airline, you can arrange for a flight to take you where you need to go. For other special services, you would need to confirm with FlexFlight. Airlines associated with FlexFlight are separate endeavours and therefore special services will depend on the airline you wish to travel with.
---