Search & Buy FlyAllways Flights
Airlines will always try to sit children with their parents (subject to check-in)
Some airlines will allow travel for unaccompanied minors. Please email us to check.
The fare is based on the child's age on the date of travel.
More detailed information can be found here Traveling with children
Most airlines will let infants travel with their parent(s) for free. However some airlines will charge up to 10% of the adult ticket price. Click on 'Price Breakdown' to find out more.
If you are pregnant, but due before the flight departure date, please contact us once your baby is born and has a name. We can then add him/her to your ticket.
Infants will not be given a seat. The airlines expect parents to travel with them on their lap.
Airlines regard infants as being under 24 months old.
The fare is based on the child's age on the date of travel.
More detailed information can be found here Traveling with children
Buy
FlyAllways

Flights
Fly All Ways Reservations with Alternative Airlines
Make an Fly All Ways Booking and Find Some Amazing Deals
---
About Fly All Ways
Fly Allways is an airline based in Johan Adolf Pengal International Airport in Paramaribo, Suriname. Fly Allways flies to the following destinations: Antigua and Barbuda, Barbados, Aruba, Bonaire, Curacao, Martinique, Dominican Republic, Saint Lucia, Saint Maarten, Saint Vincent and Grenadines, Trinidad and Tobago, Brazil, Colombia, Guyana, French Guiana, Suriname and Venezuela.
Fly Allways plans to provide further services to the Caribbean and South America and currently is flying to 26 destinations within the Central America and Caribbean, and South America regions. The airline began operating in January 2010 and its first commercial flight operated on 22nd January 2016 to Sao Luis, the capital of the Maranhao state in Brazil. February 2016 saw the first charter flights to Barbados. From August 2016, Fly Allways began a twice-weekly flight from Paramaribo International to Bridgetown using Fokker 70 equipment. John Adolf Pengel International Airport (JAP), also known as Paramaribo-Zanderi International Airport is located near the town of Zanderij.
---
Fly All Ways Fleet
The Fly All Ways fleet includes three Fokker 70 and one Boeing 737-800 aircraft.
---
Fly All Ways Destinations
Fly All Ways flies to a number of destinations across South American and the Caribbean including Bridgetown, Georgetown, Havana, Paramaibo, Philipsburg, Santiago de Cuba, Santo Domingo and Willemstad.
---
Fly All Ways Baggage
Carry-on Baggage
Fly Allways passengers can take one suitcase and a personal item with you, free of charge, under your care and responsibility. Please keep in mind that if there isn't enough space in the cabin or if your baggage is larger than the allowed size, we will check your bag for you. The maximum weight for your carry-on baggage is of 8kg. The maximum dimensions are 55 cm (21 in) x 35 cm (13 in) x 25 cm (9 in) (width, height and depth), including the pockets, wheels and handle. You must pay for additional baggage if your suitcase exceeds the dimensions and weight restrictions.
Checked Baggage
Checked baggage should not exceed 158cm linear dimensions and should weigh no more than 23kg or 25kg depending on the ticket fare purchased. Baggage in excess of 30kg or 200 linear cm shall not be transported as checked baggage.
---
Fly All Ways Check-in
Online Check-in
Fly Allways is yet to offer online check-in for its flights.
---
Fly All Ways Hub Airport
Johan Adolf Pengel International Airport
Fly All Ways is based at Johan Adolf Pengel International Airport which is also known as Paramaribo-Zanderij International Airport. The airport is located in the town of Zanderij and is the hub for Surinam Airways. Other airlines that operate flights out of the airport include KLM, TUI Fly Netherlands and Caribbean Airlines.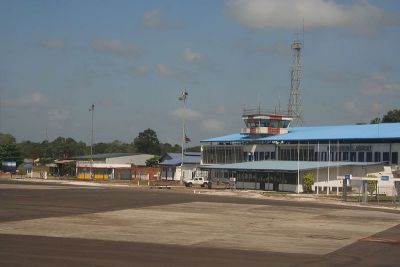 Photo credit: Ian Mackenzie
---
About Fly All News
6th March 2018
Fly AllWays Cancels Flights Between Curaçao And Santo Domingo
PARAMARIBO, WILLEMSTAD - The Surinamese Fly AllWays has canceled the planned flights to Santo Domingo for the time being. The airline does not fulfill the conditions for obtaining permission from the Curacao government to carry out the flights.
"Fly AllWays was convinced that it fulfilled all requirements, but there has been a difference of opinion about it. Fly AllWays also did not have permission to operate these flights as charter flights," the airline said in a press release.
FlyAllways planned to fly direct from Brazil to Santo Domingo Las Americas airport, where no commercial airlines are currently based. Although, flyCana looks to base itself and launch operations from there at some point in 2019.
31st January 2018
Fly All Ways Arrives In Brazil With Direct Flights To The Caribbean
SAO PAOLO - The airline Fly All Ways arrived in Brazil to offer regular and charter flights to the Caribbean. The routes should be operated with a Boeing 737-800 aircraft, with the promise of competitive rates. Founded in Suriname, the company offers fixed routes from the capital Paramaribo to Curaçao, Santiago de Cuba and Santo Domingo. In the Brazilian territory, the aviation authority Anac has already authorized non-scheduled flights and charters, both for passenger and cargo transportation.
The company did not announce the dates and times of the first flights because the agreement is still in the negotiation phase with the operators and airports, but the most heavily listed air base to date is Viracopos, in Campinas (SP), which can also receive a representative office. The objective is to connect Brazil to Curaçao, and from there distribute to other regions of the Caribbean.
June 2017
Fly Allways announced plans to resume scheduled passenger flights later this month following a 6-month hiatus from the market.
In a statement, the Surinamese carrier said 2 x Weekly Paramaribo International Curacao return service would commence from 25th June onwards. Operations on board Fokker 70 equipment.