Please be aware: we don't accept payments through Stripe or Klarna on flights departing from and/or arriving at destinations within Cuba, Iran, North Korea, Syria or the Crimea Region.
Aerogaviota Reservations with Alternative Airlines
Make an Aerogaviota Booking and Find Some Amazing Deals
---
About Aerogaviota
Aerogaviota is a Cuban airline based in Havana, Cuba. The airline operates internal flights within Cuba as well as flights from Cuba to Jamaica. The airline was established by the Cuban Army in 1994 and is owned by the Cuban government.
Aerogaviota is currently in the process of renewing its fleet and expanding its services. The airline's objectives for 2019 are to increase its destinations in domestic and international flights.
---
Aerogaviota's Fleet
The airline's fleet contains three ATR 42-500 and one Mil-Mi-8P aircraft.
---
Aerogaviota's Destinations
The airline flies to many destinations in Cuba and Jamaica including Baracoa, Cayo Coco, Havana, Holguín, Santiago de Cuba, Kingston (Jamaica) and Montego Bay (Jamaica).
---
Aerogaviota Check-in Information
Online Check-In
Online check-in is not available for Aerogaviota flights.
Airport Check-in
Aerogaviota airport check-in desks open three hours before departure and close one hour prior for international flights. For domestic flights, airport check-in desks open two hours before departure and close one hour prior.
---
Aerogaviota's Baggage Allowance
Carry-on Baggage
The carry-on baggage allowance is one piece of carry-on baggage with maximum dimensions of 56cm x 45cm x 25cm.
Checked Baggage
The checked baggage allowance is one piece of checked baggage with a maximum weight of 23kg. With external dimensions of up to 158cm.
---
Book Aerogaviota Flights in English
Flying around Cuba? Book your flights in English with Alternative Airlines. Count on us to provide you with a safe and secure booking service in English. You can even book you flights with Paypal!
---
Hub Airport
Jose Marti International Airport
José Martí International Airport is an international airport located 15km southwest of Havana. It is a hub for Aerogaviota and Cubana de Aviación.
Many airlines operate international services to Jose Marti International airport, including: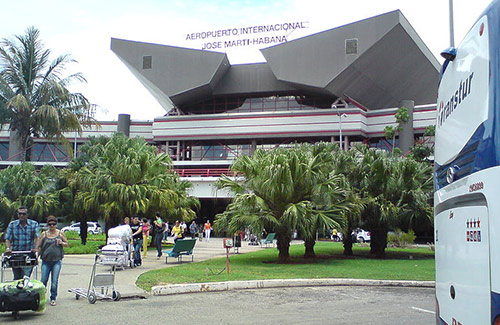 Photo credit: Rojinegro81