Republic Airways Reservations with Alternative Airlines
Make a Republic Airline Booking and Find Some Amazing Deals
---
About
Republic Airways, previously known as Republic Airline, is an American airline which operates regional flights. As a subsidiary of Republic Airways Holdings, it operates services for Delta Connection, United Express and along with six other airlines American Eagle. The other six airlines that also operate as American Eagle include PSA Airlines, Piedmont Airlines, Envoy Air, SkyWest Airlines, MESA Airlines and Compass Airways.
The airline is a contractor airline, which means that it doesn't operate flights using its own name or branding. Instead, the airline is contracted by other airlines to operate flights their behalf, using their name, branding and uniform.
The airline was founded in 1998 under the name Republic Airlines and went under the Republic Airlines name until 2017 when it changed its name to Republic Airways. Through it operates on behalf of other airlines, it has alliances with Oneworld (through American Airlines), SkyTeam (through Delta Air Lines) and Star Alliance (through United Airlines). In addition, it participates in the following frequent-flyer programs: AAdvantage (American Airlines), SkyMiles (Delta Air Lines) and MileagePlus (United Airlines).
Please note: Republic Airways doesn't operate its own flights and only flies on behalf of other airlines. This means that when you search for flights on Alternative Airlines, the flight will be displayed as the carrier that it's flying on behalf of (i.e United, Delta, American Airlines) rather than its own name.
---
Baggage
Baggage allowance depends on the policies of Republic Airline's partners. For specific information, click on the links below:
---
Economy Class
Economy Class is the only cabin class that Republic offer, regardless of which airline it is operating on behalf of.
Economy Class Facilities
Economy Class gives passengers everything they need during their flight. Although facilities might slightly differ depending on which airline Republic is operating on behalf of, passengers can usually find entertainment in the form of an inflight magazine and will be given the option to order food and drink from the inflight menu.
Economy Class Seats
Seats are set out in a 2 x 2 formation with sufficient personal space. The cabin is designed to give passengers plenty of space above the head when standing and a good amount of legroom when seated.
---
Premium Economy
Republic Airline only has a regular Economy Class and no Premium Economy.
---
Business Class
Republic doesn't have a Business Class cabin.
---
First Class
As Republic only operates regional flights using small aircraft, it doesn't have a First Class cabin.
---
Destinations
Through its partners, Republic flies to hundreds of destinations across the US, Canada, Mexico and to parts of Central America. Below for a list of some of the most popular destinations for Republic Airways, which are also the locations where Republic has a base:
Chicago, IL
Columbus, OH
Houston, TX
Indianapolis, IN
Kansas City, MO
Miami, FL
Newark, NJ
New York, NY
Philadelphia, PA
Pittsburgh, PA
Washington DC
---
Route Map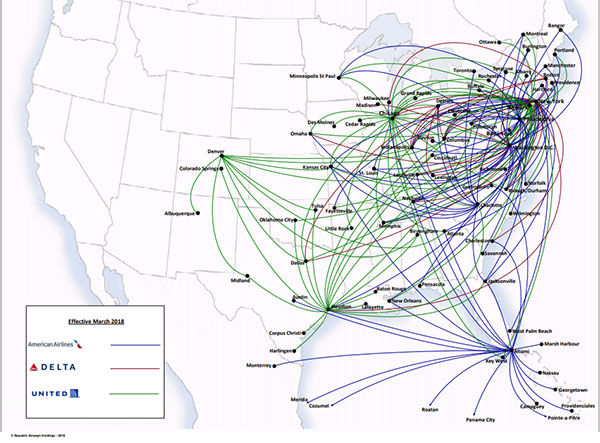 ---
Fleet
Although the Republic doesn't operate its own flights, it does have its own fleet. This fleet is made up of Embraer E170 and E175 jets. It has more than 200 aircraft in its fleet overall.
---
Hub Airport
Indianapolis International Airport
As Republic Airline does not have its own services, and instead operates services for other airlines, it shares the other airlines' hub airports. Indianapolis International Airport is a hub for American Eagle, Delta Connection and United Express, all airlines which Republic Airline operates services for.
Indianapolis International Airport was first opened in 1931 under the name Indianapolis Municipal Airport, and is located 11km outside of Indianapolis. The airport handled 8.7 million passengers in 2017 from over 160 thousand aircraft on its 3 runways.
Indianapolis Airport is the hub for FedEx Express and a focus city for Allegiant Air, but also operates services for Southwest Airlines, United Airlines, American Airlines and Delta Air Lines amongst others.
---
Alternative Airlines
Please click on the logos below to find out more about airlines that fly similar routes: