Search and Buy easyJet Europe Flights with Alternative Airlines
Make an easyJet Europe reservation and find some amazing deals with Alternative Airlines
---
About easyJet Europe
easyJet Europe was established on 18 July 2017 and started operations on 20 July 2017, with the first flight being an Airbus A320 (re-registered as OE-IVA, previously G-EZPA) flying from London Luton Airport to its new home base at Vienna Airport. easyJet Europe was made as a solution to mitigate the effects of Brexit, the UK referendum vote to leave the European Union. The parent company, easyJet, wanted to obtain an Air Operator's Certificate in another EU member state to protect itself against the potential consequences of the UK leaving the EU. The destinations remain the same as easyJet currently holds. To find out more about the affect of Brexit on your travel plans, please visit our page on flying after brexit.
About easyJet
easyJet is a British low-cost airline carrier based at London Gatwick Airport. Owing to its all-economy class fleet, it is the largest airline of the United Kingdom by number of passengers carried. The airline operates domestic and international scheduled services on over 700 routes in 32 countries.
---
News
25th June 2018
EasyJet Europe - Now Austria's largest airline
After registering more than 100 aircraft in Austria, EasyJet Europe has become Austria's largest airline in July 2017.
In preparation for Brexit in March 2019, easyJet is transferring130 of its UK-registered Airbus A319s/A320s to its easyJet Europe unit.
The Lufthansa subsidiary Austrian Airlines operates 83 aircraft.
easyJet Europe will safeguard the LCC's network should the UK and EU fail to agree on a new air transport accord before the Brexit deadline, by securing an EU air operator's certificate in Austria,
EasyJet has 28 bases spread across 33 European countries. On 8th June, easyJet launched daily Vienna-Milan Malpensa (Italy) and 6 x weekly Vienna-Basel (Switzerland) services. The carrier operates to 13 destinations from Vienna.
The UK LCC easyJet operates a fleet of nearly 300 aircraft across a network of over more than 980 routes, carrying more than 82 million passengers annually.
31st May 2018
EasyJet to launch Belfast - Isle of Man route
Eastern Airways will no longer service passengers between the capital of Northern Ireland, Belfast, and the Isle of Man. This may also affect the airlines flights from Isle of Man to Glasgow and Newcastle, and the Belfast City to Newcastle service, which all operate on the same plane, which makes several stops. This is due to EasyJet starting flights on this route next year and Eastern Airways not sure if they can cope with the competition. The Belfast route has become infamous for airlines, Eastern only began operating the route, which originates in Newcastle, in September of last year following the liquidation of CityWing.
---
Route Map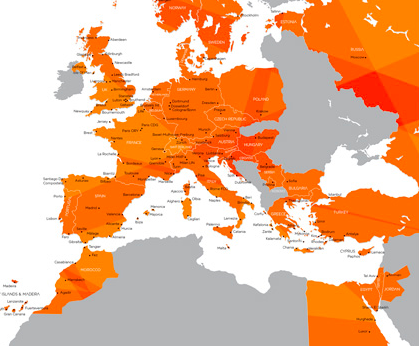 ---
Pay your way
Pay for flights in USD or 160 other currencies of your choice with Alternative Airlines.
Choose from over 25 payment methods, including PayPal, Apple Pay , Fly now Pay later and Alipay
Check out all of our payment methods here.
---
Alternative Airlines
---