How will Brexit affect
air travel?
Britain has left the European Union. Find out what has changed for UK citizens flying and travelling within the EU.
---
how has flying/travel changed due to brexit?
Passport changes
A new non-EU passport will eventually be issued to each British citizen when they next renew their passport. Passport renewals should be applied for well in advance of travel.
If your current EU passport isn't due for renewal, you can continue to use it up until its expiry.
British passports (both EU & non-EU) are valid as long as they're not older than 10 years and have at least 6 months until expiry on the day that you travel.
Visa Info
Under the new Brexit agreement, if you're a tourist, you won't need a visa for short trips to countries within the EU, Iceland, Norway or Switzerland. Therefore, you can visit family or friends, and attend business meetings, or sports events without the need for a visa. However, If you're staying in the country for more than 90 days in 180 day period, you'll need to obtain a visa.
If you're visiting multiple countries, you'll need to make sure you don't spend more than 90 days combined in those countries over the 180 days period.
If you're working, studying or flying for business, you might need a visa or permit. However, this will differ from country to country. The best way to know what you'll need for each country is to check the travel advice for the countries that you're travelling to.
Border control
At border control, you may be asked to provide proof of a return ticket and evidence that you have enough money to fund your stay.
You may not be able to use the EU or EEA lanes at passport control.
Healthcare
It's strongly advisable to buy comprehensive travel insurance and flight insurance, no matter where you're flying. This was also the case pre-Brexit.
If you have a European Health Insurance Card (EHIC) that was issued before 2021, it'll be valid up until its expiry date. If your EHIC has already expired or you don't already have one, you can apply for the new UK Global Health Insurance Card (GHIC). The EHIC and GHIC largely have the same benefits and can possibly cover you if you need emergency medical care while in an EU country.
Pet Passport
Pet passports are no longer valid.
Now, in order for your pet to be allowed to fly to EU countries, it'll need to have an Animal Health Certificate, will have to be vaccinated against rabies and also be microchipped.
You can obtain an Animal Health Certificate from a vet. The certificate is valid for four months and must be granted within 10 days of travel.
For travel to Finland, the Republic of Ireland, Northern Ireland, Norway or Malta, your pet must have had treatment with Echinococcus multilocularis, which is a type of tapeworm.
Mobile roaming charges
There's no longer a guarantee that mobile companies will offer free roaming while in an EU country. Mobile companies can now introduce roaming fees for internet, calls and texts if they wish to do so. Although none of the major UK mobile companies has expressed interest in doing so there has been an obligation on UK mobile operators to offer their customers free roaming access across European destinations.
To better understand what roaming fees you'll be charged for using your mobile in the EU, you should contact your mobile provider.
Meat & milk products
You won't be able to take any meat or milk products (or anything containing milk or meat) into the EU. There are exceptions to this rule, including baby milk and food and pet food that is essential for medical purposes.
---
Flying

After Brexit

FAQS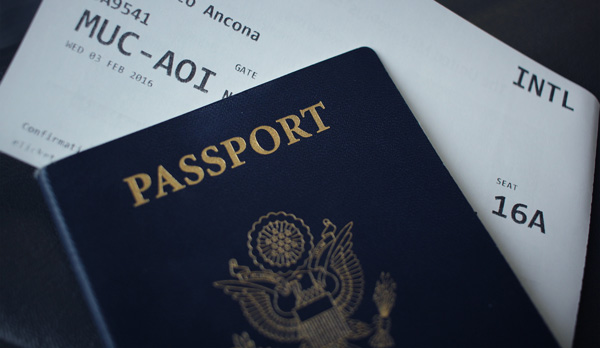 Can I still use my passport to fly to Europe after Brexit?
If you have a non-EU British passport, you can still use it for travel within Europe (or worldwide) up until 6 months before its expiry. Once your passport is due for expiry, you'll have to apply for a new British passport.
The new passports will exclude 'European Union' from the cover and first page of the passport. The new British passports will also be blue. For more information about your rights as a British passport holder, please visit our travel documents page.
Do British people need a visa to fly to Europe after Brexit?
Tourists from the UK will be allowed to visit EU countries for up to 90 days in every 180 days period without the need to obtain a visa. This includes if you travel as a tourist, visit family or friends, attend business meetings, and cultural and sports events. However, UK citizens will not be able to work or study in the UK without further documentation. The EU has stated that this rule will remain in place as long as the UK applies the same visa-free travel regulation for EU citizens visiting the UK.
The border guards will use passport stamps to check you're following the 90-day visa-free rule. The stamp will include the date you arrived in Europe.
How will Brexit affect package holidays?
If you're a British citizen who has booked a package holiday in Europe after the 31st January 2021, you'll need to ensure you have at least 6 months remaining on your passport in order for it to be valid for travel. As package holidays are often 90 days or less, UK citizens won't be required to obtain a visa for a package holiday in an EU country.
Are flights more expensive after Brexit?
The cost of flights after Brexit remains unchanged in Europe. However British Travellers will have to pay a €7pp fee for entering the Schengen Zone from the end of 2022. UK passport holders will need to apply for authorisation through ETIAS (European Travel Information and Authorisation Scheme) and pay the €7 fee to enter the Schengen Area, instead of applying for a visa.
What are the customs allowances when arriving in the UK?
There are limitations on the amount of alcohol, tobacco products and fragrances that you're allowed to bring into the UK. There are also food items which have been banned from bringing to the UK. We advise that you visit the government website for customs allowances to find out more about what you're allowed to bring back into the UK.
Please note that if you're caught with any undeclared or banned items you'll face prosecution.
Is my EHIC still valid after Brexit?
The European Health Insurance Card (EHIC) gives EU citizens the right to receive medical attention under similar conditions as citizens native to the country that they're in. With the EHIC you can receive free or reduced cost of healthcare if you require medical attention whilst you're away from you country of residence.
The European Health Insurance Card will now be replaced UK Global Health Insurance Card, which gives many of the benefits of the EHIC, such as emergency medical health care.
Anyone with a valid European Health Insurance Card can continue to use it up until its expiry date. After it has expired, instead of renewing it, you'll need to obtain a UK Global Health Insurance Card.
---
How will Brexit affect
American travellers?
Travel from the US and Canada to Britain and the EU will remain largely unchanged. This is due to the fact that Britain has never been part of the Schengen region and passengers already have to go through passport control between Britain and other European nations.