Buy Flights using Bitcoin Gold (BTG)
Search and book flights using Bitcoin Gold with Alternative Airlines. Choose from 'Buy Now, Pay Later' payment plans and bank transfer options, as well as our range of cryptocurrency options. Use this guide to learn how you can use Bitcoin Gold to book your flights.

What is Bitcoin Gold?
Bitcoin Gold was founded in 2017 with the aim of developing a user-friendly alternative to Bitcoin. Bitcoin Gold was created from a hard fork of the original open-source cryptocurrency and therefore shares many of the same characteristics as Bitcoin (BTC). But Bitcoin Gold also features a number of changes that sets it apart from Bitcoin. The BTG network aims to offer the security, stability and many of the characteristics of the Bitcoin blockchain combined with more opportunity for experimentation and development. Keep reading to find out more about Bitcoin Gold and the benefits of using this cryptocurrency to book flights.
What is the currency code for Bitcoin Gold?
The currency code for Bitcoin Gold is BTG.
---
How to buy flights with Bitcoin Gold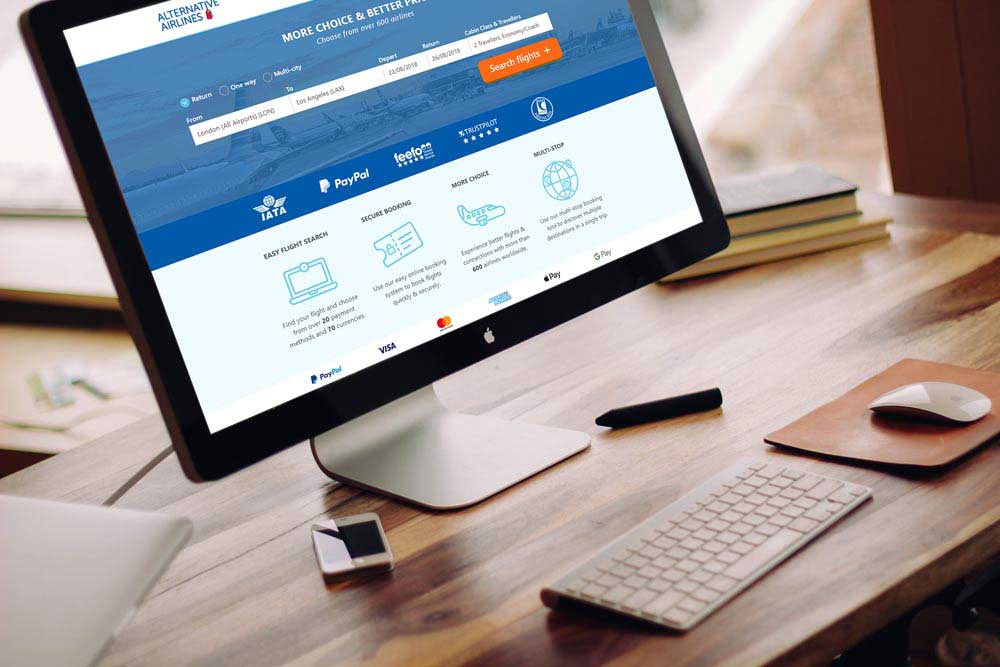 Search, find and book your flights in minutes. Follow these simple steps to book your flights and pay using Bitcoin Gold.
1

Firstly, complete the search form at the top of the page. You'll need to enter the following details: your departing and arriving airport, travel date(s), number of passengers travelling and your preferred cabin class. Then, hit 'search flights'.

2

We'll then display all the flights available for the route and dates that you've selected. You can also alter your travel dates or apply one of our search filters until you find the right flights for you.

3

Complete the passenger details page and proceed to checkout. At checkout, you can connect your crypto wallet with our cryptocurrency provider, Coingate. To use Bitcoin Gold, simply select BTG.
---
Bitcoin Gold & Flights
As an open-source protocol, Bitcoin Gold allows developers to participate in the governance and development of the blockchain freely. It's one of the first hard forks of the original cryptocurrency, so continues to attract the attention of institutional and enterprise investors alike. Bitcoin Gold is available on a wide variety of exchanges and wallets, and has already been adopted by several online browsers and service providers.
If you're looking for a cryptocurrency to invest within and exchange with, you may be very interested in Bitcoin Gold.
Why use Bitcoin Gold to book flights?
Here are some of our top reasons to book flights using BTG:
For privacy and anonymity
Bitcoin Gold is building an 'even more decentralized' and open network. Bitcoin Gold offers more privacy and anonymity than traditional fiat payment systems, such as bank transfers and credit card payments.
It's quick and easy
Alternative Airlines makes booking flights using Bitcoin Gold super quick and easy. Book your flights and pay in minutes. Use our simple flight search and checkout with BTG.
Safe and secure
When using Bitcoin Gold you can be confident that you're putting your trust into the world's most robust blockchain technology. No matter where you are or where you're looking to fly to, you can book your flights in confidence.
Use the search form at the top of the page to begin your flight search.
---
Bitcoin Gold and Flights
FAQs
What is the difference between Bitcoin and Bitcoin Gold?
Bitcoin Gold combines the inherent properties of the original Bitcoin blockchain with an innovative approach to blockchain development. It was created in 2007 as a hard fork of the original Bitcoin token. BTG is on a mission to revolutionise the mining process. By changing the mining algorithm in favour of miners with smaller operations and more common equipment, Bitcoin Gold is on a mission to 'make bitcoin decentralized again'. Bitcoin Gold's developers are also focused on improving some of the distribution, protection and transparency issues that have been raised with the original blockchain.
Looking to book flights using BTC? Find out more about booking flights with Bitcoin.
What is a fork?
A fork is a change or upgrade to the open-source software behind a blockchain, resulting in a split. When a fork happens, both assets will share a transaction history, common code base and more. But one will follow the old rules (Bitcoin) and the other will follow a new set of rules (Bitcoin Gold).
What is the currency code for Bitcoin Gold?
The currency code for Bitcoin Gold is BTG.
Can I use BTG to book flights?
Yes you can ...when you book through Alternative Airlines. We offer a range of cryptocurrency options. You can search and book flights with over 600 global airlines, flying to destinations around the world, then checkout using the cryptocurrency of your choice. Thanks to our partnership with Coingate, you can connect to your crypto wallet to pay for your flights using BTG.
Where can I book flights using Cryptocurrency?
Here at Alternative Airlines, we offer all major Cryptocurrencies, as well as many smaller and more nice options. Some of our cryptocurrency options include: Bitcoin (BTC), Ethereum (ETH), Litecoin (LTC), Dash, Ripple (XRP), Digibyte (DGB), Tether (USDT), UTK, and CRO.
Thanks to our cryptocurrency provider Coingate, we also offer: Basic Attention Token (BAT), and Aragon and Algorand and Bitcoin Cash, as well as many other cryptocurrency options.