Buy Flights using Ardor
Alternative Airlines makes it quick, easy, and simple to search and book flights with the payment option of your choice. As well as offering a range of 'buy now, pay later' and bank transfer options, we also offer cryptocurrency. Use the guide below discover more about using Ardor to book your flights.

What is Ardor?
Ardor is a unique cryptocurrency, developed to try and solve some of the most common problems associated with some of the more classic cryptocurrencies.
Ardor has introduced a 'child chain' architecture. Network security and transaction processing for the entire platform is provided by Ardor's 'parent chain', while all business functionality is performed on child chains. You can read more about this in our FAQ section below.
Ardor was created by a company called Jelurida. The focus of Jelurida is on developing open-source blockchain platforms. Jelurida's first product was called Nxt. Launched in 2018, Ardor is thought to be the 'Nxt 2.0'. The technical capability of the Ardo platform can be compared to the Ethereum platform.
---
How to buy flights with Ardor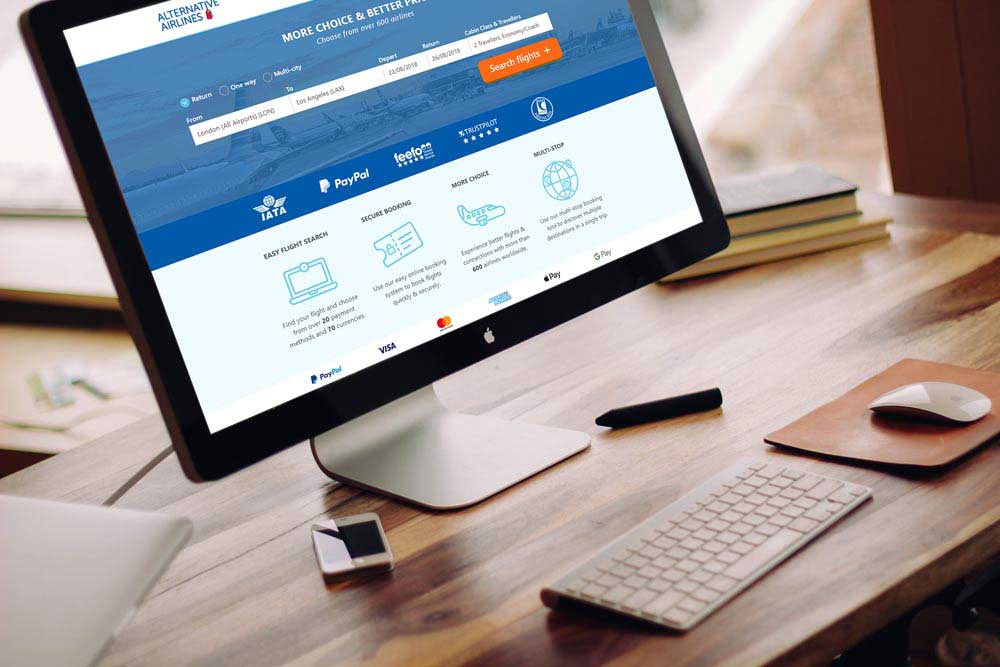 Looking to book flights through Alternative Airlines, and checkout using Ardor? Its quick and easy, simply follow the steps below:
1

The first step is to complete the search form at the top of the page. Enter your departing and arriving airport, travel date(s), number of passengers travelling and your preferred cabin class. Then press 'search flights'.

2

We'll display all the flights available for the route and dates that you've selected. Browse through the options to find the right flights for you. You can change your travel dates to view alternative flights.

3

Select the flights you'd like then enter your traveller(s) details. Select your chosen cryptocurrency option at checkout.
---
Ardor & Flights
If you're looking for a wide choice of both airlines and payment options, then you've come to the right place. Search, compare and book flights with over 600 global airlines. Then checkout using your preferred payment option, whether that's using one of our payment plan options, bank transfer, or cryptocurrency. You can connect your crypto wallet with our cryptocurrency provider, Coingate. To use Ardor, simply select ARDR at checkout. You'll be able to complete your booking right away.
Why use Ardor to book flights?
There are many reasons to use Ardor to book your flights, including:
Decentralization
The Ardor blockchain is decentralized. No central authority holds control. Ardor is public and open to all and dedicated to openness and transparency.
Autonomous, Private and Secure
There is no risk of data being manipulated, lost or destroyed.
---
Ardor and Flights
FAQs
How does Ardor work?
Ardor is a multi-chain platform. Ardor's base layer is called the parent chain, and this handles all the transactions and mining. Ardor's primary unction is to help companies create 'child-chains', which are separate and customisable blockchains. Child chains have their own native tokens and all the built-in functions needed for their specific use. These functions are similar functions to the main-chain, such as voting and trading.
All child chains are interconnected. They share the same source code, enabling token trading to one another. Their native tokens can be traded on the built-in decentralized coin exchange.
What's the currency code for Ardor?
The currency code for Ardor is ARDR.
Can I use ARDR to book flights?
Yes, you can! You can use ARDR to book flights when you book through Alternative Airlines. We offer over 600 global airlines, flying to destinations around the world. Whether you're flying to the US, UK, Asia, or anywhere else in the world, you can checkout using the cryptocurrency of your choice, thanks to our partnership with Coingate.
Where can I book flights using Cryptocurrency?
We offer a range of payment options to meet the needs of everyone. As well as 'buy now, pay later' and bank transfer options, we offer a range of cryptocurrency options. Some of our other Cryptocurrency options include: Bitcoin (BTC), Ethereum (ETH), Litecoin (LTC), Dash, Ripple (XRP), Digibyte (DGB), Tether (USDT), UTK, and CRO. Use the search form at the top of the page to begin your search.
Top Tip: Visit our blog to find out more about all our top reasons why you should book flights with Cryptocurrency.
What other cryptocurrencies can I use to book flights through Coingate?
When you book flights through Alternative Airlines, you can connect to your crypto wallet thanks to our cryptocurrency provider, Coingate. Other cryptocurrency options available through Coingate include Basic Attention Token (BAT), and Aragon and Algorand.