Buy Flights using Aragon
Here at Alternative Airlines, we make it easier to search and book flights with the payment option of your choice. As well as a range of 'buy now, pay later', bank transfer options or even cryptocurrency. Use the guide below discover more about using ANT to book your flights.
What is Aragon?
The Aragon Association is a non-profit entity based in Switzerland. Aragon was founded in 2016 by digital entrepreneurs Luis Cuende and Jorge Izquierdo. Aragon is a suite of applications, which makes it easy and simple to create decentralised autonomous organisations (DAOs) on the Ethereum blockchain. Over 1350 organisations (and growing!) have been created on Aragon.
The Aragon network has its own cryptocurrency called ANT. ANT holders play a key role in shaping Aragon's future. Owners are given the ability to vote on key decisions about the future of the project.
In 2017, Aragon held an 'initial coin offering (ICO)' and raised over 275,000 ETH (approximately $25 million at the time) by selling ANT coins.
Why use Aragon?
If you are looking to launch an organisation controlled by its members (rather than a central authority), then Aragon may be for you. Aragon was founded to disintermediate the creation of organisations, so the project may also appeal to developers and investors, who believe in the future of digital autonomous organisations.
---
How to buy flights with Aragon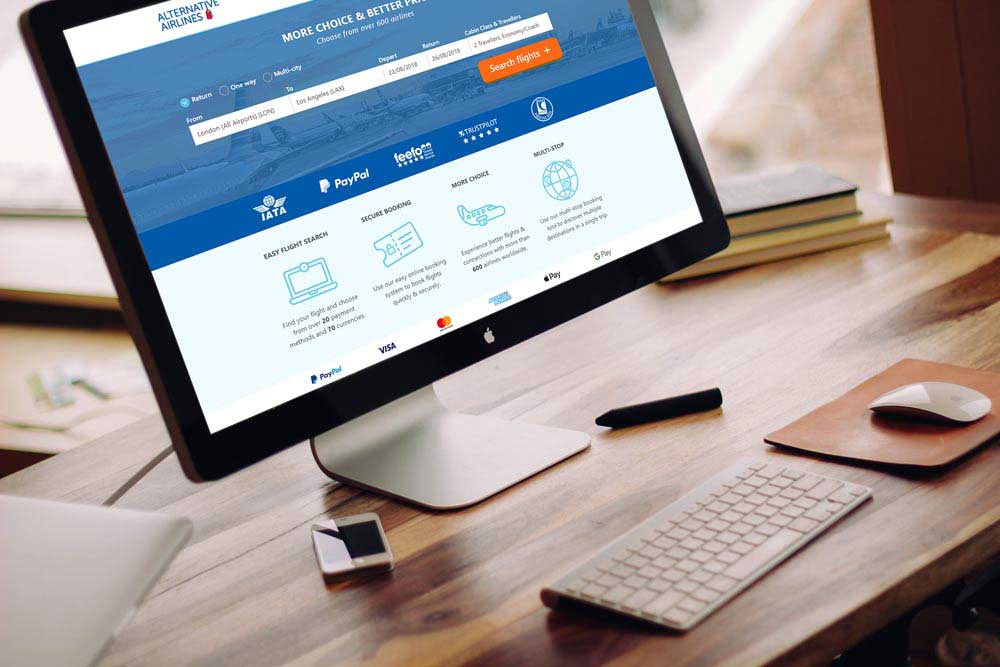 Looking to book flights through Alternative Airlines? Its quick and easy! Simply follow the steps below:
1

Complete the search form at the top of the page, including your departing and arriving airport, travel date(s), number of passengers travelling and your preferred cabin class. Then hit 'search flights'.

2

We'll show you the flights available for the route and dates that you've selected. Browse the options to find the right flights for you. You can always change your travel dates to view alternative flights.

3

Enter the traveller(s) details, then select your chosen cryptocurrency option.
---
Aragon & Flights
When you search for flights through Alternative Airlines, you choose flights from over 600 global airlines. Book flights to destinations around the world. Fly domestically, internationally, book ahead or fly last-minute. Then, once you've selected your flights, you simply need to choose your preferred payment option at checkout — including our wide choice of cryptocurrencies.
To use Aragon, simply select ANT at checkout. You'll need to connect your crypto wallet with our cryptocurrency provider, Coingate. You can then complete your booking right away.
Why use Aragon to book flights?
Built on Ethereum
Aragon is built on Ethereum (ETH), the 2nd biggest cryptocurrency in the world (after Bitcoin). Aragon is growing and has been forecasted to have a very promising future.
Autonomous
Because Aragon has been built on Ethereum's decentralized platform, transactions are the most autonomous that can be made.
Why buy flights with Crypto?
Here at Alternative Airlines, we belive in offering a range of payment options to meet the needs of everyone. That's why we offer a range of cryptocurrency options! Visit our blog to find out more about all our top reasons why you should book flights with Cryptocurrency. When you book flights through Alternative Airlines, you can pay using the cryptocurrency that you want, whether that's Bitcoin (BTC), Ethereum (ETH), Litecoin (LTC), Dash, Ripple (XRP), Digibyte (DGB), Tether (USDT), UTK, CRO, or one of our other options. Use the search form at the top of the page to begin your search.
---
Aragon and Flights
FAQs
How does the Aragon network work?
To create a decentralised autonomous organisation (DAO), developers first use 'AragonOS' - a smart contract framework. The framework enables the user to raise funds, inceltivize contributors to join their community and make decisions via group participation.
What is a DOA?
DAOs are online communities with shared crypto wallets. The DOA community jointly controls a cryptocurrency wallet to pursue goals, such as running a business. Membership of a DAO is determined by the ownership of the DAO's token, which is issued on a blockchain like Ethereum. Most DAOs issue their own native tokens. There are over 2000 DOAs on just the Aragon network, and many others on other networks.
What's the currency code for Aragon?
The currency code for Aragon is ANT.
Can I use ANT to book flights?
You can use ANT to book flights through Alternative Airlines. We offer over 600 global airlines, including British Airways, Emirates, Lufthansa, Qatar, American Airlines, or United Airlines. No matter which airline you book to fly with, nor the route, you can checkout using any of our payment plan options. We offer lots of cryptocurrency options, including BAT.
What other cryptocurrencies can I use to book flights through Coingate?
When you book flights through Alternative Airlines, you can connect to your crypto wallet thanks to our cryptocurrency provider, Coingate. Other cryptocurrency options available through Coingate include Basic Attention Token (BAT).