Buy Flights Using 0x
At Alternative Airlines, we make it simple for you to book flights from over 600 airlines and pay with 0x and 40+ payment methods including buy now pay later and financing options. You'll be able to locate flights from international cities and remote locations.

What is 0x?
0x is a decentralised exchange protocol that allows trading for Ethereum tokens. It lets you exchange cryptocurrencies without using a 'middle man' as the buyers and sellers are connected.
0x was created in October 2016 and enables users to trade any Ethereum tokens (ERC 20) on the blockchain. Without the interference of the 'middle man', exchanges are free to use and private. It acts as an infrastructure for cryptocurrency transactions that is more efficient, transparent and equitable. There are three main objectives for 0x, which is to 'Do the right thing', 'Consistently Ship' and 'Focus on long-term impact'.
What is 0x Tokens?
0x Tokens (ZRX) is a Ethereum token that facilitate the 0x protocol.
---
How to buy flights with 0x (ZRX)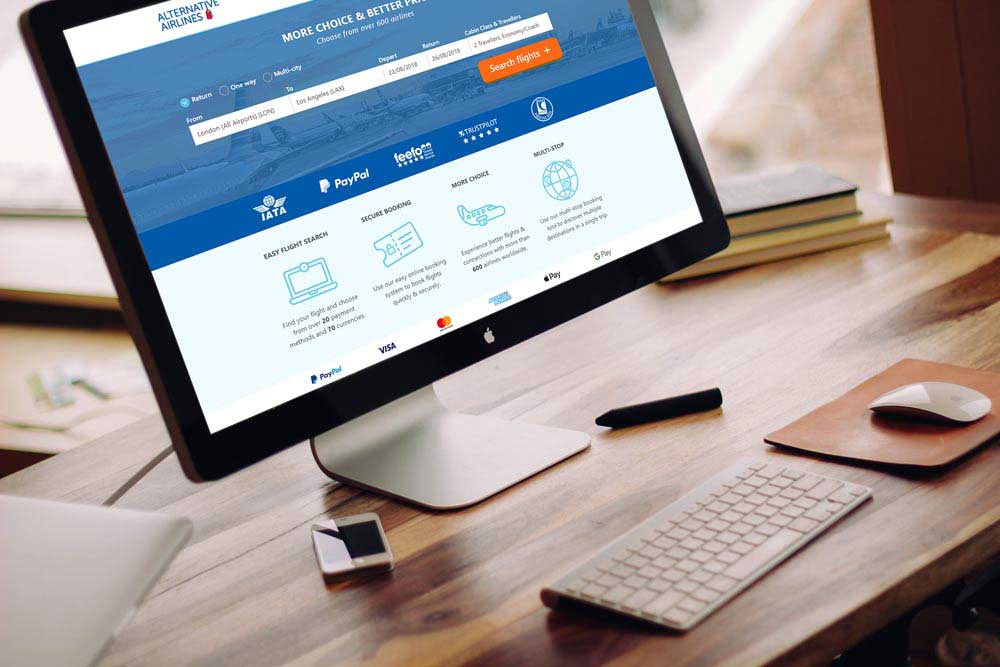 Follow the steps below to buy flights with Alternative Airlines using 0x (ZRX):
1

Use our search form on the top of the page and enter the departing and arriving airport, travel dates, cabin classes to start your search.

2

All the flights available for your route will be shown on the flight result page.

3

Once you've selected your flight(s), you'll need to enter the passenger details, select your additional services and 0x (ZRX) as the payment method to finalise your flight.
---
0x (ZRX) & Flights
When you're looking for flights at Alternative Airlines, we'll look for flights from over 600 airlines including the world's largest airlines and the domestic carriers that only operate within your area. Whether you wish to fly from the US, UK, China, Australia or even just within the Caribbeans, we'll find the flight for you. All you're left to do is select your flights and choose 0x (ZRX) as the payment method.
Why buy flights with 0x?
We believe that you should always have a variety of choices available when it comes to buying flights. So it becomes easy and straight-forward when you buy your next flight. That's why we've decided to offer 0x (ZRX) as a payment method.
To pay with 0x, it's simple. You'd have to select the flight you wish to proceed with and fill in the passenger details. When you're ready to pay, select 'CoinGate' and pay with 0x (ZRX).
Built on Ethereum
0x (ZRX) is built on Ethereum (ETH), which is the second-largest cryptocurrency after Bitcoin (BTC) and it's secure.
Autonomous
0x (ZRX) is used to power the 0x protocol which is autonomous, private and secure.
---
0x Token and Flights
FAQs
How can I store 0x?
0x is an Ethereum ERC 20 token so it can be stored in any ERC20 reputable wallet.
How can I acquire 0x Tokens?
Because the 0x token is based on a Proof of Stake protocol, it's not possible to mine the coin. Therefore, the only way to acquire the coin would be through regular cryptocurrency exchange by using fiat currencies or cryptocurrencies.
Can I use 0x to book flights?
Yes, you can! At Alternative Airlines, we enabled you to use 0x token to pay for flights from over 600 airlines including international airlines and domestic carriers including American Airlines, Emirates, Delta, Singapore Airlines, Qantas and many more. As long as the flight is available to buy on the Alternative Airlines platform, you'll be able to pay with the 0x token through CoinGate.
What other cryptocurrencies can I use to book flights through CoinGate?
We offer more than 70 other cryptocurrencies at Alternative Airlines through CoinGate including Bitcoin (BTC), Ethereum (ETH), Loopring (LRC), Polygon (MATIC) and many others.