Estonian Air Reservations with Alternative Airlines
Flights to and from Estonia
Make an Estonian Air Booking and Find Some Amazing Deals
---
Update
Estonian Air ended operations in 2015. Find similar flights with airbaltic or Nordica.
---
Alternative Airlines to Estonian Air
---
About Estonian Air
Estonian Air was the flag carrier of Estonia and was headquartered in Tallinn. In November 2015, Estonian Air announced its liquidation after a court ruling by the European Commission. Estonian Air now flies as Nordica. Please see below for more information. It was one flag carrier of the Baltics alongside Air Lituanica before they both ceased operations, leaving AirBaltic. Prior to is closure, Estonian Air had codeshare agreements with Aeroflot, Air China, Brussels Airlines, KLM, Scandinavian Airlines and Singapore Airlines.
In 2010, the Estonian government purchased the company back from SAS Group to ensure that it did not go bankrupt, however, in 2015 the European Commission ruled that the government funding was in breach of the EU regulations and must be paid back.
Since 2009, Estonia had injected nearly 60 million euros into Estonian Air to keep it flying.
---
Destinations
Estonian Airlines flew to many destinations including Vienna, Brussels, Split, Copenhagen, Tallinn, Paris, Nice, Munich, Berlin, Milan, Vilnius, Amsterdam, Kiev, Antalya, Stockholm, Oslo, Trondheim and Moscow.
---
Estonian Air Frequent Flyer Program
Previously, Estonian Air operated a frequent flyer program called EuroBonus which was a frequent flyer program of the SAS Group.
---
Book Estonian Air Flights in English
Book Estonian Air (now Nordica) flights in English now. Search and buy flights to Estonia in English with Alternative Airlines. We offer a safe booking process and the chance to book with PayPal. Pay using the currency of your choice!
---
Estonian Air Route Map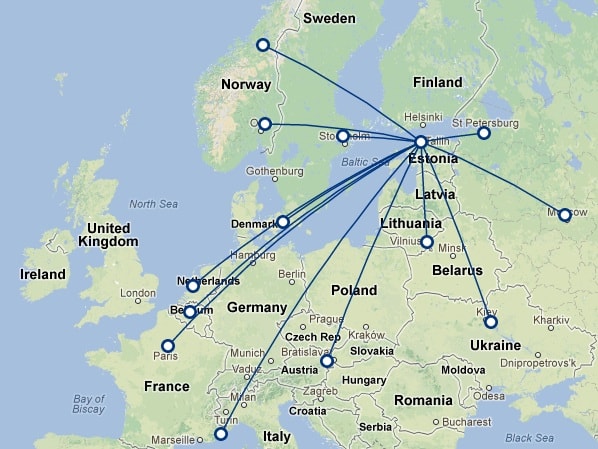 ---
Estonian Air Popular Routes
Tallinn

Vilnius
Amsterdam

Tallinn
Tallinn

Paris
Kiev

Tallinn
Copenhagen

Tallinn
Marseille

Tallinn
---
Estonian Air Fleet
Bombardier CRJ900
Embraer E-170
---
Estonian Air Airport Hub
Tallinn Airport
Tallinn Airport is the largest airport in Estonia and was the hub airport for Estonian Air. Tallinn Airport currently operates both domestic and international flights and is also the hub airport for airBaltic and NyxAir. Other airlines which fly to and from this airport include Aegean Airlines, Aeroflot, airBaltic, easyJet, Finnair, LOT Polish Airlines, Lufthansa, Norwegian, Ryanair, Turkish Airlines and Vueling.
---
Estonian Air News
17th January 2018
nordica delivers over half a million passengers in 2017
Estonia's national airline delivered 613,000 passengers to their chosen destinations in 2017, an unbelievable rise of 60% on the previous year. The airline also acquired 10 new aircraft to their fleet, bringing their numbers up to 16. They maintained an excellent punctuality record if 82%. The company plans on spending this next year improving quality rather than capacity but will be adding three new destinations: Copenhagen, Ohrid, Macedonia and Constanta, Romania.
20th December 2017
nordica welcomes its one millionth passenger on board
Compared to 2016, Estonia's national airline Nordica has flown 65% more passengers in the year to date – including, today, the one-millionth traveller to fly with the airline! During the high season, Nordica flies to 20 destinations and remains unchallenged as the airline with the largest share of the Estonian market.
Toomas Uibo, Nordica's Director of Marketing and Communication, says that the company had expected to break the one-million-passenger barrier in 2018 but that its successful period of growth has meant it reaching this symbolic milestone before the end of 2017. "For a small country and a young airline, that's a big number," he said. "It means a lot. We're really grateful to all of the passengers who've flown with us and helped us hit this mark much earlier than we thought we would."
The airline presented its one-millionth passenger with two free tickets to the Nordica destination of their choice. The lucky recipient will be able to choose from more than 20 destinations.