Search and Book Cheap Flights to Charlotte, North Carolina
Charlotte is a bustling metropolis in North Carolina Charlotte. The city is famous for NASCAR, being the home of it as well as hosting one of the many races. If you are a speed fanatic then Charlotte is a city for you. The city has lots to do other than racing with lots of museums offering different experiences. Try out some classic southern food in one of the cities many bars and restaurants all offering up southern charm and hospitality. Take a trip to the NoDa district for a cool and artsy experience of the city and see a thriving art and creative scene. The city is full of shops and shopping malls perfect for some retail therapy. Want a bit of nature? Then head to the cities Freedom Park for a walk and explore. Head to the outskirts of the city and visit one of the many forests and golf courses to relax. Go hiking or live like a local and go 'tubing' down the river. Charlotte has a lot to offer and has something for everyone! So why wait, use our flight search too and book your trip today!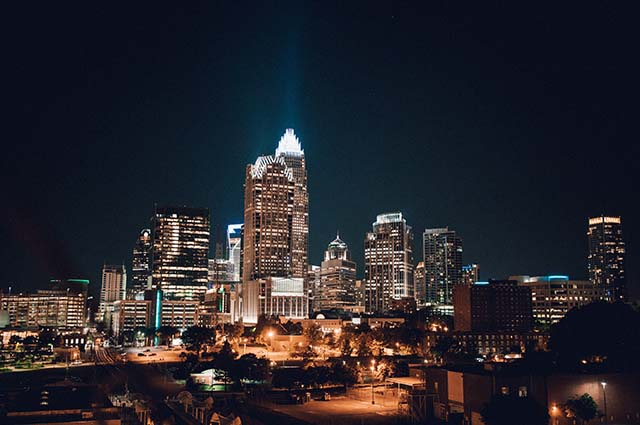 Charlotte Douglas International Airport?
Charlotte Douglass International is the primary and only airport serving the city, meaning that if you want to visit and are flying by plane you'll have to arrive here. The airport offers multiple domestic carriers as well as a handful of international, meaning it is possible to fly directly from Canada, Europe and Mexico. American Airlines is by far the largest airline at the airport, offering just under 200 destinations along with sister airline American Eagle. The airport has direct services to 157 domestic cities and 30 international, making it easy for you to get to charlotte.
✈ Domestic Airlines: American Airlines, American Eagle, Contour Airlines, Delta Air Lines, Delta Connection, Frontier Airlines, JetBlue, Southwest Airlines, Spirit Airlines, United Airlines, United Express
✈ International Airlines: Air Canada Express, Lufthansa, Volaris
✈ Destinations: Cancun, New York, Las Vegas, Madrid, Munich, Dublin, Barbados, Dallas, Colombus, Tallahassee, Buffalo, Austin and more
---


How do you get cheap flights?
Flying low-cost
One of the more cost-effective ways of getting to Charlotte is by flying with a low-cost carrier. These airlines offer the bare minimum and charge you for any additional services you require. Frontier, Southwest and Spirit all operate to the airport offering multiple routes each. This could be an option for you! However, sometimes legacy carriers can be the same price or less so it always helps to check and do your research. Use our simple flight search tool to find out now!
Weekday and out of season flights
Weekday flights can often bring the cost of the ticket down as these are days people don't tend to travel for leisure purposes. People may not be able to travel outside of the weekend because of work, school or a range of other reasons and so go at weekends. To fill aircraft, airlines may offer cheaper tickets on weekdays to do so. Additionally, as families are generally restricted to school holidays, travelling outside of this period could also produce cheaper tickets as airlines try to increase demand with lower prices. Use our simple flight search tool now to see what dates are best for you!
Booking in advance
Read our blog which covers the best ways to save money and get a cheaper flight. It is always recommended that by booking in advance you can save money and get a cheaper flight. Our blog covering ways on bagging a cheap flight shows that you can save money by booking your ticket in advance. Research from various people has discovered that to get a cheaper flight you should book at least 6 weeks before if flying regionally or domestically. If you are flying internationally then you should book 171 days or more before the scheduled departure.