Airlines will always try to sit children with their parents (subject to check-in)
Some airlines will allow travel for unaccompanied minors. Please email us to check.
The fare is based on the child's age on the date of travel.
More detailed information can be found here Traveling with children
Most airlines will let infants travel with their parent(s) for free. However some airlines will charge up to 10% of the adult ticket price. Click on 'Price Breakdown' to find out more.
If you are pregnant, but due before the flight departure date, please contact us once your baby is born and has a name. We can then add him/her to your ticket.
Infants will not be given a seat. The airlines expect parents to travel with them on their lap.
Airlines regard infants as being under 24 months old.
The fare is based on the child's age on the date of travel.
More detailed information can be found here Traveling with children
Search & Book 2 Stop Flights
Cancellation Protection
Protects
Trusted Choice
Rated 4.5 Stars. Based on 3,581 service ratings over the past year
Dedicated customer service team on hand to help
Secure payments
Cancellation Protection
Protects
Trusted Choice
Rated 4.5 Stars. Based on 3,581 service ratings over the past year
Dedicated customer service team on hand to help
Secure payments
Search and Book 2 Stop Flights
Looking to book a trip with 2 or more stops? At Alternative Airlines, you can save money and time by booking multiple flights all in one go with one simple, secure transaction!
What are 2 Stop Flights?
2 Stop flights, otherwise known as multi-city or multi-stop flights, are trips with 2 (or more) stopovers all booked in one itinerary. There is a difference between connecting flights and 2-stop flights - a connecting flight doesn't let you fully explore the cities you land in as you'll need to stay close to the airport before carrying on with your journey. A 2-stop flight means you can fly to multiple cities all in one booking and spend as much time as you desire in each city before moving on to the next!
These types of flights are very popular with those looking to tour different countries or continents all in one go, e.g. a multi-city trip within Europe may consist of flying from London to Paris, then onwards to Madrid, Rome and Athens, before returning to London, but spending a few days up to a couple of weeks in each city so fully take in all that Europe has to offer. Booking 2 Stop flights means you can be flexible and organised by keeping all of your flights in one itinerary.
---
How to Book 2 Stop Flights
At Alternative Airlines, we've developed an easy-to-use search tool that allows you to search for 2-stop flights and book them all in one go. You'll also be able to manage your multi-city/2-stop booking and add extras such as seat selection and baggage.
1. First, navigate to the search form at the top of the page and select the 'multi-city' button. Fill in your travel dates and the destinations you plan to visit for your 2-stop trip. In order for the journey to be considered '2 stop', you'll need to be flying to 2 or more destinations. Hit the 'Search Flights' button when you're ready!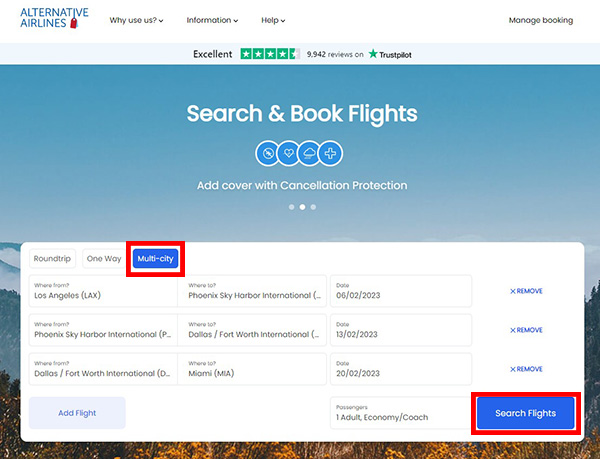 2. After the search results have loaded, you'll be able to apply filters to refine your search. For example, if there's a particular airline you'd rather travel with for your 2-stop flights, you can use the 'Airlines' filter above the results. Or if there's a certain time you would rather fly, you can use the 'Experience' or 'Times' tabs on the left.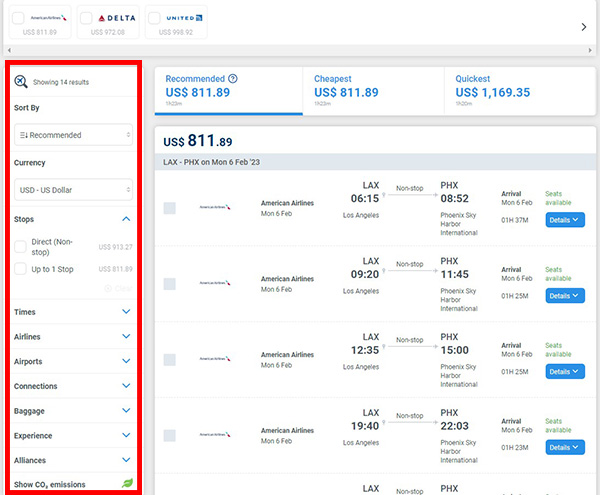 3. Once you've found the perfect flight combination for you, press the 'Confirm Selection' button to proceed with your booking. It's as easy as that!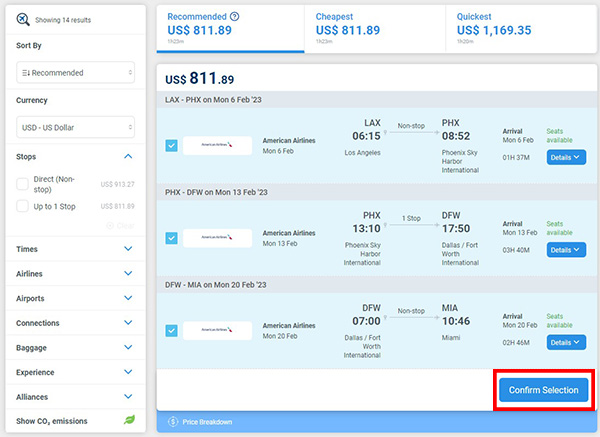 ---
2 Stop Flights to the USA
There are 50 states in the United States meaning the country has an abundance of cultures that cannot be experienced by visiting just one city. So why not plan a 2-stop trip and see what different states have to offer? The most popular multi-city trips in the US consist of flights beginning on the West Coast and ending on the East Coast, e.g. flying from Los Angeles to Las Vegas, then flying to Atlanta before moving on to Miami and eventually ending in New York, but spending either a few days or even weeks in each city. This might sound stressful to organise, but with Alternative Airlines, you can book this all-American tour of the century all in one go, without having to make multiple payments for different flights.
Many airlines within the US fly multi-city or 2-stop flights frequently including Southwest, United, American Airlines and Delta.
2 Stop Flights to Europe
From the chilly climate of Scandinavia all the way to the scorching hot bays of the Mediterranean, Europe is rich with culture, history and landscapes all waiting to be explored. If you want to take in all that Europe has to show, we suggest booking 2-stop flights within Europe. For example, you could begin your tour in the bustling city of London, spend a few days in Paris, relax on a beach in southern Spain, binge on authentic Italian food in Rome and finally end your trip on one of the Greek islands. With a 2-stop trip, you can spend anywhere between a few days to a few weeks in each city or country - it's perfect for that tour of Europe you've always been dreaming of!
Airlines that operate multi-stop or 2-stop flights regularly across Europe include British Airways, EasyJet, Air France and more. You can also combine flights with different airlines!
2 Stop Flights to Asia
Asia is packed with some of the most popular cities to visit in the world including Tokyo, Bangkok, Singapore and many more. Whether you're planning to hop from one city to another for business or leisure, we recommend booking multi-city or 2-stop flights for your trip so you can keep all of your flights organised in one place. For example, you can start your journey in Singapore, hop over to Bangkok, move on to Hong Kong and end your trip in Tokyo, all while spending as many days or weeks in each destination as you wish.
The main airlines that operate multi-city flights within Asia include Singapore Airlines, Thai Airways, Asiana Airlines and All-Nippon Airways. Don't forget, you can combine routes with any airline!
---
Pay Later for 2 Stop Flights
Did you know that when booking your 2-stop flights through Alternative Airlines, you can choose to pay later with one of the many flexible payment methods we offer at checkout? On our site, we have many popular finance options to offer where you can pay for your tickets over time on a weekly, bi-weekly or even monthly basis, including Afterpay, Klarna, Affirm, PayPal Credit and more. Read our guide on Buy Now Pay Later to find out more information.
---
2 Stop Flights
FAQs
Where can I book 2-stop flights?
Right here at Alternative Airlines! Booking your multi-city or 2-stop flights is incredibly easy when you do so through our site. You can follow our guide from earlier to see how to use our multi-city search tool. You'll be able to book all of your flights in one trip, without having to have multiple bookings all over the place. When booking through Alternative Airlines, you can also compare prices between different routes and apply filters to help you find the most suitable flight for you!
Can I book 2 Stop flights and pay later?
Absolutely! We offer 40+ different ways to pay including popular 'Buy Now Pay Later' payment plans such as Klarna, Affirm, Laybuy and more. Booking your flights and paying through one of the many flexible finance options we offer means you can spread the cost of your tickets over time. It's a great option if you're planning a long trip to visit many destinations in one itinerary and don't want to splash out straight away - instead, you can pay back on a weekly, bi-weekly or even monthly basis depending on the payment plan you've chosen.