Airlines will always try to sit children with their parents (subject to check-in)
Some airlines will allow travel for unaccompanied minors. Please email us to check.
The fare is based on the child's age on the date of travel.
More detailed information can be found here Traveling with children
Most airlines will let infants travel with their parent(s) for free. However some airlines will charge up to 10% of the adult ticket price. Click on 'Price Breakdown' to find out more.
If you are pregnant, but due before the flight departure date, please contact us once your baby is born and has a name. We can then add him/her to your ticket.
Infants will not be given a seat. The airlines expect parents to travel with them on their lap.
Airlines regard infants as being under 24 months old.
The fare is based on the child's age on the date of travel.
More detailed information can be found here Traveling with children
Information on Flying with a Suit
Cancellation Protection
Protects
Trusted Choice
65,000 happy customers
Rated 4.5 Stars. Based on 3,581 service ratings over the past year
Dedicated customer service team on hand to help
Secure payments
Cancellation Protection
Protects
Trusted Choice
65,000 happy customers
Rated 4.5 Stars. Based on 3,581 service ratings over the past year
Dedicated customer service team on hand to help
Secure payments


How to fly with a Suit
Information on flying with a suit, including different airline policies and how to best transport your suit when on a plane.
Can I Fly with a
Suit

?

Yes, you can fly with a suit. Although this may seem simple, flying with a suit has to adhere to certain baggage policies. When you book with Alternative Airlines, you can be sure that you can properly prepare for flying with a suit and have peace of mind that we are here to help you along the way.
Top Tips for

Flying with a Suit
Pack to reduce creases and wrinkling
This will often depend on how you are transporting it, and what else you need to transport. For example, you may find that rolling your suit is best to save room in a suitcase, whereas folding along the creases may be best for a garment bag.
Investigate facilities at your destination
If there is an iron provided at your destination, packing your suit may not be so important as you can simply remove creases at your destination. If you are travelling to a wedding destination, there will most likely be an iron or steaming service available as most people will be wearing or bringing a suit. If you are flying to a wedding you may also be interested about our guide to flying with a wedding dress.
Hang it up when possible
As soon as you get to your destination, make sure you hang it up for as long as possible to let the creases naturally unfold.
Transporting Suit Shoes
Suit shoes should be transported at the bottom of your garment bag, or carry on bag. This is so the heavier items don't crush the lighter and more delicate shirts. Make sure they are clean, or place them in an additional bag so they do not make your clean clothes dirty. Additionally, you can opt to wear your shoes to reduce the weight in your carry-on or checked luggage.
How to transport a
Suit
Pack it neatly in checked luggage suitcase
Some people argue that hard-sided suitcases are better for transporting suits than garment or suit bags, as they make them less prone to wrinkling.
Carry it on
This is the most common and popular way to transport a suit. You can carry your suit onto the plane in a garment bag, as long as it fits within the airline's carry-on policy dimensions. Please be aware that if you are hoping to hang the suit in the garment bag during the flight, you will have to check with the airline to see if this is possible, or read below for some specific airlines' policies. Most airlines, unfortunately, will not have a suit bag and instead will have to be folded and placed in the overhead locker. In general, be sure to check the policy of the airline that you are flying with. You don't want to be caught out paying for expensive additional carry-on bags at the airport when it can be avoided by researching properly.
Wear it
Alternatively, if the price for transporting a suit as checked or carry-on luggage is too expensive, why not wear your suit on the plane? Although creases will develop as you wear it, they will be in natural creases rather than unnatural folds. Take off your jacked when you get on the plane and lay it on your lap to reduce the wrinkles in the jacket Additionally, you can still hang it up or iron it when you get to your destination to remove creases. Generally, we recommend you wearing your suit when flying if you are going to need it on the day of your flight, or pack it if you are wearing it the next day or after.
Airline policies for

flying with a suit
Flying with a suit with American Airlines
American Airlines allows passengers to take a soft-sided garment bag measuring up to 51 inches / 130 cm when combining length + width + height. This item can be taken as your carry-on item.
Flying with a suit with Delta
Delta do not specify rules about transporting a suit in a garment or suit bag, but their carry-on allowance is one carry-on bag and one personal item free of charge. The main carry-on bag must fit the combined dimensions (length + width + height) of 45 linear inches or 114 cm., and must not exceed the dimensions of 22 x 14 x 9 inches. Therefore, you can carry your suit on board as long as it fits the dimensions permitted for carry-on luggage.
Flying with a suit with Southwest
Southwest Airlines will allow garment bags as a personal carry-on item, as long as it fits the dimensions of 10 x 16 x 24 inches. Although many garment bags are larger than this, as they are soft-sided and can be folded, they will fit the given dimensions and therefore will be accepted.
Flying with a suit with United Airlines
As with Southwest Airlines, United Airlines will generally allow suit bags as the carry-on bag, as long as it fits, when folded or otherwise, as a carry-on bag. The permitted maximum dimensions of the carry-on bag are 9 x 14 x 22 inches.
Flying with a suit with Spirit Airlines
Spirit Airlines only include one personal item on their basic Bare Fare. This item is things such as a laptop bag or handbag, measuring a maximum of 18 x 14 x 8 inches. Therefore, you will need to purchase additional baggage on most Spirit Airlines fares if you wish to take a garment bag on as carry-on luggage. The price of additional luggage depends on your flight itinerary, so be sure to call us to book a garment bag, or visit the Spirit Airlines website to view prices and purchase a bag. Spirit Airlines do not provide hanging space for any garments or suits on board their planes.
Flying with a suit with Qantas
Passengers flying with Qantas Airways can carry-on a garment bag, as long as it does not exceed the baggage allowances, and fits in the overhead locker or in under the seat in front of you. On domestic services within Australia (except services on the Dash 8 aircraft), passengers can carry a non-rigid garment bag measuring 60 + 114 + 11 cm in addition to a 48 + 34 +23 cm bag. International passengers in first, business and premium economy can choose to bring a garment bag (again measuring 60 + 114 + 11 cm) in addition to a 48 + 34 +23 cm carry-on bag. Economy passengers on international flights can choose a carry-on bag (56 + 36 + 23 cm) OR a garment bag (60 + 114 + 11 cm).
Flying with a suit with WestJet
Passengers can bring wedding attire, including a suit, inside a garment bag as your personal item. WestJet do not provide any hanging closets in the plane, so will need to be placed in the overhead lockers.
Flying with a suit with Air Canada
Air Canada passengers are permitted one standard carry-on bag in addition to one personal item. A garment bag can be carried as the personal article, but please note that size and weight restrictions apply.
Flying with a suit with British Airways
Garment bags containing a suit can be carried as carry-on baggage with British Airways, as long as you don't exceed your baggage allowance (size dimensions, weight and number of bags).
Flying with a suit with China Airlines
China Airlines allow passengers carry-on bags measuring a maximum of 22 x 14 x 9 inches which must be stowed under the seat in front of you or in the overhead bin. If your garment bag fits these restrictions, then you may carry it on board as your carry-on luggage.
Marrying Abroad?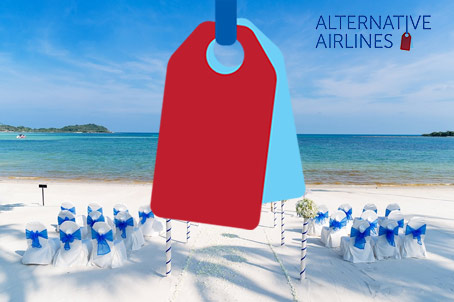 Are you planning on having a wedding abroad? Look for inspiration on the best places to get married across the world on our unique wedding destinations blog.