Air Kyrgyzstan Tickets and Reservations with Alternative Airlines
Book Your Air Kyrgyzstan Flight Tickets and Find Some Amazing Deals
---
About
Air Kyrgyzstan, also known as Kyrgyzstan Air Company, is the flag carrier of Kyrgyzstan based in Bishkek and its hub airport is Manas International Airport. The airline was founded in April 2001 as Altyn Air. Alytn Air was rebranded as Krgyzstan Air Company on 28 July 2006 after taking over national carrier Kyrgyzstan Airlines.
---
Class Fares
Air Kyrgyzstan offer two class types: Economy and Business. On-board the aircraft, passengers are provided with food and services free of charge in accordance with the class of service.
---
Baggage Allowance
Checked-luggage
The free baggage allowance depends on the route, and ranges between 20 kg to 30 kg (including hand luggage).
Carry-on
Each passenger, with the exception of children under 2 years of age, has the right to carry free baggage.
The weight of hand luggage should not exceed 5 kg, and the maximum dimensions of the three dimensions should not exceed 20x30x40 cm.
---
Destinations
The airline operates to many destinations such as Urumqi, Bishkek, Osh, Islamabad, Belgorod, Krasnodar, Krasnoyarsk, Novosibirisk, Surgut, Dushanbe, Yekaterinburg, Dubai and Tashkent. The airline has a codeshare agreement with Turkish Airlines.
China (Ürümqi)
Kyrgyzstan (Bishkek; Osh)
Russia (Abakan; Krasnodar; Krasnoyarsk; Moscow)
Uzbekistan (Tashkent)
---
Fleet
The airline's fleet currently comprises four airliners: one carrier-owned 122-seat Boeing 737-500 and three leased ships, namely a 148-seat Boeing 737-300, a148-seat 737-300, and a 136-seat -300 EX-37014; both built in 1997 and jointly operated with Turkish carrier Rey Airlines; these two airframes' serial numbers could not be ascertained.
Boeing 737-300
Boeing 757-500
---
Popular Routes
Bishkek

Urumqi
Bishkek

Osh
Bishkek

Belgorod
Bishkek

Surgu
Bishkek

Tashkent
Bishkek

Krasnodar
---
Route Map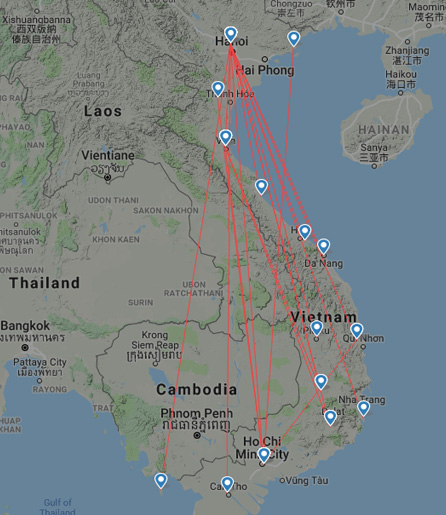 ---
Hub Airport
Manas International Airport
Manas International Airport is the hub airport for Air Bishkek, Sky Bishkek and Kryrgysztan Air Company. It is the main international airport for Bishkek, the capital of Kyrgyzstan.
Other airlines which fly to and from this airport include Aeroflot, Air Manas (formerly Pegasus Asia), Air Astana, AtlasGlobal, flydubai, China Southern Airlines, S7 Airlines, Pegasus Airlines, Somon Air, Tajik Air, Ukraine International Airlines, Ural Airlines and Uzbekistan Airways.
Airlines that also use Manas International Airport as its hub airport include Avia Traffic Company, Air Bishkek, and Tez Jet.
---
Alternative Airlines to Air Kyrgyzstan