Book Direct with Somon Air and Alternative Airlines
Somon Air is a private Tajikistan airline which is headquartered in Dushanbe. Somon Air is headquartered at Dushanbe International Airport. Somon Air flies to many destinations including Dushanbe and Khudjand in Tajikistan, Ekaterinburg, Irkutsk, Kazan, Krasnodar, Krasnoyarsk, Moscow, Novosibirsk, Orenburg, Sochi and St Petersburg in Russia and Almaty, Dubai, Frankfurt, Istanbul and Urumqi internationally. Somon Air was established in 2008 and mainly operates domestic and international flights to regional and European destinations.
| | | |
| --- | --- | --- |
| | | On most Somon Air flights, passengers receive 30kg for business class and 20kg for economy class baggage allowance. For children younger than 2 years, travelling without a separate seat, there is no free baggage allowance. Excess or outsized baggage allowance must be purchased via our reservations team. Passengers may carry only one carry-on luggage item not heavier than 7kg economy class and 10kg business class with dimensions of 55 x 40 x 20 centimeters. |
| | | |
| | | Somon Air has been expanding in recent years as in 2012 saw the launch of the routes Khudzhand - Krasnodar and Khudzhand - Sochi. In 2009, Somon Air joined IATA Multilateral Interline Traffic Agreement (MITA), which is an agreement where passengers and and cargo use a standard traffic document on transportation modes to reach the final destination on a particular routing. In June 2013, Somon Air became a member of IATA Clearing House. |
In May 2016, Somon Air started flight operations between Dushanbe (Tajikstan) and Lahore and this is operated two weekly flights on every Monday and Friday. Businessmen and traders of both the countries could directly reach Dushanbe and Lahore. In the past, passengers from Pakistan had to use Dubai route to reach Dushanbe by spending more than 15 hours. Now they would reach their destination in one hour and 40 minutes.
Since its formation, Somon Air has been primarily focusing on passenger service and transportation to Eastern Europe and other locations. Most flights to international destinations operate from Dushanbe. Somon Air will utilise its 737-300s on the route and will face no direct competition on this route.
Every year, the company operates flights to Saudi Arabia during the Hajj season for carriage of pilgrims. Somon Air also serves as the official carrier of the President of the Republic of Tajikistan.
For international flights, adults must have a passport and visa, if necessary. Children should be included in the passport of a parent or have their own passport. For unaccompanied minors a notarized parental consent to travel is required. For children traveling abroad with one or both parents, the border police may be require a proof of the relationship between the child and the accompanying parent/s. Pay special attention to the validity of documents. Passengers with expired passports are not allowed to flight.
Somon Air is set to benefit as Russia has removed their threat to suspend air travel to Tajikistan after a day of talks between the two countries' aviation authorities in Moscow on November 7. Following the talks, the two nations announced they would maintain and develop air travel, and in particular agreed on a roster of flights to Tajikistan from Moscow's new Zhukovsky airport, which has few airlines servicing it to date. In April 2016,

Somon Air, Tajikistan's first private airline and, currently, the country's leading carrier, will launch services to two new countries in its summer schedule. The carrier will commence flights on the Dushanbe-Kabul route (around 400 km to the south) on 29 April; on the same day, Somon Air will inaugurate a service to Lahore, Pakistan (some 920 km southeast of Dushanbe). These two new destinations will expand Somon Air's international scheduled route network to a total of eight countries. With its weekly Wednesday return flight to Kabul, the airline will compete against Afghanistan's Kam Air. The route is particularly popular with Afghan nationals living or studying in Tajikistan, and also with transit passengers.
Somon Air on 6 May added Lahore (LHE) in Pakistan to its network. It now flies the 930-kilometre route twice-weekly (Mondays and Fridays) from Dushanbe (DYU) in Tajikistan and faces no direct competition. The airline will utilise its 737-300s on the route. This is the airline's first service to Pakistan and follows last week's launch of flights to Kabul in Afghanistan.
In February 2017, it was announced that Somon Air is set to benefit as Russia and Tajikistan agreed to lift restrictions on flights performed by the Tajik Somon Air to the Russian regions. An agreement has been reached (with Russia's Transport Minister - TASS) to lift embargo on flights performed by Somon Air to four cities - Krasnoyarsk, Krasnodar, Ufa and Orenburg. The commission side-stepped the decision on flights of the Yamal airline from Zhukovsky airport in Russia's Moscow region to Tajikistan until the summer season. Flights between Russia and Tajikistan were suspended in December 2016 as the Tajik airline Somon Air was banned to perform flights to Russian regions, except Moscow and St. Petersburg.
Route Map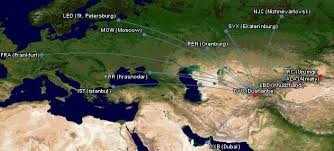 Popular Routes
Dushanbe

Dubai
Moscow

Dushanbe
Krasnodar

Dushanbe
Dushanbe

Khujand
Frankfurt

Dushanbe
Dushanbe

Almaty
Make a Somon Air reservation and find some amazing deals with discounted Somon Air tickets at Alternative Airlines. Somon Air flies to many destinations worldwide, offering a cost effective and safe service to all its passengers. Let Alternative Airlines help find you cheap Somon Air tickets and make international and domestic flight reservations on Somon Air today.
Browse the most popular Somon Air flight routes to cities worldwide. Alternative Airlines can help you make reservations on Somon Air for international flights to lots of destinations. Use the following list of routes to help you plan your next flight. Book Somon Air flights on Alternative Airlines to save big! Alternative Airlines is an online travel agency, specialising in booking lesser known airlines and remote destinations.