Search and Buy TezJet Airlines Flights with Alternative Airlines
Make a TezJet Airlines Booking and Find Some Amazing Deals
---
About TezJet Airlines
TezJet Airlines is a domestic Airline from Kyrgyzstan, a small landlocked country in Central Asia. The airline is based at Manas International Airport, from where it flies to a small number of domestic destinations. The airline was founded in 2013, and commenced operations in August 2014, after receiving its first aircraft - a BAe 146, which it acquired from Avia Traffic Company. Today, the airline operates Avro RJ-85 aircraft, which can carry 96 passengers. TezJet focuses on domestic operations across the territory of the Kyrgyz Republic.
Book domestic flights within Kyrgyzstan
You can search and book domestic flights to Kyrgyzstan with Alternative Airlines. No matter where you want to fly, Alternative Airlines offers a greater choice of airlines and routes. Within Kyrgyzstan, we also ticket Air Kyrgyzstan and Kyrgyz Airlines, which are both domestic carriers within the country.
To begin your search, simply enter your departure airport or city, as well as your chosen arrival airport or city, and hit 'search'. We'll display all available flights, letting you compare airlines to find the flights you're after.
---
Destinations
TezJet is a doemstic airline and flies to the following destinations within Kyrgyzstan: Bishkek, Osh, Jalal-Abad, Batken, and Tamchy.
| DESTINATION | AIRPORT | IATA |
| --- | --- | --- |
| Bishkek | Manas International Airport | FRU |
| Osh | Osh Airport | OSS |
| Jalal-Abad | Jalal-Abad Airport | - |
| Batken | Batken Airport | BAT |
| Tamchy | Issyk-Kul International Airport | IKU |
---
Baggage Allowance
Carry-On Baggage
All passengers are entitled to complimentary carry-on baggage. The total weight of carry-on baggage which can be carried in the passenger cabin of the aircraft must not exceed 5 kg.
Checked Baggage
The free baggage allowance per passenger is 15 kg. As well as this complimentary baggage allowance, passengers can also add additional baggage to their booking (fees apply). It is possible to add additional baggage during the booking process, which is more affordable than having to pay excess baggage fees at the airport.
---
Check-In Information
Check-In Online
Online check-in is not currently available.
Airport Check-In
Passengers can check-in for their flight from two hours prior to scheduled departure. Passengers are advised to arrive in plenty of time to ensure that airport check can be completed.
---
Class Fares
The airline only offers one cabin class: Standard Economy.
Facilities
There are W/C facilities onboard, with light snacks and hot/cold beverages available to purchase.
What are seats like?
There are 96 seats available, configured in a 3-3 formation. Passengers can sit comfortably thanks to padded armrests and headrests. Lighting and air conditioning is adjustable, and there is plenty of storage space under the seats and in the storage compartments.
---
Frequent Flyer Program
The airline does not currently offer a frequent flyer program.
---
Airline Alliance
The airline is not currently part of an airline alliance program.
---
Airline's Fleet
The airline currently operates a single aircraft type, the Avro RJ-85. This is a short-haul passenger aircraft, with up to 96 seats in a 3-3 formation.
---
Hub Airport
Manas International Airport
Manas International Airport (IATA: FRU) is the main international airport in Kyrgyzstan. It serves the capital of the country, Bishkek. The airport terminal underwent renovation and redesign in 2007. Manas International Airport is a hub for Avia Traffic Company and Kyrgyzstan Air. Other international airlines to fly to FRU include: Pegasus Airlines, Turkish Airlines, Ural Airlines, and Uzbekistan Airway.
---
Alternative Airlines
Domestic flights within Kyrgyzstan
Air Kyrgyzstan and Kyrgyz Airlines also operate domestic flights within Kyrgyzstan.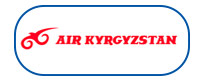 International flights to Kyrgyzstan
The following airlines operate international flights to Kyrgyzstan from elsewhere within Asia and within Europe: