Avia Traffic Company Reservations with Alternative Airlines
Make an Avia Traffic Company Booking and Find Some Amazing Deals
---
About Avia Traffic Company
Avia Traffic Company is an airline based in Kyrgyzstan and serves China, Iran, Russia, Kyrgyzstan, Tajikistan, and Uzbekistan. The airline is based in Bishkek and operates from Manas International Airport.
In October 2016, Avia Traffic Company was awarded the title of the most punctual airline flying to Moscow Airport.
---
Destinations
Destinations include Urumqi, Mashhad, Bishkek, Osh, Grozny, Irkutsk, Kazan, Krasnodar, Krasnoyarsk, Moscow, Novosibirsk, Samara, St Petersburg, Yekaterinburg, Almaty, Dushanbe and Tashkent.
| | | | |
| --- | --- | --- | --- |
| Urumqi | Mashhad | Osh | Grozny |
| Irkutsk | Kazan | Krasnodar | Krasnoyarsk |
| Moscow | Novosibirsk | Samara | St Petersburg |
| Yekaterinburg | Almaty | Dushanbe | Tashkent |
---
Class Fares
The airline offers comfortable standard seating. There are different fare types applicable, however, this is dependent on the flight.
Free baggage allowance depends on the direction and conditions of the applicable fare. Baggage allowance will be outlined by the airline during a ticket purchase.
---
Route Map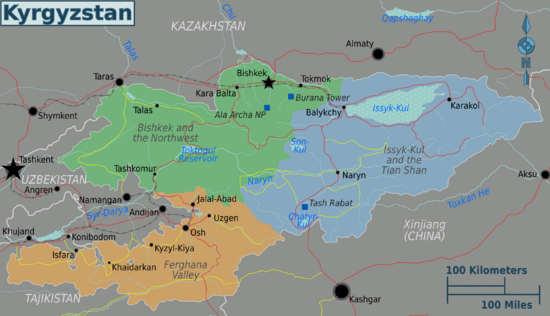 ---
Avia Traffic Company Popular Routes
Bishkek

Domodedovo
Bishkek

Almaty
Bishkek

Jalalabad
Bishkek

Novosibirsk
Bishkek

Grozny
Bishkek

St.Petersburg
---
Fleet
Avia Traffic Company's fleet includes 5 aircraft. They are operating 1 Airbus A320 and 4 Boeing 737-300s. Avia Traffic Company recently announced that a service from Bishkek - Irkutsk will commence every Thursday.
Airbus A320 - Configuration of 180 seats
Boeing 737-700 - Configuration of 148 seats
---
Hub Airport
Manas International Airport
Manas International Airport is the main international airport for Bishkek, the capital of Kyrgyzstan. It is the hub airport for Sky Bishkek and Kyrgyzstan Air Company. Other airlines which fly to and from this airport include Aeroflot, Air Astana, (previously Air Bishkek), Air Kyrgyzstan, AtlasGlobal, flydubai, China Southern Airlines, S7 Airlines, Pegasus Airlines, Somon Air, Tajik Air, Air Manas (formerly Pegasus Asia), Ukraine International Airlines, Ural Airlines and Uzbekistan Airways
---
Alternative Airlines to Avia Traffic Company Fleet
---
FAQs
Who owns Avia Traffic Company?
The airline has its head office at Bishkek Kyrgyzstan Airport. The airline's hub airport is Manas International Airport and the general director of Avia Traffic Company is Karim Fiatovich Damin.
Do Avia Traffic Company have in-flight entertainment onboard their flights?
At this time, information on in-flight entertainment is unknown. Many airlines offer in-flight entertainment in the form of a movie and tv show selection, sometimes providing a Wi-Fi connection.