Search and Buy Air Iceland Connect Flights with Alternative Airlines
Air Iceland Connect ceased operations in 2021 and is now fully merged with Icelandair.
Check out the airlines below instead. Or, search for flights on a variety of alternative airlines by using our search form.
---
About Air Iceland Connect
Air Iceland was a regional airline headquartered at Reykjavik Airport in Iceland. The airline flew to domestic destinations in Greenland and to the UK and Iceland. Air Iceland is a subsidiary of Icelandair Group. Air Iceland was formed in 1997 as a merger between Icelandair Domestic and Norlandair.
Air Iceland Connect operated flights from Reykjavik to Isafjordur, Akureyri and Egilsstadir, as well as to Kulusuk, Narsarsuaq, Nuuk, Kangerlussuaq and Ilulissat in Greenland. In addition, Air Iceland Connect offered flights to Aberdeen, Scotland and Belfast, Northern Ireland. Air Iceland Connect has a mix of Bombardier Q400 aeroplanes and Bombardier Q200 aeroplanes.
The head office of Air Iceland Connect was located in the capital, Reykjavik, but the company's registered domicile was in Akureyri, the main town in north Iceland. Both Reykjavik Airport and Akureyri Airport served as hubs for Air Iceland Connect route network. The airline's fleet consisted of Bombardier Q400 aircraft, Q200 and Fokker 50s
Is Air Iceland Connect the same as Icelandair?
Air Iceland Connect is a fully owned subsidiary of Icelandair Group. In March 2020, all operations of Air Iceland Connect were integrated into the operations of Icelandair.
All flights are operated under the Icelandair brand.
---
Destinations
Where does Air Iceland Connect fly to?
The airline operated domestic flights connecting cities and destinations in Greenland. Air Iceland Connect also operated international flights between Greenland and Iceland, as well as to the UK. Destinations include Vagar, Akureyri, Egilsstatoir, Grimsey, Reykjavik, Illulissat, Kulusuk, Nuuk, Narsarsuaq and Ittoqqortoormitt.
| DESTINATION | AIRPORT | IATA |
| --- | --- | --- |
| Greenland | Ilulissat Airport | JAV |
| Greenland | Kulusuk Airport | KUS |
| Greenland | Narsarsuaq Airport | UAK |
| Greenland | Nuuk Airport | GOH |
| Iceland | Akureyri | AEY |
| Iceland | Egilsstaðir | EGS |
| Iceland | Ísafjörður | IFJ |
| Iceland | Reykjavík | RKV |
| UK | Aberdeen | ABZ |
| UK | Belfast | BFS |
---
Air Iceland Connect Baggage
Carry-on Baggage
Air Iceland let passengers carry up to 6 kg in carry-on baggage. Passengers were requested to keep hand luggage to a minimum since there was limited space in the overhead compartment on board. The maximum size of hand luggage was 55 x 35 x 20 cm.
Checked Baggage
Passengers flying on Air Iceland's flexible and standard fare were entitled to one item of checked baggage with a maximum weight of 20kg. Passengers flying with an Air Iceland Business Card could bring two items of checked baggage. Each bag couldn't exceed the maximum weight of 20kg. This applied to both short-haul and long-haul flights. No complimentary checked baggage was included with the Light fare.
---
Air Iceland Connect Check-in
Online Check-in
You could check in online on the Air Iceland check-in page. Online check-in on Air Iceland for domestic flights opened 24 hours before flight departure time and shut 45 minutes before. Online check-in on Air Iceland for international flights opened 24 hours before flight departure time and closed 90 minutes before.
Airport Check-in
Passengers flying domestically with Air Iceland had to arrive at the airport at least 45 minutes before flight departure time to give enough time to reach and check in at the Air Iceland check-in desk. Passengers flying internationally had to arrive at least 90 minutes before flight departure time. If you were flying from Keflavik International Airport, you had to arrive at the airport at least 2 hours before your flight to check-in.
---
Air Iceland Connect Class Fares
Air Iceland offered multiple class fare options. These fares determined the flexibility of the ticket.
Economy
Economy Flex: A balance of value and flexibility, Economy Flex tickets were refundable and offered easier ticket changes. This fare included 1 checked bag and 1 carry-on with a small personal item included.
Economy Standard: Luggage included, but cancellation was not permitted. Fare changes could be made but at an additional cost. Non-alcoholic beverages were included onboard the flight.
Economy Light: The cheapest fare, ideal if you were travelling light. 1 carry-on bag was included as part of the fare. In-flight entertainment was provided and there was still an accrual of Saga points.
Premium
Saga Premium: This fare was Air Iceland's premium fare. As part of the premium fare passengers were entitled to 2 checked bags, 1 carry-on and other benefits such as priority boarding, complimentary meals and lounge access.
Saga Premium Flex: This fare included all of the perks that the Saga Premium fare had but included the added flexibility. Passengers who purchased this fare would benefit from changes to the booking free of charge and an airfare refund.
---
Air Iceland Connect Frequent Flyer Program
Air Iceland operated a frequent flyer program called Saga Club to reward regular travellers with the airline. Two fares at Air Iceland qualified for frequent flyer points Full Flex for each flight and Semi-Flex for each flight. This was valid for all Air Iceland domestic flights to and from Greenland. You could travel for your Saga Club points to all Air Iceland domestic destinations.
---
In-Flight Entertainment
Air Iceland had a wide selection of TV and movies onboard the aircraft, from old classics to the latest blockbusters - there was something for everyone.
There was also specific content that was dedicated to children and traditional Icelandic music could be played as well. If you had forgotten your headphones, there was no need to panic! Air Iceland had some onboard for you to purchase.
It's important to note that not every flight operated by Air Iceland would offer in-flight entertainment. This is due to the size of the aircraft used. This included domestic flights and those that flew to Greenland.
Wi-Fi
Wi-Fi was available on Air Iceland's Boeing 757, 767 and 737 aircraft fleet. Wi-Fi fees only applied to passengers in Economy.
---
Food & Drink
Food & drink onboard Air Iceland flights could either be bought onboard or could be pre-purchased when in the booking stage.
Economy
If passengers had purchased an Economy fare, a menu was available that comprised of light snacks and refreshments. Non-alcoholic drinks were included in this fare.
Saga Premium
In the Saga Premium fare, passengers were entitled to a 2 or 3-course meal service that comprised of a main, dessert and snacks. There were slight differences between European flights and North American.
---
Air Iceland Connect Route Map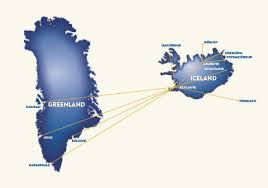 ---
Air Iceland Connect Popular Routes
Reykjavik

Vagar
Reykjavik

Illulissat
Kulusuk

Reykjavik
Reykjavik

Nuuk
Grimsey

Reykjavik
---
Air Iceland Connect Fleet
The Air Iceland Connect fleet includes three Bombardier Dash 8-Q200, which can carry up to 50 passengers, and three Bombardier Dash 8-Q400 aircraft, which can carry up to 80 passengers.
---
Air Iceland Connect Hub Airport
Keflavík International Airport
Air Iceland Connect was based at Keflavík International Airport, which is also known as Reykjavík-Keflavík Airport. It is the largest airport in Iceland and the country's main hub for international transportation. It is widely used for transatlantic routes. Airlines that fly from and to Keflavík International Airport include Are Lingus, British Airways, Lufthansa, Wizz Air and Germania.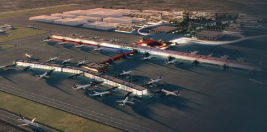 ---
Alternative Airlines to Air Iceland Connect
Please click on the logos below to find out more about airlines that fly similar routes to Air Iceland:
---
FAQs
How can I book Air Iceland Connect flights?
Air Iceland Connect flights were operated under the Air Iceland brand. This means that your booking would be processed by Air Iceland. You could search and book flights with this airline easily with Alternative Airlines, however, this airline has now ceased operations and is now wholly owned by Icelandair. We offer flights with international and domestic airlines. If you're looking to fly within Iceland, take a look at our guide to domestic flights within Iceland.
Does Icelandair fly to the Faroe Islands?
Icelandair used to fly to Vágar Airport, Faroe Islands. If you want to fly to the islands, Atlantic Airways operates regular flights to/from Iceland. Visit our flights to the Faroe Islands page to find out more.