Eagle Air Iceland Reservations with Alternative Airlines
Make an Eagle Air Iceland Booking and Find Some Amazing Deals
---
About Eagle Air Iceland
Eagle Air Iceland provides tourism, transport and emergency response services to customers, alongside tours and charter services. The airline is based at Reykjavik and flies domestically within Iceland. The airline was originally launched in 1970 and ceased operations in 1995 before re-launching in 2003.
Winter Tours
Vatnajökull Glacier and Jökulsárlón glacial lagoon
Húsavík and Lake Mývatn
Westman Islands
Summer Tours
Jökulsárlón and other glaciers
Vatnajökull national park
Whale Watching at Húsavík
---
Eagle Air Iceland Destinations
Scheduled Eagle Air Iceland destinations are:
Reykjavik Airport
Húsavík Airport
Bíldudalur Airport
Gjögur Airport, Árneshreppur
Vestmannaeyjar Airport, Heimaey
---
Eagle Air Iceland Economy Class
Economy Class is Eagle Air's only cabin class, the service is the same no matter which route is flown on. However, the layout changes slightly depending on which aircraft operates the flight.
Economy Class Facilities
The airline flies along some of the most beautiful and scenic routes across Iceland. This means passengers can enjoy stunning views of the country throughout the journey.
There is no in-flight entertainment nor food or drink offered onboard this service.
What are Economy Class Seats Like?
Economy Class seats are set out in a 1 x 1 or 1 x 2 configuration. The cabin is designed to give each passenger and each seat a sufficient amount of legroom and space.
---
Eagle Air Iceland Hub Airport
Reykjavik Airport
Reykjavik Airport is an Icelandic airport in Reykjavik and the hub airport for Eagle Air Iceland. The main two airlines that fly out of Reykjavik Airport are Air Iceland and Eagle Air. The airport is split into two terminals. Terminal 1 deals with all of Air Iceland's domestic and international flights and Terminal 2 deals with all of Eagle Air's domestic and international flights. Other airlines that fly from the airport include Air Iceland and Atlantic Airways.
---
Eagle Air Iceland Baggage
Checked Baggage
Each passenger flying with Eagle Air Iceland has a maximum luggage weight allowance of 20kg (44lbs). If the weight of the luggage exceeds 20kg (44lbs) then an excess baggage fee is added.
Carry-on Baggage
Eagle Air Iceland passengers can carry up to 6kg (13lbs) of hand luggage. Since there are no overhead compartments on board, it is recommended that passengers keep hand luggage to a minimum.
---
Eagle Air Iceland Route Map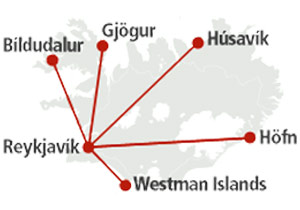 ---
Eagle Air Iceland Fleet
Eagle Air Iceland's fleet is made up of six different aircraft model from three different manufacturers.
Cessna Aircraft
Cessna 441 Conquest II
Cessna 406 Caravan II
Cessna 207A Stationair 8
Cessna 185 Skywagon
British Aerospace
British Aerospace Jetstream
Dornier
---
Alternative Airlines to Eagle Air Iceland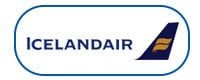 ---