Aero Republica is Colombia's second largest airline and is owned by COPA of Panama and
was rebranded on 06.10.2010 as Copa Airlines Colombia
---
AeroRepublica flights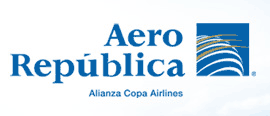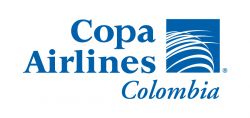 Aero Republica is a domestic and international carrier based at Bogota's international airport. Aero Republica's international services operate only to Panama City from Bogota, Medellin, Cali and Cartagena. Barranquilla to Panama City is operated in association with the parent company Copa Airlines. Domestic services operate into Bogota, Barranquilla, Bucaramanga, Cali, Cartagena, Cucuta, Leticia, Medellin, Monteria, Pereira, San Andreas and Santa Marta.
Aero Republica operates 8 x MD-80 aircraft and 4 x Embraer 190, plus the airline has announced an order for a further 20 new Embraer 190's. During 2006 Aero Republica carried over 2.3 Million passengers.
Aero Republica of Colombia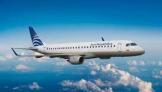 Aero Republica is a great airline, which has grown in both size and stature since its acquisition by COPA of Panama in 2005. As well as its extensive domestic network within Colombia it connects the main cities with the fast developing "Hub of the Americas" at Panama City. Note: when checking availability for Aero Republica on the Alternative Airline booking system the flights may be designated as COPA flights with the flight prefix of CM rather than their own flight prefix, this is not a problem as the airline is in the process of changing all its flight to this new designation.
AeroRepublica becomes Copa Airlines Colombia
Copa Holdings has announced that as of today, the Colombian airline Aero Republica will operate as Copa Airlines Colombia.
AERO REPUBLICA ANNOUNCES NEW EXECUTIVE CLASS ON INTERNATIONAL ROUTES
From 09 June, Aero Republica passengers can enjoy the comfort of business class when travelling on international flights.