Royal Brunei Airlines Reservations with Alternative Airlines
Make a Royal Brunei Airlines Booking and Find Some Amazing Deals
---
About
Royal Brunei Airlines is the government-owned national flag carrier airline of Brunei. The airline is based at Brunei International Airport (BWN) and offers scheduled flights to destinations primarily across Asia, but also to destinations in Oceania and Europe.
The airline launched in 1974 and flew its inaugural flight the following year between Brunei and Singapore. The airline launched with just two aircraft, serving only three destinations within its first year. Today, the airline offers flights to more than 30 destinations and uses a fleet of 15 aircraft.
Royal Brunei Airlines is currently the only Bruneian airline operating scheduled passenger flights to/from the country. This makes it the main mode of transport for travellers entering and leaving the country.
Royal Brunei has a separate subsidiary airline named RB Link. RB Link offers regional flights to destinations in Malaysia and Indonesia.
---
Fleet
Royal Brunei Airlines fleet is made up of entirely of Airbus and Boeing aircraft. The airline has Airbus A320-200, A320neo and A330-900neo models within its fleet, as well as the Boeing 787-8 model.
For the most part, the airline has historically used Boeing and Airbus aircraft. Although, it did use two Fokker regional jets (50 and 100 models) in the mid-1990s too.
---
Destinations
Domestic Destinations
| CITY | AIRPORT |
| --- | --- |
| Bandar | Brunei International Airport (BWN) |
International Destinations
COUNTRY
CITY
AIRPORT
Australia
Brisbane
Brisbane Airport (BNE)
Melbourne
Melbourne Airport (MEL)
China
Beijing
Beijing Daxing International Airport (PKX)
Changsha
Changsha Huanghua International Airport (CSX)
Haikou
Haikou Meilan International Airport (HAK)
Hangzhou
Hangzhou Xiaoshan International Airport (HGH)
Hong Kong
Hong Kong International Airport (HKG)
Nanning
Nanning Wuxu International Airport (NNG)
Shanghai
Shanghai Pudong International Airport (PVG)
Indonesia
Denpasar
Ngurah Rai International Airport (DPS)
Surabaya
Juanda International Airport (SUB)
Japan
Tokyo
Narita International Airport (NRT)
Malaysia
Kota Kinabalu
Kota Kinabalu International Airport (BKI)
Kuala Lumpur
Kuala Lumpur International Airport (KUL)
Philippines
Manila
Ninoy Aquino International Airport (MNL)
Saudi Arabia
Jeddah
King Abdulaziz International Airport (JED)
Singapore
Singapore
Singapore Changi Airport (SIN)
South Korea
Seoul
Incheon International Airport (ICN)
Taiwan
Taipei
Taiwan Taoyuan International Airport (TPE)
Thailand
Bangkok
Suvarnabhumi Airport (BKK)
UAE
Dubai
Dubai International Airport (DUB)
United Kingdom
London
London Heathrow Airport (LHR)
Vietnam
Ho Chi Minh City
Tan Son Nhat International Airport (SGN)
---
Route Map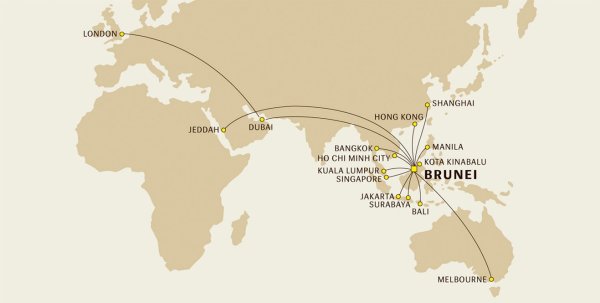 ---
Baggage
Carry-on Baggage
If passengers are flying in Business Class, they're entitled to two items of carry-on baggage that must fit within the dimensions of 55 x 38 x 20cm. The combined weight of the two carry-on bags must be no heavier than 12kg and each individual piece must be no heavier than 7kg.
If passengers are flying in Economy Class, they're entitled to one item of carry-on baggage that must fit within the dimensions of 55 x 38 x 20 cm. Baggage must weigh no heavier than 7kg.
No prohibited items should be packed in carry-on baggage such as sharp objects and liquids over 100ml. Prohibited items found by airport security will be removed and disposed of.
Checked Baggage
If passengers are flying Business Class, they're entitled to 40kg of checked baggage free of charge.
If passengers are flying Economy Class, they're entitled to 30kg of checked baggage free of charge. No single item of baggage can weigh heavier than 32kg and it must fit within the overall dimensions of 158cm.
---
Check-In Information
Online Check-In
Online check-in for Royal Brunei Airlines flights opens 48 hours before scheduled flight time and closes 90 minutes before. To check-in online, passengers must visit the Royal Brunei Airlines online check-in page and enter their booking reference (PNR) and last name.
Airport Check-In
Passengers that want to or have to check-in at the airport must visit the check-in counters at the airport of departure, where they'll be assisted with the check-in process. Check-in open and closing times will depend on the route flown. Please check your itinerary for check-in times.
---
Economy Class
Economy Class is one of two cabin classes that the airline offers. Although Economy Class is the more basic of the two cabin classes, it still offers a comfortable cabin with a professional service delivered by the airline's superbly trained cabin crew.
Economy Class Facilities
Passengers are given a personal TV screen which they can access the airline's in-flight entertainment from. In addition, passengers can order food and drink from the airline's in-flight menu. Each seat also comes with a USB port that passengers can use to charge their personal electronic devices.
Economy Class Seats
Economy Seats are spacious with an average pitch of (76–81 cm) 30–32". Each seat is reclinable, with adjustable headrests on the Boeing 787.
---
Business Class
The Business Class cabin is Royal Brunei's most premium cabin class. The cabin is spacious and luxurious with a specially trained Business Class cabin crew on-hand to help.
Business Class Facilities
Passengers are given a personal TV screen which they can use to access the airlines' in-flight entertainment. Business Class passengers are also treated to a fine-dining experience, with food served on crockery plates, metal cutlery and a selection of drinks served in glassware.
Each seat comes with a power connector that can be used to charge passengers' personal electronic devices.
Business Class Seats
Business Class seats transform into fully flat beds on the Boeing 787 and to a 10-degree angle on the Airbus A320. The lie-flat beds come with a duvet and pillow.
---
In-Flight Entertainment
Enjoy a selection of TV shows, movies, music and games through Royal Brunei's in-flight entertainment system, Impian. Impian can be accessed via personal TV screens built into the back of each seat, or via passengers' personal devices. In-flight entertainment is refreshed every month and is constantly updated with Hollywood's latest hits and classic movies, shows and albums.
---
WIFI
Passengers can connect to Royal Brunei's WIFI network to access the airline's in-flight entertainment system, Impian. The WIFI network cannot be used for browsing the web.
---
Food
Passengers can enjoy a selection of snacks, drinks and main meals on board all flights, with a premium dining experience for those flying in Business Class. The standard meal served is dependent on the time of day the flight is flown. Special meals are available to pre-order but must be ordered directly with the airline no later than 24 hours before the flight is scheduled to depart.
---
Frequent Flyer
Royal Brunei Airlines operates a frequent flyer program called Royal Skies whereby passengers can earn miles on every eligible Royal Brunei Airlines flight.
There are three types of membership cards, with varying benefits:
Blue (base membership)
Silver (mid-tier membership)
Gold (high-tier membership)
Miles accrued by Royal Skies members can be redeemed for free flights or seat upgrades. A free upgrade award starts at 5,000 Royal Skies miles, while redemption for a free flight starts at 8,000 miles.
---
Airline Alliance
Royal Brunei Airlines isn't part of an airline alliance. However, it does have interline/codeshare agreements with the following airlines:
Codeshare/Interline Agreements
---
Royal Brunei Flights on Finance
Did you know you can buy Royal Brunei flights on finance? Well, here at Alternative Airlines you can buy ANY Royal Brunei flight available on our site and break up the cost in easy-to-pay instalments. We have a number of payment plan options that let you spread the cost of your Royal Brunei flight over weekly, bi-weekly or monthly repayments. This includes Spotii, Tabby, Klarna, TendoPay and more. Please note that the payment plan available at checkout will depend on the country you reside in.
---
Special Assistance
If you need a wheelchair during your airport journey, contact Alternative Airlines. We will inform Royal Brunei Airlines that you or a member of your booking will require a wheelchair service getting to and from your flights. If you forget to request wheelchair assistance, don't sweat! You can request a wheelchair service at the airport, on the day of your flight, if you have impaired or reduced mobility.
---
Hub Airport
Brunei International Airport
Brunei International Airport is the primary airport in the nation of Brunei and is the hub airport for Royal Brunei Airlines. The airport is located close to Bandar Sei Begawan in the Brunei-Muara District.
The airport has a single terminal building that is able to handle 2 million passengers annually, a single runway and facilitates flights from airlines flying to destinations across Asia and Oceania. Brunei International Airport is situated 10 minutes away from the centre of the capital. There are a number of rental options and taxi services that can transfer you over to the city centre in under 15 mins.
Other airlines which fly to and from Brunei International include AirAsia, Cebu Pacific, Lucky Air, Malaysia Airlines and Singapore Airlines.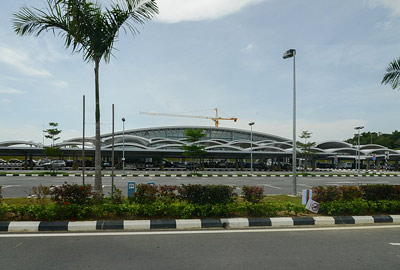 Credit: Jorge Láscar on Wikimedia Commons
---
Alternative Airlines to Royal Brunei Airlines
Please click on the logos below to find out more about airlines that fly similar routes to Royal Brunei Airlines. Alternatively, you can use the search bar above to enter your destination and find flights that fit your itinerary.