Airlines will always try to sit children with their parents (subject to check-in)
Some airlines will allow travel for unaccompanied minors. Please email us to check.
The fare is based on the child's age on the date of travel.
More detailed information can be found here Traveling with children
Most airlines will let infants travel with their parent(s) for free. However some airlines will charge up to 10% of the adult ticket price. Click on 'Price Breakdown' to find out more.
If you are pregnant, but due before the flight departure date, please contact us once your baby is born and has a name. We can then add him/her to your ticket.
Infants will not be given a seat. The airlines expect parents to travel with them on their lap.
Airlines regard infants as being under 24 months old.
The fare is based on the child's age on the date of travel.
More detailed information can be found here Traveling with children
One Way Flights Emirates
Cancellation Protection
Protects
Trusted Choice
Rated 4.5 Stars. Based on 3,581 service ratings over the past year
Dedicated customer service team on hand to help
Secure payments
Cancellation Protection
Protects
Trusted Choice
Rated 4.5 Stars. Based on 3,581 service ratings over the past year
Dedicated customer service team on hand to help
Secure payments

What are One Way Flights with Emirates?
One-way flights with Emirates are flight tickets that are brought in a plan to travel to one destination, without a return flight. One-way flights tend to be booked by those who are planning to relocate to another city or those who are uncertain about return dates. These types of flights offer passengers greater flexibility to return whenever they want to.
Are you looking to buy Emirates one-way flights? Well, you've landed on the right page! Alternative Airlines has made it super easy for you to search and buy 'one-way' flights to find the perfect flight for you by applying the search filters. Below is a step-by-step guide on how to buy one-way flights with Alternative Airlines. You can also add extras to your booking such as Cancellation Protection and Lost Baggage Insurance.
---
How to Book One Way Flights with Emirates
STEP
1
By using the booking tool at the top of the page, choose the 'one-way' option as you wish to fly without a return flight. Then, fill in the departure and arrival destinations and the dates that you wish to travel along with the number of passengers and cabin class. Hit 'Search Flights'.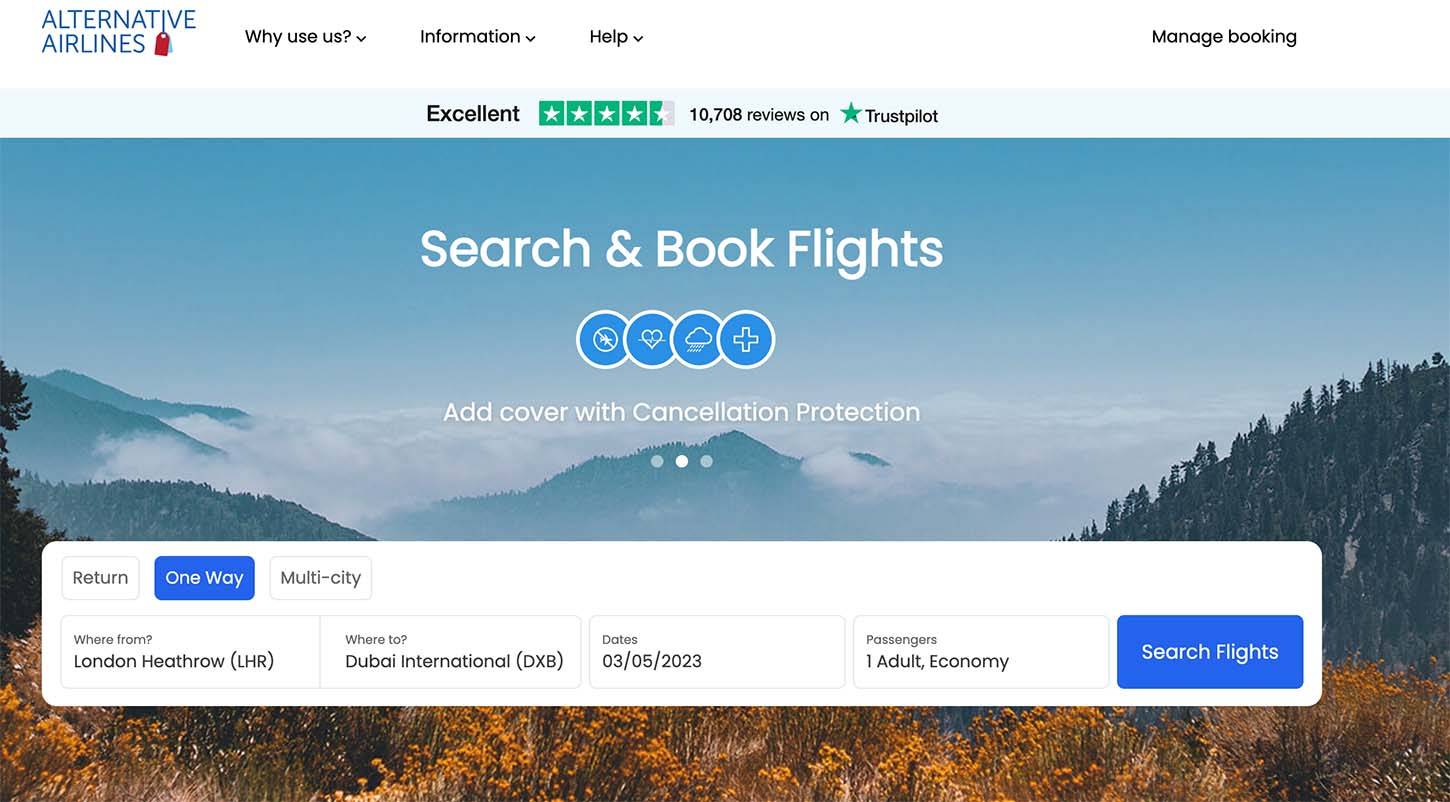 STEP
2
You'll then be shown all the available one-way flights according to your search. Use the airline filter to narrow down your search to only show 'one-way flights with Emirates'.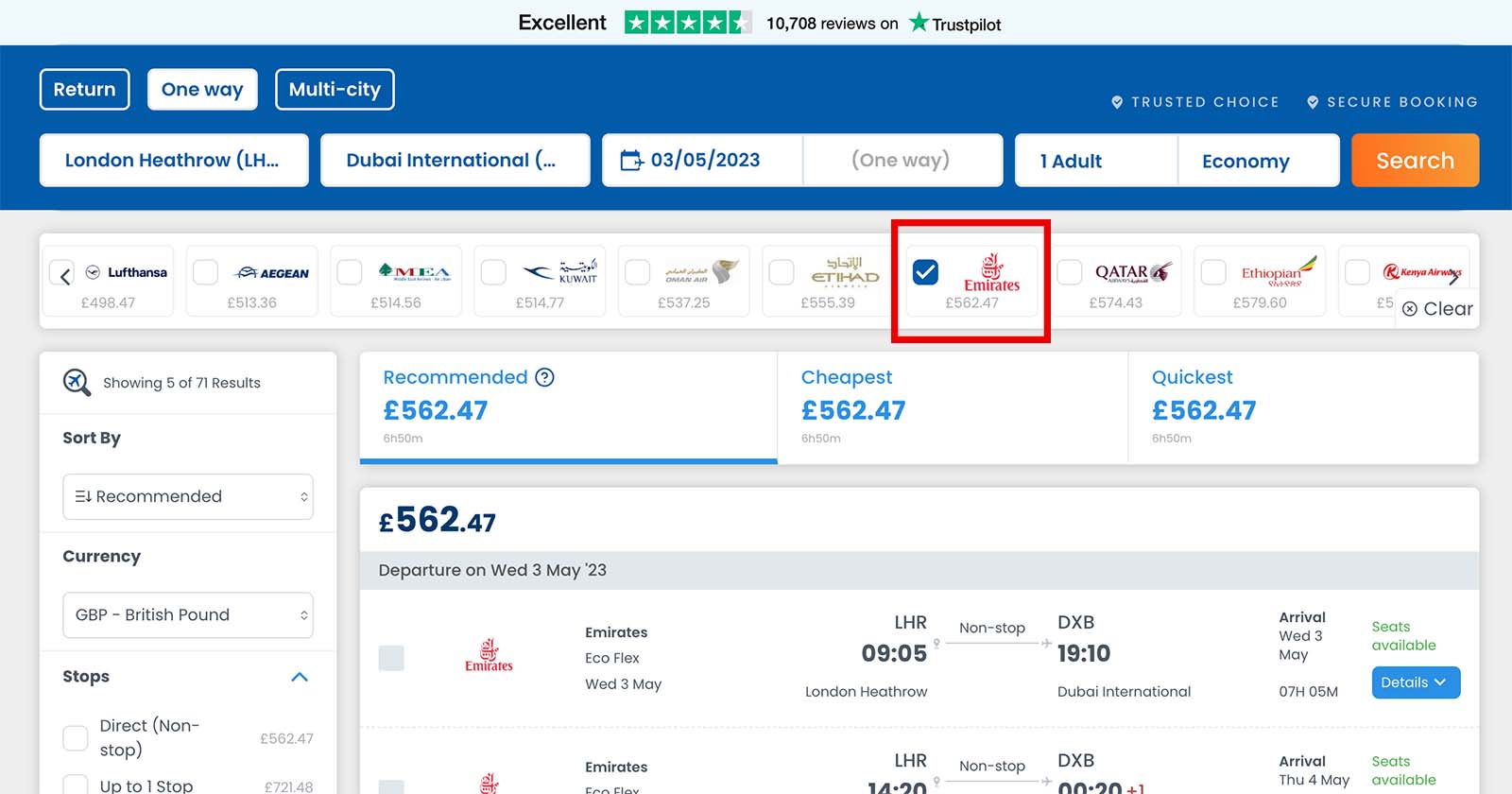 STEP
3
Once you have chosen the flight that you wish to take, confirm your selection and head to book and pay using one of the 40+ payment methods we have on site. When your booking has been confirmed, your e-ticket will be sent via email.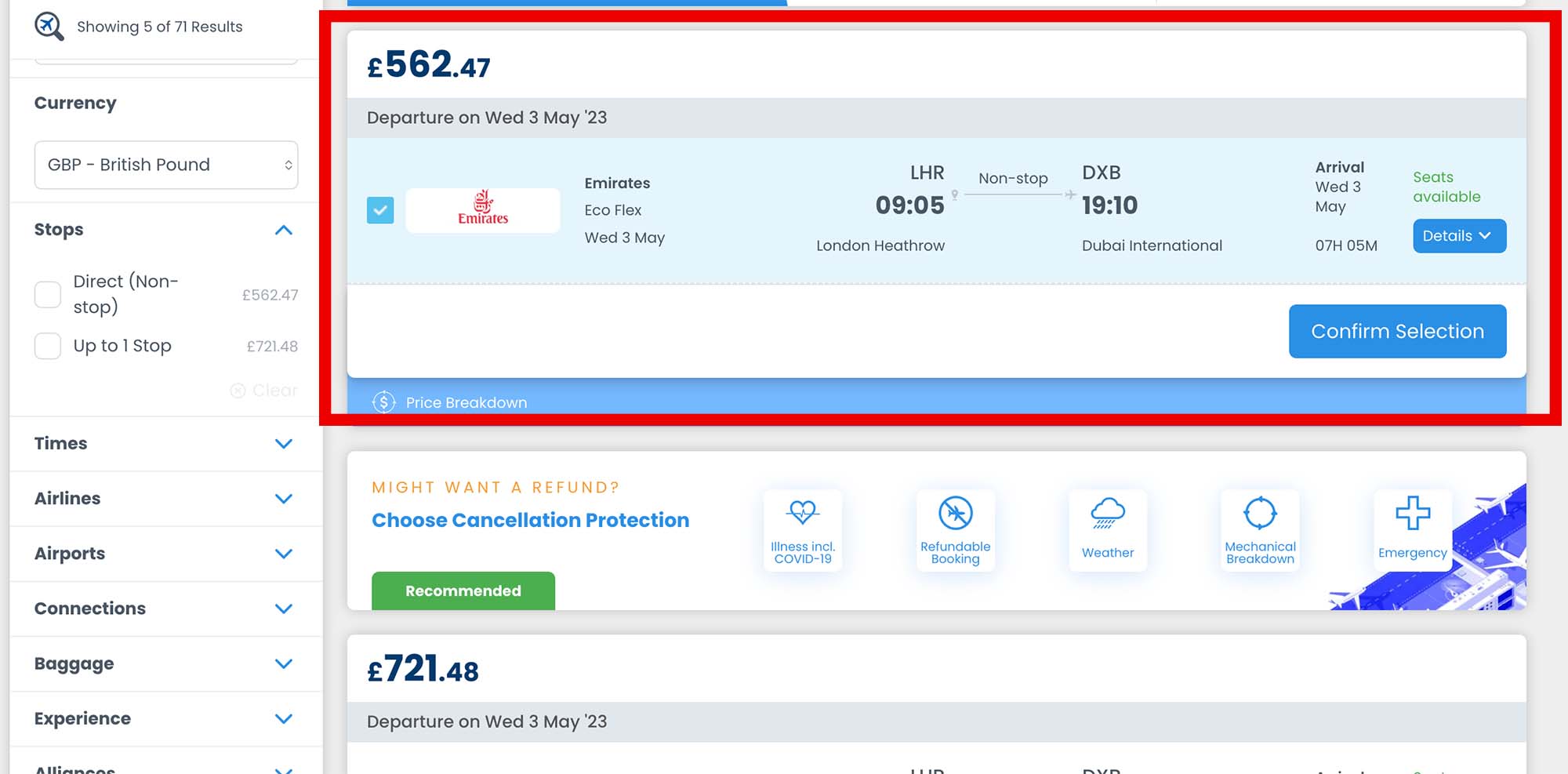 ---
Popular One Way Flight Routes with Emirates
Emirates is one of the flag carriers of the United Arab Emirates and is based in Garhoud, Dubai. The airline flies to over 160 destinations across 80+ countries on all 6 continents. Below are some of the most popular one-way flights with Emirates.
London ✈ to Dubai
Shanghai ✈ to Dubai
Bangkok ✈ to London
Jeddah ✈ to Dubai
---
Why Book One Way Flights
Listed below are some of the reasons travellers may book one-way flights rather than return flights. Use the search form at the top of the page to begin your search for one-way flights with Emirates.
Cheaper Flights
Many travellers will purchase one-way flights as a pricing strategy to find cheap flights. Round-trip flights tend to be more expensive than two separate one-way tickets depending on the airline you fly with. Use our search form at the top of the page to find great deals on single-trip
Greater Flexibility
Making a one-way flight reservation gives you more freedom to choose the day you wish to return home. One-way flights are ideal if you are unsure of when you'd like to return from your vacation. After a few days, weeks or even months have passed, you can book a one-way flight home.
Relocation
If you're looking to relocate to another city or country, you'll likely purchase a one-way ticket as you have no intention of returning to the place they departed from.
---
One Way Flights with Emirates
FAQs
Where can I book Emirates one-way flights?
Here, at Alternative Airlines. When you book through Alternative Airlines you can purchase ANY one-way flight that you want with Emirates. Our booking site lets you easily customise your booking preferences by applying search filters. When making a reservation through Alternative Airlines, you can also add Cancellation Protection and Lost Baggage Protection for an extra layer of protection.
Can I finance Emirates one-way flights?
Of course! When you use Alternative Airlines to buy Emirates one-way flight tickets you can break up the cost of your flight in easy-to-pay instalments. We offer several different payment plan providers that let you split the cost of your Emirates one-way fare over weekly, bi-weekly or monthly instalments. This includes Klarna, Afterpay, Uplift, Clearpay, TendoPay, PayPal Credit and more. Please bear in mind that the payment plan option available at checkout will depend on the place you live in.
Are Emirates one-way flights cheap?
Booking two separate one-way flights with Emirates can sometimes be cheaper than booking a roundtrip flight. However, this isn't always guaranteed. Some Emirates one-way flight tickets can be expensive when the route frequency with the airline is low and there aren't enough seats for the number of passengers wanting to travel. It's difficult to determine if Emirates one-way flights are cheaper than roundtrip as prices change all the time.
What is the difference between a one-way and roundtrip flight?
One-way flights are flights that fly you to a destination without a return flight ticket to the place you departed from. A two-way flight ticket (also known as a roundtrip) is a flight itinerary that includes one flight to a destination and another flight back from that destination e.g. flying from BCN to AMS and returning back from AMS to BCN.
Do I need a visa for one-way flights?
This is entirely dependent on the destination you fly to and the length of your stay. A travel visa is an official document that enables visitors from other countries to enter or stay in that nation for a specific amount of time. Please make sure to research the visa requirements of the country you're flying to if you're considering moving abroad.