Airlines will always try to sit children with their parents (subject to check-in)
Some airlines will allow travel for unaccompanied minors. Please email us to check.
The fare is based on the child's age on the date of travel.
More detailed information can be found here Traveling with children
Most airlines will let infants travel with their parent(s) for free. However some airlines will charge up to 10% of the adult ticket price. Click on 'Price Breakdown' to find out more.
If you are pregnant, but due before the flight departure date, please contact us once your baby is born and has a name. We can then add him/her to your ticket.
Infants will not be given a seat. The airlines expect parents to travel with them on their lap.
Airlines regard infants as being under 24 months old.
The fare is based on the child's age on the date of travel.
More detailed information can be found here Traveling with children
Search & Book First Class Flights to Australia
Cancellation Protection
Protects
Trusted Choice
Rated 4.5 Stars. Based on 3,581 service ratings over the past year
Dedicated customer service team on hand to help
Secure payments
Cancellation Protection
Protects
Trusted Choice
Rated 4.5 Stars. Based on 3,581 service ratings over the past year
Dedicated customer service team on hand to help
Secure payments
Search and Book First Class Flights to Australia
If you're searching for First Class flights to Australia, you've come to the right place. At Alternative Airlines, we've got 600+ airlines for you to choose from when you book your flights through us, making booking First Class tickets to Australia super easy! With over 40 different ways to pay for your tickets, including flexible Buy Now Pay Later methods, you can manage the cost of your first-class tickets and spread the payments over time, making First Class more affordable!
Use our search form at the top of the page to start searching for First Class flights to Australia.
---
First Class Flights to Australia
Australia is one of the world's most exquisite travel destinations in the world. No matter what kind of traveller you are, there is something to entice you here. It is regarded as a popular backpacking, camping, and driving destination. From Uluru to the outback, rainforests to immaculate white sand beaches, and of course, the Great Barrier Reef, the nation is awash with extraordinary natural beauty. Sydney's Harbor Bridge and Opera House are well-known man-made beauties, and Melbourne's café scene will make you think you're in Europe.
The iconic beaches of Australia are ranked as one of the best in the world. Did you know that if you visted each beach in Australia everyday, it would take you 27 years to visit them all.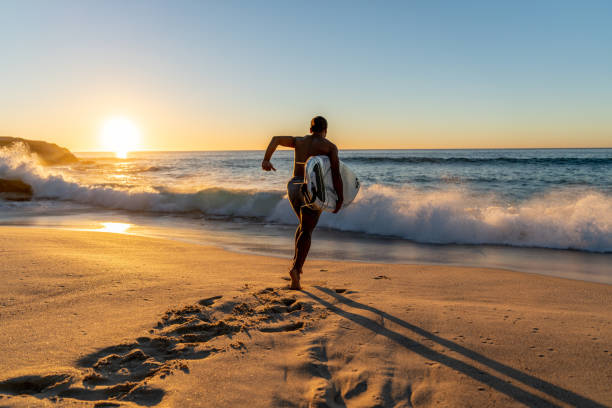 Popular First Class Routes to Australia
Below are some of the most popular First Class routes to Australia:
Dallas-Fort Worth (DFW) ✈ to Sydney (SYD)
Hong Kong (HKG) ✈ to Sydney (SYD)
Los Angeles (LAX) ✈ to Melbourne (MEL)
Los Angeles (LAX) ✈ to Sydney (SYD)
Singapore (SIN) ✈ to Melbourne (MEL)
Singapore (SIN) ✈ to Sydney (SYD)
---
Best First Class Airlines to Australia
Qantas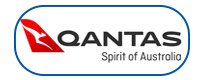 Qantas is the biggest and the flag carrier airline of Australia, headquartered in Mascot, Sydney. It's the the third oldest airline in the world and carries a legacy of more than 100 years. Qantas co-founded the famous Oneworld alliance with American Airlines, British Airways, and Cathay Pacific. The airline operates almost 600 daily flights to over 80 destinations across the globe.
Qantas is one of the leading long-haul airlines of the world and is considered as the pioneer of ultra-long haul travel (flights lasting 16 hours or more).
In-Flight Experience:
Qantas delivers its premium services for its first class customers. The airline has branded its first class product as Qantas First. The in-flight experience of Qantas first class is absolutely spectacular; from super luxuruous lie-flat seats with huge legroom, three-course meals, prompt and friendly inflight customer service, complimentary wine, and amazing in-flight entertainment which would make your international journey filled with joy and entertainment.
Amenities:
The amenity kit provided on first class flights to and from Australia are designed by the famous designer Martin Grant and include products from Aurora Spa, socks, dental kit, eye mask, ear plugs and a deadorant.
Benefits:
If you're flying on a First Class ticket to Australia, you can earn more loyalty points, you'll also get mileage bonuses, extra baggage allowances and lounge access. Qantas first class international lounges feature à la carte cuisine (the menu was created by renowned Australian chef Neil Perry) in each of the four locations that the Qantas A380 and Qantas First fly to. These lounges also have roomy shower rooms and an extensive bar menu.
Popular First Class Routes to Australia:
Qantas offers its first class service only on its super jumbo aircraft i.e. the Airbus A380. Currently, Qantas is offerring First Class flights to Australia for two of its cities: Sydney and Melbourne.
Singapore Airlines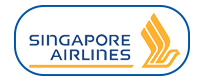 Singapore Airlines is the flag carrier airline of Singapore and is one of the top airlines in the world. Singapore Ailrines is known for its stellar service, world-class travel brand, luxurious flight cabins, latest in-flight entertainment options, and the best onboard service. The airline has been consistently ranked as the best airline in the world by multiple airline ranking sources. Singapore airline was the first airline to introduce the first class suit onboard their A380 aircraft. Singapore Airlines also has a strong presence in Australia and the airline was ranked as the number one international carrier in Australia, in 2019. Therefore, Singapore Airlines is the best option for you to buy your first class tickets to Australia.
In-Flight Experience:
Singapore Airlines offers first class service onboard its 777 and A380 aircraft. The inflight experience for first class is spectacular. If you're flying first class to Australia on one of the A380s of Singapore Airlines, you can experience the luxury of richly upholstered leather seats which can recline upto 45 degrees. If you're travelling with a loved one, you can opt for a double suite which lets you enjoy your flight on a comfy double bed shared between you and your partner. Alongwith complimentary champaigne and snacks, you can expect a full three course meal which you can select from their expectional inflight menu. Their first class also offers the state of the art 32" HD in-flight entertainment paired with the famous Bang & Olufsen headphones along with high speed internet. Undoubtedtly, the first class experience on board Singapore Airlines is one of the best in the world.
Amenities:
The onboard amenities include a 'Care Kit' which comprises of a hand sanitiser, masks and wipes, alongwith a Lalique amenity kit which includes a scented candle (which cannot be used onboard, ofcourse), a lip balm, body lotion and a soap. Whereas the toilets include seperate dental and shaving kits. The airline also offers a choice of pyjamas for its customer to allow them to ease-in and enjoy their flight in comfort. Other amenities include socks, slippers, earplugs, eyeshades, and a hairbrush.
Benefits:
Flying First Class with Singapore Airlines means that you'd be given a private check-in, access to the premium lounges, relatively higher baggage allowance which includes priority delivery, extensive bar menu and premium airport access services during security screening and immigration at the airport.
Popular First Class Routes to Australia :
Singapore (SIN) to Auckland (AKL)
Singapore (SIN) to Melbourne (MEL)
Singapore (SIN) to Sydney (SYD)
---
Other Airlines with First Class Fares to Australia
Aside from Qantas and Singapore Airlines, other major airlines such as Emirates, KLM, British Airways, Etihad Airways, Malaysia Airlnes and Qatar Airways are also a good option for you to buy your first class tickets to Australia.
How to Book First Class Flights to Australia
1. Firstly, navigate to the top of the page to find our search form. Enter your departure airport and set the arrival destination to Austrlaia (any airport in Australia or choose from SYD, MEL or AKL). Enter the dates you plan to fly and how many passengers will be flying - in this section, you'll also need to set your preferred cabin class to 'First Class'. Press the 'Search Flights' button when you're ready!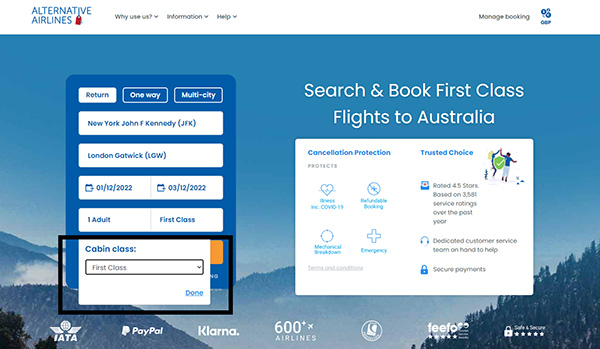 2. After the search results have loaded, you'll see all the available First Class flights to Australia. If First Class flights aren't available for your search, we'll instead show airfares after First Class (e.g., Business or Premium Economy). To narrow down your search, you can apply filters. For example, if you'd like to purchase a First Class direct flight to Australia, you can use the 'Stops' filter. Once you've found the best flight for you, confirm your selection to proceed.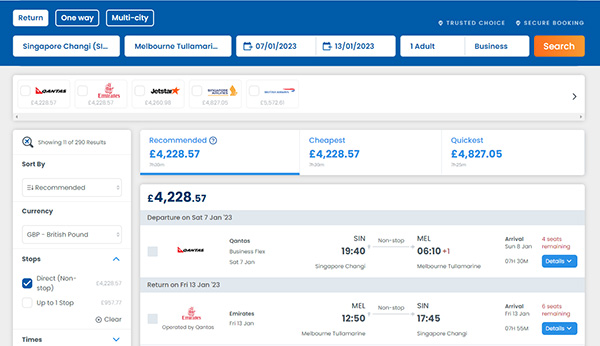 3. If the option is available, you can see in greater detail what's included in a First Class service with the flight you've chosen when you click on the 'Explore details' button. This will display information about the aircraft you'll be flying on, what the cabin is like, baggage allowances and other facilities available with the First Class ticket you selected. With 40+ ways to pay at Alternative Airlines, you can secure your booking with as much flexibility as you like - enjoy your trip!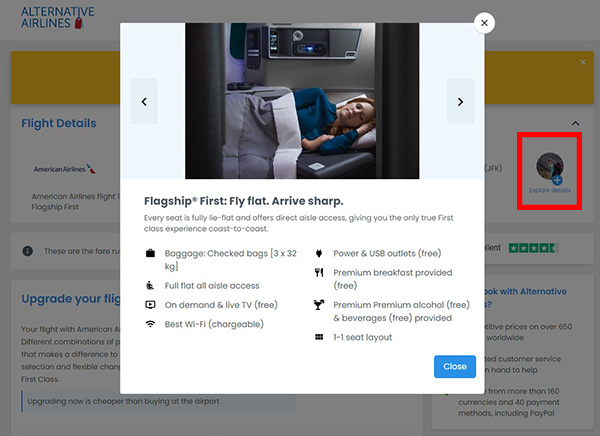 ---
Save Money on First Class Flights to Australia
There is no argument in the fact that first class tickets can be expensive, but this shouldn't stop you from being able to experience a First Class flight to Australia! We have 40+ different ways to pay and we accept over 160 differenct currencies, including super flexible payment plans and Buy Now Pay Later options that can help you book your flights today and spread the cost of that First Class ticket over time! Our finance options can help you manage the budget for your First Class flight so you can make repayments on a weekly, bi-weekly or monthly basis, depending on the plan you've chosen. Please take a look at our Buy Now Pay Later guide for more information.
---
First Class Flights to Australia
FAQs
Which airlines offer First Class to Australia?
Many airlines offer first-class fares to/from Australia, however, the most popular airlines that provide a great first-class experience and the most first-class routes from international/domestic cities to Australia are Qantas, Singapore Airlines. Other airlines that offer First Class to Australia as a fare option include British Airways, Air France, Cathay Pacific, Singapore Airlines and many more. Take a look at our best airlines for First Class guide for more information.
Are Business and First Class the same?
No, First Class and Business Class are not the same services. Business Class is just above Economy/Premium Economy and provides more legroom and comfortable seating. However, when you fly First Class, you'll get all of the benefits of Business and more, such as your own private 'room' on the aircraft depending on the airline you're flying with, and fine dining. If you're travelling to Australia for business and don't want to spend too much money on the flight ticket, we recommend flying in Business Class.
Is it worth flying first class?
Absolutely! Flying in first class is a flight experience which is second to none. Flying first class is the best experience you could get onboard a commercial aircraft. The service and amenities for the first class customers are best of the best. For the Europeans who are looking to travel to Austrlia, first class can be a great option, as the flight times between EU and AUS are quite long and spending that much time on an economy class may not be everyone's cup of tea.