Flights Between London and Dubai With
Emirates
If you're looking for an Emirates flight between London and Dubai, you've come to the right place. We offer Emirates flights as well as tickets from over 600 airlines globally. You'll have plenty of options when you look for flights between the two destinations.
At Alternative Airlines, not only do we offer flights from over 600 airlines, but we also offer more than 40 payment methods across 160 currencies including buy now pay later (BNPL) and financing options, cryptocurrencies and many more.
---
London Airports Serving Flights to Dubai
Emirates is serving London in two major international airports in the UK - London Heathrow Airport and London Gatwick Airport. Flights are available daily and there are First, Business and Economy Class onboard. Both airports are easily accessible and offer great facilities to travellers.
London Heathrow Airport (LHR)
London Heathrow Airport is the major international airport in the United Kingdom, located in the west of London. It's one of the busiest airports in the world, accommodating more than 80 million passengers per year. Emirates offers 46 weekly flights between the two destinations with at least 5 daily flights every day. Flights are operated by a fleet of Airbus 380 and Boeing 777.
London Gatwick Airport (LGW)
London Gatwick Airport is the second busiest airport in the United Kingdom, located in the south of London. The airport serves over 45 million passengers per year including flights to many destinations in Europe as well as the US, Asia and many more.
From December 2021, Emirates will restart its daily Gatwick Dubai service with a fleet of Boeing 777 aircraft.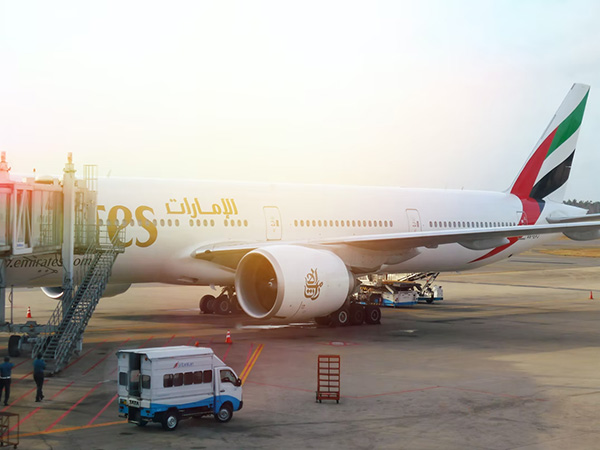 ---
Transiting in Dubai
When you're transiting through Dubai, you must present your negative COVID-19 PCR test certificate that has taken no longer than 72 hours before the flight. Please be aware that the NHS COVID test certificate would not be accepted if you're travelling from the United Kingdom.
Dubai International Airport is the 4th busiest airport in the world, therefore, finding the boarding gate for your flight could be quite daunting. However, Dubai International Airport has clear signage across the whole airport, so there shouldn't be any hassle trying to locate your next flight.
---
Emirates London to Dubai Flights

FAQs
How long is the flight time from London to Dubai with Emirates?
The average flight time between London and Dubai is around 7 to 7.5 hours on average. The exact flight time may vary depending on the weather during the flight. For more details, please refer to your e-ticket.
Does Emirates still fly to London?
Yes! Emirates still flying between Dubai and London. However, before 10 December 2020, Emirates is only flying to London Heathrow Airport as the airline suspended the London Gatwick service during the COVID-19 pandemic.
After 10th December 2020, Emirates would be re-starting their London Gatwick to Dubai route using a fleet of Boeing 777 aircraft.
How many times does Emirates fly to London daily?
Emirates flights to Dubai would operate 5 times daily from London Heathrow Airport, whilst the London Gatwick service is only operated once a day.
Please note that this is for reference only. For more accurate information, please use our search form to locate your flight.
Are Dubai London flights operating?
Yes, they are. Flights are available daily from both London airports. You can find your next Emirates flights using our search form.
You can pay with a selection of 40+ payment methods for your next flight, including buy now pay later and financing options. In the UK, we've got Zip, Klarna, Laybuy and PayPal Credit available.
If you live in the United Arab Emirates, you can use Postpay or Tabby instead.
For more details, please visit our buy flights on finance page.