Airlines will always try to sit children with their parents (subject to check-in)
Some airlines will allow travel for unaccompanied minors. Please email us to check.
The fare is based on the child's age on the date of travel.
More detailed information can be found here Traveling with children
Most airlines will let infants travel with their parent(s) for free. However some airlines will charge up to 10% of the adult ticket price. Click on 'Price Breakdown' to find out more.
If you are pregnant, but due before the flight departure date, please contact us once your baby is born and has a name. We can then add him/her to your ticket.
Infants will not be given a seat. The airlines expect parents to travel with them on their lap.
Airlines regard infants as being under 24 months old.
The fare is based on the child's age on the date of travel.
More detailed information can be found here Traveling with children
Search & Buy Cheap Flights to Atlanta
Cancellation Protection
Protects
Trusted Choice
Rated 4.5 Stars. Based on 3,581 service ratings over the past year
Dedicated customer service team on hand to help
Secure payments
Cancellation Protection
Protects
Trusted Choice
Rated 4.5 Stars. Based on 3,581 service ratings over the past year
Dedicated customer service team on hand to help
Secure payments
Search and Book Cheap Flights to Atlanta
Atlanta is the capital and most populated city in the US state of Georgia. The city is rich with history, playing a key role in the foundations of the United States - many historical events took place around Atlanta, including the Civil War, Civil Rights movements and the construction of the Western and Atlantic railroads. Today, Atlanta is popular for its heavy involvement in sports (including baseball, football and basketball), its diverse range of food from fine dining to traditional Southern cuisine, and last of all its incredible shopping experience offering shopping districts all over the city.
In summer, Atlanta can become hot and humid with temperatures reaching highs of 35°C (95°F). The best times to visit the city are usually from early May to mid June and from late August to mid October - this is when its most comfortable for visitors to enjoy warm-weather activities within the city.
Use our guide below to find out how to search and book cheap flights to Atlanta through Alternative Airlines
---
Which airport can you fly into?
Hartsfield-Jackson Atlanta International Airport is the primary international airport serving Atlanta, Georgia. The airport was labeled the world's busiest airport by passenger traffic since 1998 until it lost its title in 2020 due to the effects of the COVID-19 pandemic - it is slowly regaining this title as of 2021. Hartsfield-Jackson is the main hub for Delta Air Lines - with around 1000 flights a day to over 200 domestic and international destinations, this Delta hub has been considered the world's largest hub for an airline. Aside from Delta, the airport is also a focus city for popular low-cost carriers including Frontier Airlines, Southwest Airlines and Spirit Airlines.
Below you'll find a list of airlines that currently operate flights to/from Atlanta. We've outlined which airlines fly international routes to Atlanta, domestic routes within the US and flights to the city operated by low-cost carriers, making it easier for you to see which may be the best option for you when searching for cheap flights to Atlanta.
✈ International Airlines: Air Canada Express, Air France, British Airways, Copa Airlines, KLM, Korean Air, Lufthansa, Qatar Airways, Turkish Airlines, Virgin Atlantic and WestJet.
✈ Domestic Airlines within the US: Alaska Airlines, American Airlines, American Eagle, Delta Air Lines, Delta Connection, Frontier Airlines, JetBlue, Southern Airways Express, Southwest Airlines, Spirit Airlines, United Airlines and United Express.
✈ Low-Cost Airlines: Frontier Airlines, JetBlue, Southwest Airlines and Spirit Airlines
---
How to Search for Cheap Flights to Atlanta
An important factor when searching for cheap flights is the date you plan to fly. At Alternative Airlines, you can use our Best Farefinder Tool to help you find the cheapest days to fly in a month to a particular destination (e.g., Atlanta).
STEP 1
Using our search form at the top of the page, enter the destination you plan to depart from and the arrival destination - in this example, our arrival destination will be set to Atlanta, Georgia. You can also fill in how many passengers will be flying and the cabin class you prefer to fly in.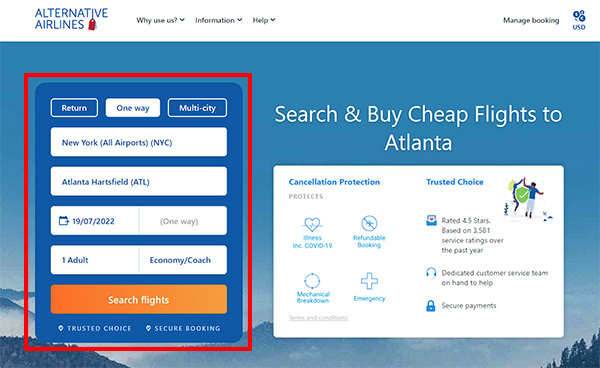 STEP 2
When you fill in the departure date, our Best Farefinder calender will pop up. The dates highlighted in green are the cheapest days to fly, whereas the dates in red are more expensive. Once you've selected the date that best suits you, you can hit the 'Search Flights' button.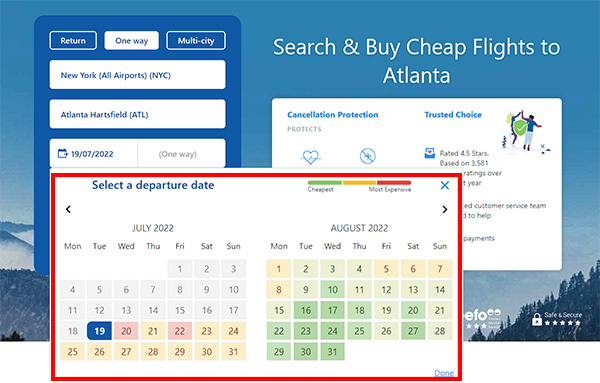 STEP 3
Once the search results have loaded, you can compare route prices and even select an airline of your choice. For this example, we'll be refining the search by selecting low-cost carriers (e.g., JetBlue and Spirit). You'll also be able to sort the results by the cheapest prices. If you've found the perfect flight for you, you can then proceed with the booking by clicking the 'Confirm Selection' button.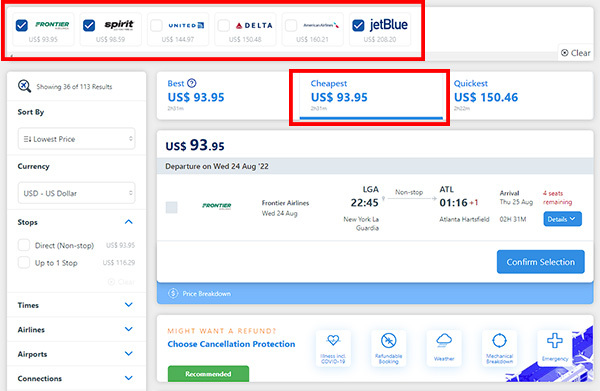 ---
Popular Cheap Flights to Atlanta
Below are the most popular cheap routes often used to fly to Atlanta, both internationally and domestically within the US.
From New York: Often operated by popular low-cost carriers including Frontier, Spirit and JetBlue.
From Miami: Operated regularly by Frontier, Spirit and Southwest.
From London: Frequently flown by low-cost carrier JetBlue. Also operated by major airlines such as British Airways and American Airlines.
From Philadelphia: A popular route with Spirit, Frontier and Delta.
---
Cheap Flights to Atlanta
FAQs
Can I book cheap flights to Atlanta on finance?
Absolutely! Here at Alternative Airlines, we have over 40 payment methods to offer including 'buy now, pay later' options such as Afterpay, Klarna and PayPal Credit. Other payment methods that we offer include debit, credit, virtual wallets and even cryptocurrency. Flexible, right?
When is the best time to book cheap flights to Atlanta?
Alternative Airlines has developed a Best Farefinder Tool to help you locate the cheapest days to travel. Using this tool, you can compare your preferred dates of travel with other dates in the same month that you're travelling in. This'll help you discover which days are the cheapest to fly.
What is the cheapest airline to use when flying to Atlanta?
Depending on the days you travel and where you are travelling from, there will be different prices for different airlines. For example, if you're flying within the US to Atlanta, usually the cheapest airlines to fly with are Spirit and Frontier as these are low-cost carriers.