Buy Flights using Civic (CVC)
Search and book flights using Civic with Alternative Airlines. Select from 'Buy Now, Pay Later' payment options and bank transfer options, as well as our range of cryptocurrency options. Use this guide to learn how you can use Civic to book your flights.

What is Civic?
Civic was founded in 2015, a cryptocurrency based on Ethereum. It's an Ethereum token used to power Civic's identity verification protocol. Civic is a decentralized identity ecosystem, allowing the request to verify the identity of the user in a safe and cost-effective way, which became possible because of blockchain technology.
Keep reading to find out more about Civic and the benefits of using this cryptocurrency to book flights.
What is the currency code for Civic?
The currency code for Civic is CVC.
---
How to buy flights with Civic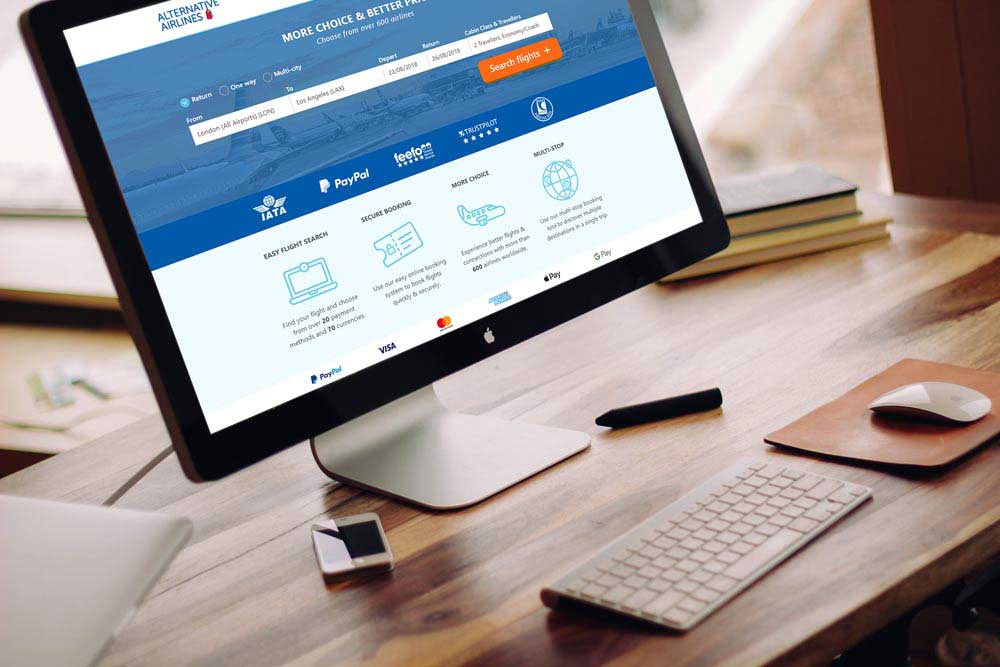 Search and find your preferred flights in minutes. Follow these simple steps to book your flights and pay using Civic.
1

You'd need to first complete the search form at the top of the page. You'll need to then enter the following information: your departing and arriving airport, travel date(s), number of passengers travelling and your preferred cabin class and select 'search flights'.

2

We'll then show all the flights available for the route and dates that you've chosen. You can also change your travel dates or apply one of our search filters until you find the right flights for you.

3

Complete the passenger information page and proceed to checkout. You'll be able to then connect your crypto wallet with our cryptocurrency provider, Coingate. To use Civic, simply select CVC.
---
Civic & Flights
If you're looking for a cryptocurrency to invest within and exchange with, you may be very interested in Civic (CVC).
Why use Civic to book flights?
Here are some of the reasons you could book your flights using CVC:
For privacy and anonymity
Civic is a decentralized and open network. Civic offers more privacy and anonymity than traditional fiat payment systems, such as bank transfers and credit card payments.
It's quick and easy
Alternative Airlines makes buying flights using Civic really simple and easy. Book your flights and pay in minutes. Use our easy-to-use flight search and checkout with CVC.
Safe and secure
When using Civic you can rest assured that you're placing your trust into a trustable cryptocurrency. No matter where you are or where you're looking to fly to, you can book your flights in confidence.
Use the search bar at the top of the page to start searching for your flight.
---
Civic and Flights
FAQs
What is the currency code for Civic?
The currency code for Civic is CVC.
Can I use CVC to book flights?
Yes, you can, when you book through Alternative Airlines. We offer a range of cryptocurrency options and allow you to search and book flights with over 600 global airlines, flying to destinations around the world, then checkout using the cryptocurrency of your choice. Thanks to our partnership with Coingate, you can connect to your crypto wallet to pay for your flights using CVC.
Where can I book flights using Cryptocurrency?
Book flights using Civic here at Alternative Airlines, we offer all major Cryptocurrencies, as well as many smaller and more nice options. Some of our cryptocurrency options include: Bitcoin (BTC), Ethereum (ETH), Litecoin (LTC), Dash, Ripple (XRP), Digibyte (DGB), Tether (USDT), UTK, and CRO.
Thanks to our cryptocurrency provider Coingate, we also offer Dogecoin (DOGE), Basic Attention Token (BAT), and Aragon and Algorand, Bitcoin Cash and Bitcoin Diamond, as well as many other cryptocurrency options.