Standard Economy
Flying economy might be better on the wallet, but is usually not ideal when you're looking for comfort. In fact, flying economy can often be a daunting prospect: crammed in, no personal space, the dreaded middle seat.
Many travellers are unaware that dimensions for basic economy seats can vary widely. For just a slightly higher price, you might want to consider choosing to fly with an airline that offers economy passengers greater width and pitch. You might find that the difference in fares is less than the fee to upgrade!
Top Tip: for more information on Economy vs Premium Economy, check out our guide: Premium Economy, is it worth it?
What is

seat width?
Seat width is measured armrest to armrest, and some airlines will offer economy passengers a substantially greater seat width than others. Even on shorter domestic or transcontinental flights, the thought of having to bunch up elbow-to-elbow with your neighbour is likely to cause much of your economy dread!
What is

seat Pitch?
What exactly is seat pitch, and does it actually matter? Definitely. Seat pitch is an industry term, referring to the distance from one seat headrest to the next, both in-front and behind. Along with seat width, checking the seat pitch will offer passengers a good indication of how much room to expect. Mere centimeters can make a massive difference to your overall experience, especially if you plan on comfortably using your laptop on the tray in front of you, or are flying on a red-eye flight, and plan on getting some sleep a bit!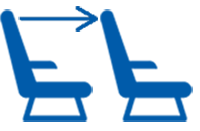 Premium Economy
Some airlines offer premium economy as a completely separate class of seating, and is most likely found on intercontinental flights. Compared to standard economy, premium economy will often offer 1-2 extra inches of seat width, and 2-3 extra inches of seat recline. Additional amenities might include adjustable headrests and leg-rests, personal TV screens, and premium food service.
Worth upgrading to

Premium Economy?
According to Seat Guru, if you book flights over the Atlantic Ocean in advance, you should expect to pay 85% more for seats in premium economy compared to standard economy. If you book closer to departure, premium economy is often reduced and might be just 10%-35% more expensive. Flights over the Pacific Ocean do not often see such a reduction in seat price, so expect to pay up to 95% more for a premium economy seat compared to standard economy.
The decision is likely to come down to personal comfort. If the extra cost is around 10-20% more, this is likely to represent very good value for money!