Airlines will always try to sit children with their parents (subject to check-in)
Some airlines will allow travel for unaccompanied minors. Please email us to check.
The fare is based on the child's age on the date of travel.
More detailed information can be found here Traveling with children
Most airlines will let infants travel with their parent(s) for free. However some airlines will charge up to 10% of the adult ticket price. Click on 'Price Breakdown' to find out more.
If you are pregnant, but due before the flight departure date, please contact us once your baby is born and has a name. We can then add him/her to your ticket.
Infants will not be given a seat. The airlines expect parents to travel with them on their lap.
Airlines regard infants as being under 24 months old.
The fare is based on the child's age on the date of travel.
More detailed information can be found here Traveling with children
A Guide to Airlines with the Biggest Seats in Economy
Cancellation Protection
Protects
Trusted Choice
65,000 happy customers
Rated 4.5 Stars. Based on 3,581 service ratings over the past year
Dedicated customer service team on hand to help
Secure payments
Cancellation Protection
Protects
Trusted Choice
65,000 happy customers
Rated 4.5 Stars. Based on 3,581 service ratings over the past year
Dedicated customer service team on hand to help
Secure payments
Airlines with the biggest seats in economy
Everything You Need to Know
We have composed a list of some of the best known airlines leading the way in the race for comfortable economy seating.
Check out our seat comparison table, to see how the airlines are 'pitching' against each other!
Standard Economy
Flying economy might be better on the wallet, but is usually not ideal when you're looking for comfort. In fact, flying economy can often be a daunting prospect: crammed in, no personal space, the dreaded middle seat.
Many travellers are unaware that dimensions for basic economy seats can vary widely. For just a slightly higher price, you might want to consider choosing to fly with an airline that offers economy passengers greater width and pitch. You might find that the difference in fares is less than the fee to upgrade!
Top Tip: for more information on Economy vs Premium Economy, check out our guide: Premium Economy, is it worth it?
What is

seat width?
Seat width is measured armrest to armrest, and some airlines will offer economy passengers a substantially greater seat width than others. Even on shorter domestic or transcontinental flights, the thought of having to bunch up elbow-to-elbow with your neighbour is likely to cause much of your economy dread!
What is

seat Pitch?
What exactly is seat pitch, and does it actually matter? Definitely. Seat pitch is an industry term, referring to the distance from one seat headrest to the next, both in-front and behind. Along with seat width, checking the seat pitch will offer passengers a good indication of how much room to expect. Mere centimeters can make a massive difference to your overall experience, especially if you plan on comfortably using your laptop on the tray in front of you, or are flying on a red-eye flight, and plan on getting some sleep a bit!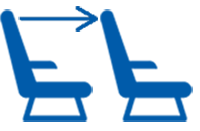 Premium Economy
Some airlines offer premium economy as a completely separate class of seating, and is most likely found on intercontinental flights. Compared to standard economy, premium economy will often offer 1-2 extra inches of seat width, and 2-3 extra inches of seat recline. Additional amenities might include adjustable headrests and leg-rests, personal TV screens, and premium food service.
Worth upgrading to

Premium Economy?
According to Seat Guru, if you book flights over the Atlantic Ocean in advance, you should expect to pay 85% more for seats in premium economy compared to standard economy. If you book closer to departure, premium economy is often reduced and might be just 10%-35% more expensive. Flights over the Pacific Ocean do not often see such a reduction in seat price, so expect to pay up to 95% more for a premium economy seat compared to standard economy.
The decision is likely to come down to personal comfort. If the extra cost is around 10-20% more, this is likely to represent very good value for money!
The best Airlines for Economy SEATING
So, which airline has the widest seats in economy? Below we have listed the key players, leading the way in spacious economy provision!
Japan Airlines offers one of the very largest economy seats in the sky, and won the prize for the Best Economy Seat at 2018's Skytrax World Airline Awards. Standard economy seating offers 34" of pitch and an industry winning 19" available in the airlines "Sky Wider" seat, and a width up to 48cm.
In addition to increased seat space, economy passengers can enjoy unobstructed storage spaces underneath seats, wifi, power ports, and a 27cm touch-screen tv! This is not a service you would usually expect from economy!
Tied with Japan Airlines for the widest seat, and a comparable 32" of pitch, Singapore Airlines' economy seating also boasts wifi and power ports, 11.1 inch touch screen TV, and complimentary blankets and pillows!
Economy seating offers some of the healthiest padding out there, along with a very reasonable 33" pitch. Air New Zealand was also the first to offer "couches" in economy, offering couples or solo travellers the opportunity to convert their seating into an entire row, mattress pad included.
With 32-34 inches of pitch and 18" width, Emirates' economy seating is made even better by an oversized and adjustable headrest. The largest economy entertainment system currently in the sky (13.3" display screen) will also help to ensure an enjoyable economy experience.
Economy

seat comparison
It is important to remember that the numbers will vary greatly depending on the aircraft, flight and seat availability! However, if being comfortable at 30,000 is a priority for you, here's an indication of how your favourite carriers compare:
Standard Economy vs Premium Economy
Standard Economy
Premium Economy
Airline
Seat Pitch (inches)
Seat Width (inches)
Seat Pitch (inches)
Seat Width (inches)
Aegean Airlines
30
17-18
n/a
n/a
Aer Lingus
31-32
17
n/a
n/a
Aero Mexico
31-34
17-18.3
38
17.2
Air China
30-31
17-18
36-38
19.3
Air Europa
30-31
17-18
n/a
n/a
Air France
29-32
17-18
38
19
Air India
29-32
17-18
n/a
n/a
Air Italy
30-32
17
n/a
n/a
Air New Zealand
30-34
17
41-42
18.5-20
Air Serbia
30-31
17-18
n/a
n/a
Air Canada
29-34
17-20
n/a
n/a
Alaska Airlines
30-38
17-17.7
n/a
n/a
American Airlines
31-40
16.5-18.5
36-38
17.1 - 19
ANA
32
17-18
38
18-19.3
Asiana
30-33
17-18
n/a
n/a
Austrian
30
17-18
33-35
19
British Airways
30-38
16-19
38
18.5
Delta
30-35
16.79-18.6
38
18.5-19
JetBlue
32-41
17.8-18.2
n/a
n/a
KLM
30-32
17
n/a
n/a
Qantas
30-32
17-18
38-42
19-20.5
Qatar
31-32
17-18
n/a
n/a
SAS
29-33
17-18
38
18.3
Southwest
31-33
17-17.8
n/a
n/a
SpiceJet
29-30
17-20
n/a
n/a
Spirit
28-36
17.25-20
n/a
n/a
SWISS
29-39
17-18
n/a
n/a
Thomas Cook
28-30
17-17.6
35-36
18-20.5
Tui
28-34
17-18
38
18.5-19.5
Turkish Airlines
30-31
16-17.8
n/a
n/a
United Airlines
30-38
16-19
38
19
Virgin Australia
30-34
17-17.4
31-41
17.4-21
***Every effort has been made to ensure this information contained within this table is accurate. However, please be aware that the content is subject to change.