Overland Airways Reservations with Alternative Airlines
Make an Overland Airways Booking and Find Some Amazing Deals
---
About
Overland Airways is a Nigerian airline based in Ikeja, Lagos State. Its airport hub is located at Nnamdi Azikiwe International Airport, Abuja. The airline commenced operations in 2002 with the goal of increasing the network between major Nigerian cities.
In 2015, Overland Airways received the IATA Operational Safety Audit (IOSA) Registration, which was also renewed in 2017, 2019 and 2021. IOSA is a baseline for improving airline operational safety on a global scale.
---
Pay Your Way
Pay for your Overland Airways flight in Nigerian Naira using Nigerian payment methods Zenith Bank, Paga, Verve or any other of our 25+ international payment methods. We also accept over 160 different currencies.
---
Destinations
Currently, Overland Airways is purely a domestic airline. The following are the destinations within Nigeria that the airline flies to:
| City | Airport |
| --- | --- |
| Abuja | Nnamdi Azikiwe International Airport (HUB) |
| Akure | Akure Airport |
| Asaba | Asaba International Airport |
| Bauchi | Bauchi State International Airport |
| Dutse | Dutse International Airport |
| Ibadan | Ibadan Airport |
| IIorn | Ilorin International Airport |
| Jalingo | Jalingo Airport |
| Ikeja | Murtala Muhammed International Airport |
---
Baggage
Carry-on Baggage
If you're flying with Overland Airways, you're allowed to bring one piece of cabin baggage and one personal item, such as a briefcase, camera bag, or small backpack, on board the aircraft. Your carry-on baggage will need to fit in the overhead bins provided by Overland Airways or underneath the seat in front of you.
Carry-on baggage mustn't exceed 114 centimetres in combined width, length and height including the wheels and handles. Please note that Overland Airways passengers travelling on flights with 50 seats or less are only permitted to carry one personal item on board since there is less space.
Checked Baggage
When flying with Overland Airways, passengers are entitled to free checked baggage with a maximum weight of 23 kg. Any baggage weighing over 23 kg will result in an excess baggage charge, which increases along with the weight of your bag. Please pack carefully in order to avoid excess baggage costs at the airport.
---
Check-In Information
Online Check-In
Overland Airways online check-in is available from 48 hours to 30 minutes before your scheduled flight time. Please check in online in order to avoid long queues at the airport. You can print your boarding pass or save it onto your phone wallet.
Airport Check-In
Airport check-in deadlines will vary at every airport. It's the passenger's responsibility to research these times and to make sure they check in before the deadline ends. You should aim to arrive at the airport 2 hours before your flight departure time. Overland Airways advises that you arrive early in order to have a stress-free trip
---
Route Map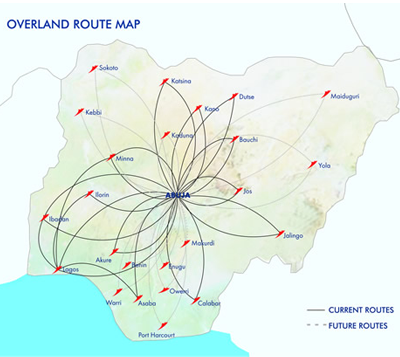 ---
Classes
The class of service that passengers experience is dependent on the aircraft flying on:
On the Beech 1900D, passengers can experience an executive flying experience. This small aircraft is littered with seats that are all window seats, and have extensive legroom and plenty of personal space. In addition, the seats are comfortable and match the luxurious cabin interior.
On board the ATR 42-320, passengers can experience everything expected from a 21st century traveller. This includes high technology, premium comfort and a spacious cabin complete with comfortable and roomy seats. All seats are placed so that there is easy aisle access for every passenger.
---
Alternative Airlines to Overland Airways
Please click on the logos below to find out more about airlines that fly similar routes to Overland Airways:
---
Overland Airways Hub Airport
Nnamdi Azikiwe International Airport
Nnamdi Azikiwe International Airport serves Abuja, Nigeria. It's the main airport serving the Nigerian capital city and was named after Nigeria's first President. The airport is approximately 20 kilometres (12mi) west of Abuja and has an international and a domestic terminal that shares its single runway. The airport services airlines from all over Europe and Africa. In 2015, the airport serviced over 4 million passengers.
As well as Overland Airways, this airport is a hub for Arik Air, Air Peace, Ibom Air and Aero Contractors.
---
Fleet
Overland Airways currently consists of the following fleet:
| Aircraft | Service | Orders |
| --- | --- | --- |
| ATR 42 | 4 | / |
| ATR 72 | 3 | / |
| Beechcraft 1900 | 2 | / |
| Embraer E175 | / | 3 |
---
FAQS
Can I buy Overland Airways flights on finance?
Of course! When you book through Alternative Airlines you can buy ANY Overland Airways flight and spread the cost over time. Here, at Alternative Airlines you can choose to buy flights and split the cost over weekly, bi-weekly or monthly instalments. Please note that the payment plan provider available at checkout will depend on the country you reside in. Discover all our payment plan methods and find out which one is best for you.
Where does Overland Airways fly to?
At this moment in time Overland Airways only flies to domestic destinations within Nigeria. Overland Airways is situated in Nnamdi Azikiwe International Airport, in Abuja, and it connects all the major cities in Nigeria including Ikeja, Jalingo, Asaba and more. If you're looking to fly to a city in Nigeria, check out our Domestic Flights Within Nigeria page.