Overland Airways Reservations with Alternative Airlines
Make an Overland Airways Booking and Find Some Amazing Deals
---
About
Overland Airways is a Nigerian airline based in Ikeja, Lagos State. Its airport hub is located at Nnamdi Azikiwe International Airport, Abuja. The airline commenced operations in 2002 and has 194 employees. Overland Airways has 9 aircraft in its fleet and flies to 10 destinations around Nigeria.
---
Pay Your Way
Pay for your Overland Airways flight in Nigerian Naira using Nigerian payment methods Zenith Bank, Paga, Verve or any other of our 25+ international payment methods. We also accept over 160 different currencies.
---
Destinations
Currently, Overland Airways is purely a domestic airline. The following are the destinations within Nigeria that the airline flies to:
| | | |
| --- | --- | --- |
| Abuja | Akure | Asaba |
| Bauchi | Dutse | Ibadan |
| Ilorin | Jalingo | Ikeja |
---
Baggage
Carry-on Baggage
Overland Airways may specify maximum dimensions and/or weight for Unchecked Baggage which you carry onto the aircraft. If we have not done so, Unchecked Baggage which you carry onto the aircraft must fit under the seat in front of you or in an enclosed storage compartment in the cabin of the aircraft. If your Unchecked Baggage cannot be stored in this manner, or is of excessive weight, or is considered unsafe for any reason, it must be carried as Checked Baggage.
Checked Baggage
You can carry some Baggage free of charge. Subject to conditions and limitations, the maximum permitted weight for checked baggage is 23kgs unless stated otherwise on your ticket. Priority will always be given to carriage of Checked Baggage within the applicable free baggage allowance.
---
Check-In Information
Online Check-In
Overland Airways do not currently offer passengers the ability to check-in online for their flights.
Airport Check-In
Airport check-in deadlines will vary at every airport. It is the passengers responsibility to research these times and to make sure they check-in before the deadline ends.
---
Route Map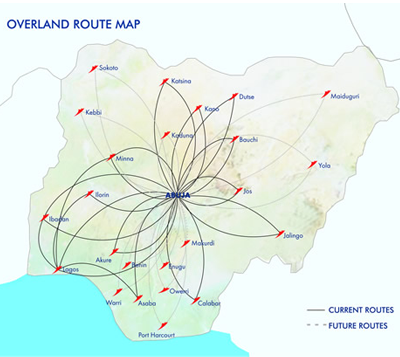 ---
Classes
The class of service that passengers experience is dependent on the aircraft flying on:
On the Beech 1900D, passengers can experience an executive flying experience. This small aircraft is littered with seats that are all window seats, and have extensive legroom and plenty of personal space. In addition, the seats are comfortable, and match the luxurious cabin interior.
On board the ATR 42-320, passengers can experience everything expected from a 21st century traveler. This includes high technology, premium comfort and a spacious cabin complete with comfortable and roomy seats. All seats are placed so that there is easy aisle access for every passenger.
---
Alternative Airlines to Overland Airways
Please click on the logos below to find out more about airlines that fly similar routes to Overland Airways:
---
Overland Airways Hub Airport
Nnamdi Azikiwe International Airport
Nnamdi Azikiwe International Airport serves Abuja, Nigeria. It is the main airport serving the Nigerian capital city and was named after Nigeria's first President.The airport is approximately 20 kilometres (12mi) west of Abuja, and has an international and a domestic terminal that share its single runway. The airport services airlines from all over Europe and Africa. In 2015, the airport serviced over 4 million passengers.
---
News
13th June 2018
Nigeria: Overland Resumes Flight to Asaba
A statement from the airline said Overland Airways flights would depart Abuja to Asaba by 11:30 am on Tuesdays and Thursdays and 12 noon on Sundays. Flights from Asaba to Abuja will depart by 1pm on Tuesdays and Thursdays, and 1:30pm on Sundays.
Overland Airways expresses appreciation to the Delta State Government for the re-opening of the airport for business operations. According to the Chief Operating Officer (COO) of Overland Airways, Mrs. Aanu Benson, the upgrade of the Asaba International Airport would promote seamless, conducive and safe operations of flight services at the airport.
Benson stated: "Since our first-ever flight to Asaba International Airport which opened the airport in 2011, we have been, and will remain a major partner in the economic transformation of Delta State. Our resumption of the Abuja-Asaba-Abuja flights demonstrates the commitment of Overland Airways to serve the people of Delta State and its environs. We want to assure the travelling public, most especially passengers between Asaba and Abuja, of our customer-centric service at all times."
31st May 2018
Airlines jostle for Nigeria's recovering domestic market
Many airlines have applied for operating licences, but the majority fell by the wayside even before they started, while others are at the verge of scaling the hurdles. WOLE SHADARE examines the projected over-capacity on the route if eventually, the carriers get their Air Operator Certificate (AOC)
They came with the hope of getting the all-important AOC. The tedious process had made many of them to fall by the wayside. That is the fate of over 26 prospective airlines that were eyeing the domestic aviation market.
A total of 32 airlines made up of scheduled and non-scheduled operators are currently listed as holding AOC and are on the register of the Nigerian Civil Aviation Authority (NCAA) as at January 10, 2017 till date.
Airlines are categorised into scheduled and non-scheduled on the strength of the type of operations they carry out. A scheduled flight is a trip by aeroplane that has been planned for a certain time and date. Airlines sell tickets for scheduled flights to help travellers get from one destination to another.
The eight airlines that operate scheduled passenger operations are Aero Contractors, Arik, Overland Airways, Medview, Dana, Air Peace, AZMAN and First Nation Airways. A country's civil aviation authority gets the power to issue AOC to an aircraft operator to allow it use aircraft for commercial purposes.