Book flights to Oktoberfest 2022
Oktoberfest, known for its Bratwurst, Steins and Leiderhosen is making a return in 2022. Be sure to avoid disappointment and book your flights to Bavaria today. At Alternative Airlines we make it easy and flexible to find and buy flights to virtually anywhere in the world. We ticket over 600 different airlines helping you get to your final destination with ease. What's better, with our various payment methods and currencies accepted you can purchase your flights with ease. Use one of our 'buy now, pay later' payment options making the booking process that bit more flexible for you and your finances. Use the search tool at the top of the page or visit our payments and booking pages to find out more.
About Oktoberfest
Oktoberfest is a Bavarian 'Volksfest', or people's festival for non-German speakers. The 16 to 18 day-long festival is the worlds largest beer festival which offers a range of different types, local cuisines and often funfair rides. The festival is spread across 3 weeks in late September and early October, continuing this 200-year tradition. After a 2 year hiatus due to the Covid-19 Pandemic, the festival is set to return on 17th September 2022. Although the event has seen numerous international adaptations, the Bavarian festival is the original and one that shouldn't be missed. Oktoberfest gets its origins from the wedding of the Bavarian Crown Prince Ludwig and Princess Therese marriage in 1810. To celebrate this union, a festival was undertaken over the course of a few days including drinking, eating and more. Today, 6 of the largest Bavarian brewers who have played a part in this tradition still operate their own tents for you to try one of their steins. Feeling a bit peckish, then feast away on one of the hundreds of Bratwurst being grilled across the venue or try some of the other local cuisines. If attending you can expect to see the locals clad in the traditional lederhosen and dirndls.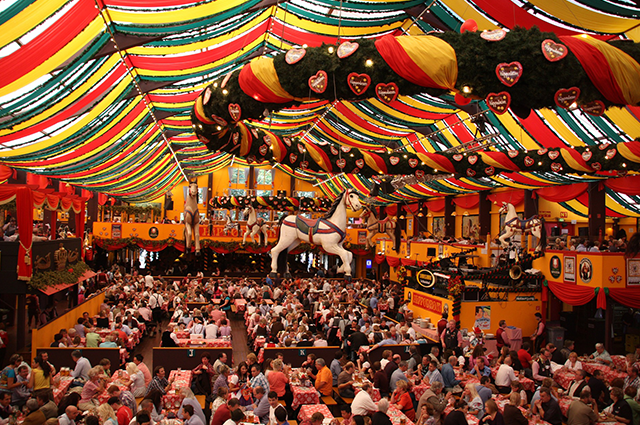 ---
How to fly to Oktoberfest 2022
Flying Domestically
Munich Airport is the nearest airport to Oktoberfest, as it is held within the Bavarian city. The airport offers great connections for domestic services across Germany with some of the major cities being directly served from Munich.
✈ Berlin, Bremmen, Cologne/Bonn, Dortmund, Dusseldorf, Dresden, Hamburg, Weeze, Lubeck, Frankfurt, Graz, Hambrg, Hannover, Leipzig/Halle, Munster/Osnabruck, Paderborn/Lippstadt, Stuttgart, Sylt and Freiburg.
Flying from Europe
Not only is Munich airport well connected within Germany, but the airport also has an extensive route network across the rest of Europe. You are able to easily fly from neighbouring countries such as France, Italy, Spain, Portugal, Denmark, Netherlands, United Kingdom and more. This makes it even easier for you to get to the Oktoberfest festivities in 2022.
Flying from an international destination
You can easily arrive from further afield if you wish to visit Oktoberfest in 2022. Major international airlines from Air Canada, Delta Air Lines, Emirates, Lufthansa, Oman Air and Thai Airways all serve Munich. This means that you can easily travel from North America, Asia, the Middle East and Africa.
---
Airports close to Oktoberfest
Munich Airport (MUC)
Munich Airport is the only major airport close to Oktoberfest, it is approximately a 30-minute drive from the city centre making it quick to get from the plane to enjoy a stein. The airport offers a diverse route map offering destinations across Germany, Europe, North America, Africa, the Middle East and Asia.
Distance to Turin: 14km (35 mins by car approx)
✈ Domestic German airlines: Condor, Eurowings, Eurowings Discover, Green Airlines, Lubeck Air, Lufthansa, TUIfly Deutschland.
✈ International airlines: Aegean Airlines, Aer Lingus, Aeroflot airBaltic Air Cairo, Air Canada, Air Dolomiti, Air Europa, Air France, Air Malta, All Nippon Airlines, American Airlines, Andaloujet, Austrian Airlines, Azimuth, Blue Air, British Airways, Corendon Airlines, Delta Air Lines, EasyJet, EgyptAir, El Al, Emirates, Etihad Airways, Finnair, Freebird Airlines, Iberia, Icelandair, Iraqi Airways, Israir, ITA Airways, KLM, Kuwait Airways, LOT Polish, Luxair, Norwegian Air Shuttle, Nouvelair, Oman Air, Pegasus Airlines, Qatar Airways, Rossiya, Royal Jordanian, Ryanair, S7 Airlines, Saudia, Scandinavian Airlines, Singapore Airlines, SkyUp, SunExpress, Swiss International Air Lines, TAP Air Portugal, Thai Airways, TAROM, Tunisair, Turkish Airlines, Ukraine International Airlines, United Airlines, Ural Airlines, Uzbekistan Airways, Vueling and Wideroe.
---
FAQs
When is Oktoberfest?
The 2022 Oktoberfest festivities are scheduled to take place from the 17th of September until the 3rd of October 2022.
Where is Oktoberfest 2022?
Oktoberfest is annually held in the Bavarian city of Munich, in Germany
How do I get tickets to visit?
Great news! You don't need tickets to attend Oktoberfest. To gain entry to the grounds you don't need a ticket nor will you need one to visit one of the many beer tents. However, if visiting Oide Wiesen then you will have to pay 1 EUR before 9pm after it becomes free of charge.
How do I fly to Oktoberfest?
If you are heading to the 2022 Oktoberfest in Munich then simply book your flights on Alternative Airlines to Munich Airport. You can easily fly here from numerous domestic, European and international destinations.
How do I buy flights to Oktoberfest?
Booking flights to Oktoberfest has never been easier. Simply use the flight search tool at the top. Tell us what airport you are travelling from and set the destination as Munich (MUC). Next tell us when you want to fly, who is travelling and which class you are looking for. After you have run the search you will see all available options for you. You can now easily sort these and filter the results by price, flight times, airlines and more. Search now and book today!
How can I pay for flights to Oktoberfest?
At Alternative Airlines we make paying for your flights simple and flexible. We accept over 60 different currencies including EUR, DKK, PLN, SEK and more. We even make things more flexible by offering 40+ different payment platforms with standard pay in full methods such as Visa, Mastercard, AMEX, Apple Pay and more as well as a whole host of 'Buy now, Pay later' options including Zip, Klarna, Afterpay and more. For more information on our supported payment options please visit our dedicated payments page.