Search and Buy Harbour Air Seaplanes Flights with Alternative Airlines
Make a Booking and Find Some Amazing Deals
---
About Harbour Air Seaplanes
Harbour Air Seaplanes is a scheduled charter and tour seaplane service. It is based in Richmond, British Columbia, Canada. The airline was founded in 1982 with two small Dehavilland Beaver seaplanes and a plan to service the forest industry, and then began offering private charters. The company quickly expanded and added scheduled flights between Vancouver and the Lower Mainland, Vancouver Island, the Gulf Islands, the Sunshine Coast and Whistler.
Today, the Harbour Air Group have more than 50 aircraft, comprising of Harbour Air Seaplanes, Whistler Air and Salt Spring Air which all operate under the Harbour Air Seaplanes branding. These have become the largest all-seaplane company in the world. Services now include frequent flights connecting downtown Vancouver, downtown Victoria, Nanaimo, South Vancouver (YVR), Sechelt, Comox, Pitt Meadows the Gulf Islands and Whistler along with a wide selection of scenic adventure tours and private charters.
---
Harbour Air Seaplanes Destinations
The airline flies to Vancouver, Comox, Nanaimo, Victoria, Sechelt, Whistler and the Gulf Islands, on de Havilland Canada floatplanes. Harbour Air Seaplanes operates with West Coast Air and Whistler Air, as well as operating de Havilland Beavers, Otters and Twin Otters.
| | | | |
| --- | --- | --- | --- |
| Blind Bay | Comox | Egmont | Madeira Park |
| Nanaimo Harbour | Pitt Meadows | Richmond | Salt Spring |
| Sechelt | Tofino Harbour | Vancouver Harbour | Victoria Harbour |
---
Harbour Air Seaplanes Fare Class
When purchasing a ticket with the airline, there are five fare bundles for customers to choose from, these include goGOLD, goFLEX, goLITE, goFAST and go INTERNATIONAL. These bundles have different prices which determine the level of services/products passenger would be offered. The flexibility offered would be different too.
All passengers would be offered snacks and non-alcoholic drinks like coffee and tea onboard, but only goGOLD and goINTERNATIONAL passengers will receive alcoholic beverages like wine and beer for some flights.
---
Harbour Air Seaplanes Baggage
Carry-On Baggage
The airline hasn't got any limit in the quantity of carry-on baggage each can carry onboard. Baggage allowance depends on the route, different routes are operated by different aircraft, which have various capacity available. If your route is not listed below in particular, then your baggage allowance would follow the general rule. Details are listed below.
| ROUTE | goGOLD | goFLEX | goLITE | goFAST |
| --- | --- | --- | --- | --- |
| All Routes | 50 lbs | 25 lbs | 15 lbs | 10 lbs |
| Richmond to/from Victoria, Nanaimo and Whistler | 50 lbs | 50 lbs | 15 lbs | 10 lbs |
| Richmond to/from Ganges and Maple Bay | 50 lbs | 35 lbs | 15 lbs | 10 lbs |
| Vancouver Harbour to/from Seattle | / | / | / | / |
For the Vancouver Harbour - Seattle route, passengers purchased goINTERNATIONAL will receive a baggage allowance of 25 lbs.
Checked Baggage
Passengers can purchase excess baggage when booking with Alternative Airlines. Excess baggage can be booked during the booking process with the breakdown of the cost listed, so there are no surprises! Any traveller wishes to buy excess baggage but unsure how to do so can check out our guide or contact our customer service team.
---
Check-In Information
Online Check-In
Online check-in isn't available for the airline.
Airport Check-In
Domestic Flights: Passengers must check-in 25 minutes before the scheduled departure time.
International Flights: Passengers must check-in 60 minutes before the scheduled departure time.
Passengers who are late for check-in may be charged a no-show fee by the airline and the seat will be sold to any stand-by passengers. At Alternative Airlines, we recommend passengers to arrive 1.5 hours before departure time for domestic flights and two hours before departure for international flights.
---
Frequent Flyer Programme
High Flyer Rewards
The airline's frequent flyer programme, High Flyer Rewards, has two tiers- High Flyer and Elite High Flyer. Points are earned when passengers fly with the airline, the more flights passenger fly the high tier of membership would be earned. The number of points earned would also be determined by the fare classes purchased too.
A range of benefits are available for the programme's members, these include, but not limited to, seat upgrades, priority standby and flights discounts. Find out more on the airline website.
---
Airline Alliance
As of September 2020, Harbour Air Seaplane isn't part of any airline alliances.
---
Harbour Air Seaplanes Fleet
As of September 2020, Harbour Air Seaplane is operating a fleet of DHC-3 de Havilland Turbine Single Otter, DHC-6 de Havilland Twin Otter, DHC-2 de Havilland Beaver and Cessna Grand Caravan EX.
---
Harbour Air Seaplanes Route Map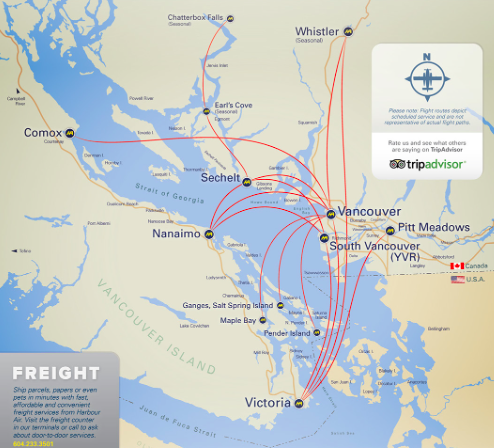 ---
HUB Airport
Vancouver Harbour Flight Centre, previously Vancouver Harbour Water Airport or Vancouver Coal Harbour Seaplane Base is located at Coal Harbour in Vancouver, British Columbia, Canada. The flight centre is within walking distance of the HeliJet heliport and Waterfront Station, a public transit hub in Downtown Vancouver.
---
Alternative Airlines to Harbour Seaplanes
Take a look at our page on Seaplanes for more information.