JetBlue Tickets — Fly Now Pay Later Why Alternative Airlines?
People really love booking with us
Don't just take our word for it, join countless others and discover why we have become the preferred choice for travellers globally.
Book JetBlue Tickets and Fly Now, Pay Later
JetBlue is a low-cost airline based in the US, flying domestically between popular cities in America. The airline also flies to popular international tourist destinations, with a focus on South America and the Caribbean — including Cuba, Mexico, Jamaica and Costa Rica.

If you're looking to book flights with JetBlue, then Alternative Airlines is the site for you. Not only do we offer an easier flight search, we offer lots of payment plan options, so that you can spread the cost of your JetBlue flights over time.

Ready for a break? This guide will explain how Alternative Airlines can help you book your JetBlue flights (or flights with any of the 600+ other airlines that we ticket) today, and spilt the cost into more manageable weekly or monthly payments.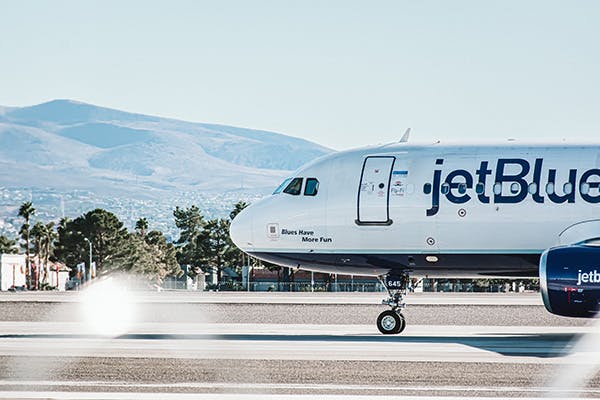 Can I pay for JetBlue flights in instalments?
Here at Alternative Airlines, we belive in greater choice. Not only can you choose from a greater number of airlines, you can choose how you pay. As well as more traditional card payments, we also offer a number of 'buy now, pay later' payment instalment options. This means that you can book your flights today, without the need to pay the full amount upfront. Instead, you can spread the cost over a fixed number of weekly or monthly instalments. Our payment plan options include Klarna, Affirm, Afterpay, Zip, and PayPal Credit. No matter how you want to pay, Alternative Airlines can help. 

Discover more about some of our most popular payment plan options below, or read more about all our finance options here. 

The payment plan options available at checkout will depend on your country of residence.
Available Buy Now Pay Later Options with JetBlue

Afterpay
Can I use Afterpay for JetBlue flights?
With Afterpay, booking flights can be completely stress-free. You can book today, and know that your flights are confirmed, while only paying 25% of the total cost of your flights. Pay in 4 instalments over 6 weeks, with no hidden fees, and zero interest. Afterpay is an easier way to manage the cost of your flights. Available in the United States.

Zip
Does JetBlue accept Zip?
Zip is a popular payment instalment option, available in the US, Mexico, Australia and New Zealand. With Zip, you can pay for your JetBlue flights in easy, manageable instalments that can be paid back over time. What's more, there are absolutely no hidden fees. How good is that? 

Klarna
Can I use Klarna for JetBlue flights?
Alternative Airlines offers Klarna. You can book any flight, with any airline (including JetBlue!) and spread the cost with Klarna. That's right! Any JetBlue route, any destination, any date. Simply select 'Klarna' at checkout. We have different Klarna loan options available, depending on where you reside. Top Tip: Find out more about all the reasons to pay for your flights using Klarna. Available in the United States, United Kingdom, Sweden, Spain, Norway, Netherlands, Italy, Germany, Finland, Denmark, Belgium and Austria.

Laybuy
Can I pay for JetBlue flights using Laybuy?
Imagine only needing to pay 1/6th of the total cost of your flights upfront. Well, with Alternative Airlines this is possible, thanks to Laybuy. Secure your flights today and split the cost into 6 equal payments, paid once a week for 5 weeks. Laybuy is currently available for qualifying residents in Australia, New Zealand and the UK.

PayPal Credit
Can I pay with PayPal Credit on JetBlue flights?
PayPal is quick, easy, and simple to use. You can book your flights in minutes! Our customers love using PayPal. But did you know, we also offer PayPal Credit? Simply search for your flights using the search bar at the top of the page and select 'PayPal Credit' at checkout to be billed later. Visit our PayPal & PayPal Credit page to find out more. Available in the United States, United Kingdom and Germany.

Affirm
Can I use Affirm for JetBlue flights?
Yes, if you book through Alternative Airlines, you can use Affirm to pay for your JetBlue flights. Pay in monthly instalments over a 3, 6 or 12-month period. Affirm is a flexible payment method with options available based on your needs. Top Tip: Visit our blog to find out more about booking flights with Affirm. Available in the United States and Canada.
'Buy Now, Pay Later' JetBlue Flights FAQs
Can I pay for JetBlue flights in instalments?
Does JetBlue offer finance options?
Why should I book my JetBlue tickets through Alternative Airlines?