Book flights to the Wimbledon Championships 2023
Heading to the Wimbledon Championships tennis Grand slam in 2023? Make an ace decision and book with Alternative Airlines. Here at Alternative Airlines, we make it quick and simple to search for and find flights to virtually anywhere in the world. We ticket over 600 airlines making it easy for you to get from point A to B and everywhere in between. We are pleased to not only offer an extensive amount of airlines but also over 40 different payment methods and 160+ currencies. We accept all major debit and credit cards including Visa, Mastercard and Amex as well as 'buy now, pay later' options such as Klarna, Laybuy, Zip and more. Play your best hand and book with us today! Use our search tool at the top of the page or contact our customer service team to find out more.
About the Wimbledon Championships
Tracing its routes back to 1877, the Wimbledon Championships is the oldest tennis tournament globally and is often regarded as the most prestigious tennis event. The tournament is 1 of 4 international gland slams with the 3 others being the Australian Open, French Open/Roland Garros and the US Open. The event is steeped in history, tradition and fame and has branched into an international tennis and social event. Not only is the grand slam famous for hosting some of the worlds top players from the Williams sisters and Martina Navratilova to Rafael Nadal and Roger Federer but it is also famed for being played on grass courts, its strawberries and cream and the events purple and green colour scheme.
The championships are typically hosted towards the end of June and the beginning of July and are played at the 'The All England Lawn Tennis and Croquet Club' (AELTC) grounds in Wimbledon, SW19. 2022 marked the first year where the AELTC will begin playing on the middle Sunday, something which would only usually happen if poor weather delayed games throughout the first week. This means that the tennis event will be 14 days long from now on. Wimbledon marks one of the premium social events in the summer calendar, visited by royals, celebrities and socialites. Book your flights to Wimbledon now with Alternative Airlines so you can be sipping Pimms and watching the matches in 2023.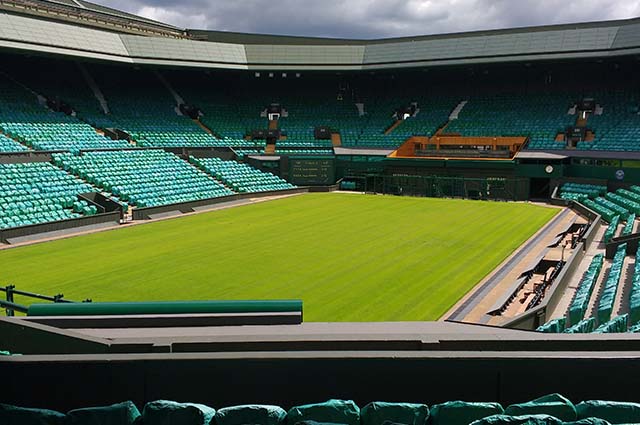 ---
How to fly to Wimbledon 2023
Flying Domestically
London is well connected to the rest of the United Kingdom, with 5 airports serving the capital you can easily fly to London from 16 different destinations. The UK also has a reliable train network so if travelling from medium distance routes you may need to use the train.
✈ Aberdeen, Belfast-City, Belfast International, Dundee, Edinburgh, Glasgow, Guernsey, Inverness, Isle of Man, Jersey, Manchester, Newcastle Upon Tyne, Newquay, Sumburgh and Teeside.
Flying from Europe
Across the 5 major airports serving London, there are hundreds of European destinations you can travel from. There are numerous routes operated by both low-cost airlines as well as full service, meaning you can easily find a flight to suit your budget. London Heathrow is the hub for British Airways and its European route network. Gatwick is a major operating for both EasyJet and TUI Airways to the continent. Luton airport also has a large amount of EasyJet routes as well as a growing base to Europe for Wizz Air. London Stansted is Ryanair's core London base airport and is a growing location for Jet2.com.
Flying from an international destination
If you are flying from an international destination the London Heathrow may be your best option as the airport offers numerous international routes to North America, Africa, Latin America, the Middle East, Asia and Oceania. Gatwick Airport also has some international services to The Americas, Middle East and Asia, with numerous leisure and low-cost airlines offering cheaper fares. The other airports in London cater to primarily Domestic and European destinations, with London City having no international flights.
---
Airports close to Wimbledon
There are 5 airports that you can choose to fly into when visiting Wimbledon. If travelling from an international destination then London Heathrow may be a good option for you. Gatwick also has numerous long haul services with low cost and leisure airlines bringing the costs down. Stansted and Luton primarily target low-cost European routes and London city have few routes and few airlines, catering to business travellers.
London Heathrow Airport (LHR)
London Heathrow Airport is the main international airport serving London with hundreds of routes across Europe, the Americas, Africa, Asia, the Middle East and Oceania. The airport is well connected to London with the Piccadilly line, Heathrow express and future Elizabeth line all serving the airport with central London. You can easily get public transport or private transfers to get you from the airport to Wimbledon.
Distance to Wimbledon: 29 miles (1 hour by car approx)
✈ Domestic British airlines: British Airways, Loganair and Virgin Atlantic
✈ International airlines: Aegean Airlines, Aer Lingus, Aeroflot, Aeromexico, Air Algerie, Air Astana, Air Canada, Air China, Air France, Air India, Air Malta, Air Mauritius, Air Serbia, All Nippon Airways, American Airline, Asiana Airlines, Austrian Airlines, Avianca, Azerbaijan Airlines, Biman Bangladesh Airlines, Blue Air, Brussels Airlines, Bulgaria Air, Cathay Pacific, China Airlines, China Eastern, China Southern, Croatia Airlines, Cyprus Airways, Delta, EgyptAir, El Al, Emirates, Ethiopian Airlines, Etihad Airways, Eurowings, EVA Air, Finnair, Gulf Air, Hainan Airlines, Iberia, Icelandair, Iran Air, ITA Airways, Japan Airlines, Jazeera Airways, JetBlue, Kenya Airways, KLM, Korean Air, Kuwait Airways, LATAM, LOT Polish, Lufthansa, Malaysia Airlines, Middle East Airlines, Oman Air, Pakistan International Airlines, Philippine Airlines, Qantas, Qatar Airways, Royal Air Maroc, Royal Jordanian, Rwandair, Saudia, Scandinavian Airlines, Shenzhen Airlines, Singapore Airlines, Sky Express, Smartwings, South African Airlines, Sri Lankan Airlines, Swiss International Air Lines, TAP Air Portugal, TAROM, Thai Airways, Tianjin Airlines, Tunisair, Turkish Airlines, Ukraine International Airlines, United Airlines, Ural Airlines, Uzbekistan Airways, Vietnam Airlines, Vistara and Wideroe.
London City Airport (LCY)
London City Airport is a small airport in East London, primarily catering to business travellers in the financial district. The airport has limited capacity meaning that only 7 airlines operate to the airport. As there is only a handful of airlines to choose from it means the route map is also quite limited, with no international services, only domestic and European. The airport is connected to London by the DLR making it easily accessible on public transport. Although closer than Heathrow, if driving it will take longer to get to Wimbledon and is roughly the same time on public transport.
Distance to Wimbledon: 16 miles (1hr 20 mins by car approx)
✈ Domestic British airlines: British Airways and Loganair
✈ International airlines: KLM, LOT Polish, Lufthansa, Luxair and Swiss International Air Lines
London Gatwick Airport (LGW)
London Gatwick is the second busiest airport in London and in the UK. The airport offers a diverse route network with numerous destinations across Europe, the Americas, the Middle East, the Caribbean and Asia. The airport offers both full-service airlines like Heathrow but also has multiple low cost and leisure airlines offering lower airfares. The airport is about 32 miles from Wimbledon and around 1 hour on the train. The airport is connected to London via Thameslink, Southern and Gatwick Express train services.
Distance to Wimbledon: 32 miles (1 hour by car approx)
✈ Domestic British airlines: British Airways, Eastern Airways and Virgin Atlantic
✈ International airlines: Aegean Airlines, Aer Lingus, Air Arabia, Air Europa, Air Transat, airBaltic, BH Air, China Eastern, Condor, Corendon Airlines, Croatia Airlines, EasyJet, EgyptAir, Emirates, Freebird Airlines, Georgia Airways, Iberia Express, Icelandair, JetBlue, Norwegian Air Shuttle, Nouvelair, Qatar Airways, Rossiya, Royal Air Maroc, Ryanair, Scoot, Sun Express, Swiss International Air Lines, TAP Air Portugal, TUI Airways, Tunisair, Turkish Airlines, Ukraine International Airlines, Vueling, Westjet and Wizz Air
London Luton Airport (LTN)
Luton Airport is just under 2 hours from Wimbledon and offers multiple low-cost carriers operating to a wide range of European destinations. This airport may be good for you if travelling on a budget as all airlines are budget or leisure. The airport has large EasyJet and Wizz Air operations. The airport can be accessed by rail with Thameslink offering direct services from Luton to Wimbledon Station making transfers easy or East Midlands Railway to London St Pancras. However, the airport doesn't have a station, so you must get to Luton Parkway first.
Distance to Wimbledon: 41 miles (1 hour 45 minutes by car approx)
✈ International airlines: Blue Air, EasyJet, El Al, Flyone, Ryanair, SkyUp, Sun Express, TUI Airways and Wizz Air
London Stansted Airport (STN)
London Stansted airport is the furthest airport from Wimbledon. The airport is a key base for Ryanair, offering multiple services to various European destinations. The airport also offers some long haul routes, however, it is not at the same level as Heathrow or Gatwick. The airport is about 2 hours from Wimbledon so transfer times may be slower. Additionally, the airport does have a rail link to London, with Greater Anglia and Stansted Express services arriving into London Liverpool Street in east London.
Distance to Wimbledon: 85 (2 hours by car approx)
✈ Domestic British airlines: Loganair
✈ International airlines: Air Moldova, Andaloujet, BH Air, EasyJet, Emirates, HiSky, Jet2.com, Pegasus Airlines, Play, Ryanair and TUI Airways
As Wimbledon is located within London it has numerous airports you can choose to fly into making it easy to get to the Championships. If coming from an international destination then it may be beneficial to arrive into London Heathrow as they have a diverse route network and boast hundreds of various airlines. Gatwick is also a great option as it also offers a wide range of routes and airlines at different price points. City, Luton and Stansted are also options you could consider but they may not be as appealing as Heathrow or Gatwick. But use our flight search tool to see which option is best for you.
---

FAQs
When is Wimbledon?
The Wimbledon Championships will start on Monday 3rd July 2023, with the finals and last day being held on Sunday 16th July 2023.
Where is the Wimbledon Championships?
Wimbledon is hosted at the same venue yearly and next year is no exception. The tournament is due to be held at the All England Lawn Tennis & Croquet Club in Wimbledon. The address of the event is AELTC, Church Road, SW18 5AE, Wimbledon, London.
How do I get tickets to the Championships?
To get seated court tickets you first must be a member of MyWimbledon. Once you have an account you are able to enter into the ballot where tickets are randomly and unbiasedly selected and awarded allowing everyone a fair opportunity. You can get a grounds pass on the day of the tournament at one of the ticket booths, however, you must join the famous queue which usually has people queuing for days. If entering on a grounds pass you have the opportunity to purchase a resale ticket for one of the seated courts from one of the charity HSBC outlets on Henman Hill/Murray Mound.
How do I fly to Wimbledon?
Wimbledon is a district within London, meaning if you are choosing to fly to the event you should arrive at one of London's many airports. Depending on where you are travelling from you can choose to arrive into Heathrow, Gatwick, City Airport, Luton or Stansted.
How do I buy flights to Wimbledon?
Our flight search tool at the top of the page makes it easy for you to search and book flights to Wimbledon. Input your departure airport and the arrival airport (LHR, LCY, LGW, LTN, STN) as well as the class of travel, dates and amount of passengers and search. Top Tip set the arrival destination as LON (ALL) to see the flight into all London airports.You can easily filter flights based on price, time, airport and airline to see what is best for you.
How can I pay for flights to Wimbledon Tennis 2023?
At Alternative Airlines, we accept over 160 currencies meaning you can pay in your local currency or in GBP. Making things even easier we also accept Visa, Mastercard, and American Express as well as 'Buy now, Pay later' options such as Zip, Klarna, Afterpay and more. To find out more about the 40+ payment methods available visit our payments page.
How do I get to Wimbledon?
It is really easy to get to Wimbledon. You can either use the London Underground District Line service to Southfields Station and walk 15 minutes or use the shuttle bus. You could also use the District Line to go to Wimbledon Station and use a shuttle service to get you to the grounds. Wimbledon Station is also served by South Western Railway and Thameslink services to other parts of London and the UK, you are also able to connect with Tramlink. The TFL 493 and 39 bus services can also be used to get to the grounds. During the tournament, there is onsite parking for you to pay for if you would rather drive.