Compass Airlines Tickets and Reservations with Alternative Airlines
Make a Booking and Find Some Amazing Deals
Unfortunately, Compass Airlines ceased operations in April 2020. However, there are many other airlines that fly on the behalf of American Eagle. You can find flights by using our search form or clicking on the American Eagle logo below.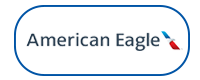 ---
About
Compass Airlines was a US airline that operated regional flights on behalf of other US airlines. In its time, the airline operated flights on behalf of Northwest Airlink, Delta Connection and — most recently — American Eagle. The airline mainly flew state-wide within the US but also flew to other parts of North and Central America. It usually had around 50 destinations within its route network at one time. The airline had different bases throughout its time. It's most recent base was at Los Angeles International Airport (LAX), which it used when it operated for American Eagle. Before that, it was based at Minneapolis-Saint Paul International Airport (MSP).
Compass Airlines only ever flew on behalf of other airlines. This means that it did not use its own branding on any of its flights and instead used the branding of the carrier that it was flying for.
The airline was created in 2006 and flew its first flight the following year when it flew from Minneapolis-St.Paul to Washington D.C on behalf of Northwest Airlink. Initially, the airline was a full-subsidiary of Northwest Airlink and then of Delta Connection when it was sold to Delta Air Lines. In 2010, the airline was bought by Trans State Holdings, who contracted the airline out to American Eagle up until it ceased operations in 2020.
The airline officially stopped flying on April 5th 2020 and was one of the many airlines that ceased operations due to the coronavirus pandemic.
---
Destinations
The airline flew to several destinations across the US, Canada, Mexico and to parts of Central America. The following table lists the destinations that it flew to on behalf of Delta Connection.
COUNTRY/STATE
CITY
AIRPORT
Mexico
Monterrey
General Mariano Escobedo International Airport
Arizona (US)
Phoenix
Phoenix Sky Habor International Airport
Colorado (US)
Hayden/Steamboat Spring
Yampa Valley Airport
Florida(US)
Jacksonville
Jacksonville International Airport
Orlando
Orlando International Airport
Georgia (US)
Atlanta
Hartsfield-Jackson International Airport
Indiana(US)
Indianapolis
Indianapolis International Airport
Illinois (US)
Chicago
Chicago Midway International Airport
Chicago O'Hare International Airport
Kentucky (US)
Louisville
Louisville International Airport
Maryland (US)
Baltimore
Baltimore International Airport
Minnesota (US)
Minneapolis
Minneapolis St. Paul International Airport
Duluth
Duluth International Airport
Massachusetts (US)
Boston
Logan International Airport
Missouri (US)
Kansas City
Kansas City International Airport
St.Louis
Lamber-St. Louis International Airport
Michigan (US)
Detroit
Detroit Metropolitan Wayne County Airport
Grand Rapids
Gerald R. Ford International Airport
Montana(US)
Billings
Billings Logan International Airport
Bozeman
Gallatin Field Airport
Great Falls
Great Falls International Airport
Glacier National Park
Glacier Park International Airport
Missoula
Missoula International Airport
Nebraska (US)
Omaha
Eppley Airfield
New Jersey (US)
Newark
Newark Liberty International Airport
New York (US)
New York City
John F. Kennedy International Airport
LaGuardia Airport
North Carolina (US)
Charlotte
Charlotte/Douglas International Airport
North Dakota (US)
Fargo
Hector International Airport
Minot
Minot International Airport
Pennsylvania (US)
Philadelphia
Philadelphia International Airport
Pittsburgh
Pittsburgh International Airport
South Carolina (US)
Myrtle Beach
Myrtle Beach International Airport
South Dakota (US)
Sioux Falls
Sioux Falls Regional Airport
Tennessee (US)
Memphis
Memphis International Airport
Nashville
Nashville International Airport
Texas (US)
Dallas
Dallas/Fort Worth International Airport
Houston
George Bush Intercontinental Airport
San Antonio
San Antonio International Airport
Virginia (US)
Washington DC
Ronald Reagan Washington National Airport
Washing-Dulles International Airport
Wisconsin (US)
Green Bay
Austin Straubel International Airport
La Crosse
La Crosse Municipal Airport
Madison
Dane County Regional Airport
---
Baggage
The baggage allowance that passengers were given on Compass Airlines flights depending on which carrier it was operating on the behalf of. For example, here is the baggage allowance that it allowed for when operating as American Eagle.
Carry-On Baggage
Passengers were given an allowance of one free carry-on bag and one free personal item.
The personal item must have fit within the dimensions of 18 x 14 x 8 inches (45 x 35 x 20 cm).
The carry-on bag must have fit within the dimensions of 22 x 14 x 9 inches (56 x 36 x 23 cm).
Checked Baggage
Passengers were not given a free checked baggage allowance. However, checked baggage was available to purchase. The cost of checked baggage depended on the route flown.
---
Economy Class
For the majority of the time that it was active, Compass Airlines only flew with an Economy Class cabin. The cabin was clean, comfortable and offered a simple service with no frills. Economy Class was perfect for passengers that were looking for a cheap and safe way to travel short-haul.
Seats
Seats were set out in a 2 x 2 formation, ensuring that each passenger was seated either by the window or aisle.
---
Food and Drink
Compass Airlines ran a basic in-flight food and drink service, which consisted of light snacks and drinks. Food and drink were not complimentary and was able to purchase once in-flight.
Passengers could expect to see items such as sandwiches, potato chips, candy and hot, cold and alcoholic drinks on the menu.
---
Check-In
Online
Whether there was online check-in depending on the airline that Compass Airlines was operating on behalf. For example, when it operated as Delta Connection and American Eagle, online check-in was available through the Delta Air Lines and American Airlines website respectively.
Airport
Alternatively, if passengers needed to check-in at the airport, they could do so by visiting one of the check-in agents at the airline check-in desk. Passengers were required to provide their e-ticket and passport (if travelling internationally) or government-issued photo-ID (if travelling domestically).
---
Fleet
At the time that it ceased operations, Compass Airlines had a fleet of 56 Embraer E175 aircraft.
Previously, it flew Bombardier CRJ200 and Embraer E170 aircraft.
---
Hub Airport
Los Angeles International Airport
Los Angeles International Airport (LAX) is an international airport in Los Angeles, California and is the hub airport for Compass Airlines. Los Angeles International was the hub for Compass Airlines when it flew on behalf as American Eagle, which was the majority of the time that it was active. The airline was based at this airport between 2010–2020. Before Los Angeles, the airline was based at Minneapolis-St Paul International.
Los Angeles International is currently a hub for Alaska Airlines, American Airlines, Atlas Air, Delta and United.
---
Alternative Airlines