Airlines will always try to sit children with their parents (subject to check-in)
Some airlines will allow travel for unaccompanied minors. Please email us to check.
The fare is based on the child's age on the date of travel.
More detailed information can be found here Traveling with children
Most airlines will let infants travel with their parent(s) for free. However some airlines will charge up to 10% of the adult ticket price. Click on 'Price Breakdown' to find out more.
If you are pregnant, but due before the flight departure date, please contact us once your baby is born and has a name. We can then add him/her to your ticket.
Infants will not be given a seat. The airlines expect parents to travel with them on their lap.
Airlines regard infants as being under 24 months old.
The fare is based on the child's age on the date of travel.
More detailed information can be found here Traveling with children
Buy Flights with Click to Pay
Cancellation Protection
Protects
Trusted Choice
65,000 happy customers
Rated 4.5 Stars. Based on 3,581 service ratings over the past year
Dedicated customer service team on hand to help
Secure payments
Cancellation Protection
Protects
Trusted Choice
65,000 happy customers
Rated 4.5 Stars. Based on 3,581 service ratings over the past year
Dedicated customer service team on hand to help
Secure payments
Click to Pay makes it faster than ever to book your flights through Alternative Airlines.
Buy flights using Click to Pay
'Click to Pay' is a new time-saving 'one-click' checkout experience for shoppers who use Visa, Amex, Matercard, and Discover. You're able to shop online like normal, but the checkout stage will be even more simplified than ever before.
To start using this option, simply look out for the Click to Pay icon
on any site that accepts Visa, which will allow you to enjoy an easier, smarter, faster, and secure checkout experience.
The option makes it easier to make purchases online, on laptops, smartphones, PCs, tablets and all other electronic devices.
Whenever you see this icon,
, which is the Click to Pay icon, you'll no longer be faced with having to remember passwords, you'll be able to skip the guest checkout stage and bypass any form-filling. In once click, you'll be able to checkout and make your purchase.
You only need to set up Click to Pay on your device once, by choosing the "remember me" and "trust this device" option on your trusted digital device, whether that is your personal tablet, laptop or mobile phone.
How to buy flights with Click to Pay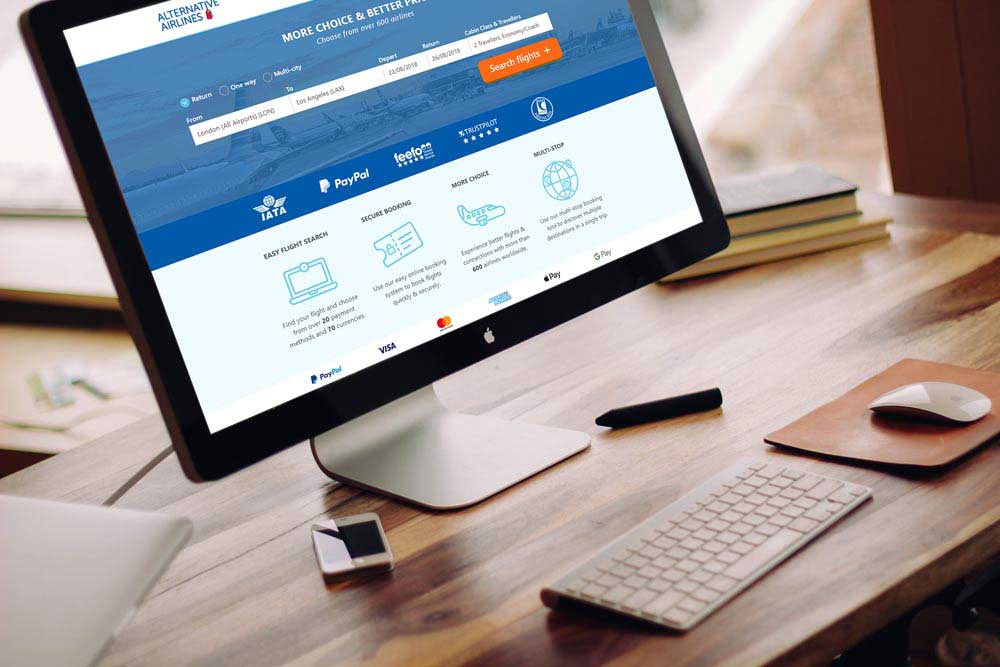 1

Type in your chosen departure and arrival destinations on the Alternative Airlines' website.

2

Find and select the perfect flights for you, then enter your passenger details.

3

When you reach checkout, lookout for the 'Click to Pay' symbol, which looks like this:

4

The checkout process will be super quick, completed in a single click! In no time at all, your flights will be reserved, locking-in today's prices and allowing you to start to get excited about your trip.
Click to Pay & Flights
Click to Pay was launched in 2018, with the intention of making it easier than ever for customers to enjoy a quick, easy, and seamless checkout experience.
It's now super easy to book your flights, no need to search for your payment cards, remember your passwords, or complete form-after-form. You can focus on finding the perfect flights for you, completing your flight-booking details, and completing your payment in one quick click.
Click to Pay Flights

FAQs
What is Click to Pay?
Click to Pay was originally launched as 'Secure Remote Commerce', in 2018, until it was re-named as 'Click to Pay' in 2020. It's an option provided by payment card brands that lets customers pay using a quicker 'one-click' option at checkout when shopping with participating online retailers. Lookout for the 'Click to Pay' symbol when you reach checkout, and ensure you select it as your chosen option. The Click to Pay icon looks like this:
.
What card brands accept Click to Pay?
As of 2020, Visa, Mastercard and American Express provide the option to pay with Click to Pay.
Is it safe to use?
Customers can be completely reassured that Visa uses multiple layers of payment security and advanced payment security technology to help protect against unauthorised use.
Can I use Click to Pay on my phone?
Yes, it can be used on any internet-enabled mobile device, including Android mobiles, Apple iPhone, tablets, and laptops. If you see the symbol
, it means that the option is available.
What does "remember me" mean?
You will need to ensure that the mobile device you are using is trusted. If it is your own personal device, by selecting "remember me", as a one-time option, Visa will remember you on that browser and device. This will let you skip verification the next time you Click to Pay with Visa on that device and browser.
Where is Click to Pay available?
Outside the United States, the service is also currently being rolled out to residents of the following countries: Australia, Brazil, Canada, Hong Kong, Ireland, Kuwait, Malaysia, Mexico, New Zealand, Qatar, Saudi Arabia, Singapore, the United Arab Emirates and the United Kingdom. Lots of other countries are also set to be added to the list.
Can I use Click to Pay to book flights?
Alternative Airlines is an online flight search and booking site that makes it easier than ever to book flights on over 600 global airlines, including Qantas, American Airlines, British Airways, Delta Air Lines, Norwegian, and Emirates, while paying the way you want.
Whether you're looking to pay with a payment plan with PayPal Credit, or an instalment option with Klarna, QuadPay, or Affirm, you have the power to choose how you want to pay.