Airlines will always try to sit children with their parents (subject to check-in)
Some airlines will allow travel for unaccompanied minors. Please email us to check.
The fare is based on the child's age on the date of travel.
More detailed information can be found here Traveling with children
Most airlines will let infants travel with their parent(s) for free. However some airlines will charge up to 10% of the adult ticket price. Click on 'Price Breakdown' to find out more.
If you are pregnant, but due before the flight departure date, please contact us once your baby is born and has a name. We can then add him/her to your ticket.
Infants will not be given a seat. The airlines expect parents to travel with them on their lap.
Airlines regard infants as being under 24 months old.
The fare is based on the child's age on the date of travel.
More detailed information can be found here Traveling with children
Guide to using CLEAR at Airports
Cancellation Protection
Protects
Trusted Choice
65,000 happy customers
Rated 4.5 Stars. Based on 3,581 service ratings over the past year
Dedicated customer service team on hand to help
Secure payments
Cancellation Protection
Protects
Trusted Choice
65,000 happy customers
Rated 4.5 Stars. Based on 3,581 service ratings over the past year
Dedicated customer service team on hand to help
Secure payments
CLEAR
Find out what CLEAR is, how it works, what benefits you can gain from it, how to use it at the airport and other FAQs.
What is CLEAR?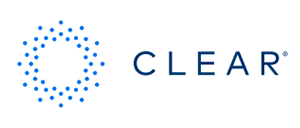 CLEAR is a security initiative which allows the airport security process to be fast tracked. CLEAR is unique as it uses biometrics of fingerprint and eye-scans to fasten up the process of identity validation.
Passengers with a CLEAR membership can use dedicated lanes and specially trained staff to bypass security in 5 minutes or under at U.S. airports with the initiative.
What are the benefits of

CLEAR

?
Speed
As the purpose of CLEAR is to speed up the security process for its members, there's no doubt when saying the main benefit of CLEAR is speed in the airport. As mentioned, passengers who have a membership with CLEAR will not have to wait in line with the crowds and instead can proceed to the fast-track lane for CLEAR passengers only. Here, they will have to confirm their identity by scanning their irises and fingerprints and then proceed with the other passengers to physical screening checks, such as the metal detector.
Safety
CLEAR is certified by the safety act, meaning the biometrics used is safe and correctly verifies people's identities. CLEAR also state that passenger security their number 1 priority, meaning there is nothing lacking in terms of your personal security. In addition, the biometrics of irises and fingerprints are more accurate in identifying you, as they are personal and individual to you, especially compared to traditional forms of ID.
Spend more time on things you like
With the extra time that you've saved being stuck in non-moving queues, think about what you could better spend your time on. Whether that's more time to browse the airport shops, enjoy a special airport lounge, or perhaps enjoying a delicious meal before your fight, anything is better than waiting for an identity check.
Stress
With the peace of mind that you will fast track the stressful queuing process also comes the reduction of stress. Reducing stress is important when flying, as it can lead to some additional health problems. Find out what else you can do to reduce stress, and retain good wellness during your flight here.
Discounts
CLEAR also provide its members discounts through its partnership network. Visit the CLEAR website to see what discounts you can get!
Where can I use




CLEAR

?

The following is a list of airports who currently have CLEAR Kiosks:

Planning on going to a sporting event? CLEAR is also available at some stadiums in the USA, in selected entrances:
SunTrust Park
Atlanta
Oriole Park at Camden Yards
Baltimore
Globe Life Park in Arlington
Dallas
Coors Field
Denver
Comerica Park
Detroit
Banc of California Stadium
Los Angeles
AmericanAirlines Arena
Miami
Target Field
Minneapolis
Citi Field
New York
Yankee Stadium
New York
Madison Square Garden
New York
Oracle Park
San Francisco Bay Area
Oakland-Alameda County Coliseum
San Francisco Bay Area
Avaya Stadium
San Jose
CenturyLink Field
Seattle
T-Mobile Park
Seattle
CLEAR FAQs
How do I get CLEAR membership?
Before you can use CLEAR at the airport, you must first enroll to be a member. Enrollment only takes 5 minutes, and can be completed either online or at the airport.
First, you will need to visit the CLEAR website and register your details. Alternatively, you can visit a CLEAR location and register there.
After initial registration, you will need to complete the enrollment process at a CLEAR location. This will involve questions to verify your identity, providing a form of photo ID, providing payment and creating your first scans of your eyes and fingerprint.
Who can qualify for CLEAR?
CLEAR membership is open to US Citizens who are 18 years or older. You must also have a form of approved, valid and unexpired US photo identification such as the following:
US Driver's License
US Passport
US Passport Card
US-issued Permanent Resident Card
State Issued ID
US Military ID
Children who are under 18 years of age can still use the CLEAR lane at the airport without registering, free of charge. However this is only when they are accompanied by a family member who has CLEAR membership.
So what is the difference between CLEAR and other security schemes?
Both CLEAR and TSA PreCheck allow passengers to move more swiftly through the airport, and passengers can use both schemes at once. CLEAR focuses on speeding up the identification process, whereas TSA PreCheck speeds up the security personnel and baggage screening.
Global Entry, however, is a scheme that focuses on fast-tracking the immigration and customs process. Included in the price of Global Entry is TSA PreCheck, but passengers can purchase all three schemes.
How much does CLEAR cost?
Membership for CLEAR costs $179 USD a year, which works out $15 USD a month. This membership is valid for any CLEAR location, including the airports, stadiums and anywhere else they may choose to place their product.