Tez Jet Reservations with Alternative Airlines
Flights to and from Kyrgyzstan
Make a Tez Jet Booking and Find Some Amazing Deals
---
About Tez Jet
Founded in 2013, Tez Jet is a Kyrgyzstan airline offering scheduled passenger services domestically within Kyrgyzstan. Based at Manas International Airport (FUR), Bishkek, the airline has four different scheduled destinations that it flies between within the country — Bishkek, Osh, Jalal Abad and Batken. Tez Jet's most popular route is between Bishkek and Osh, which it flies daily.
The airline flies over 10,00 passengers per month and operates all its services with British Aerospace BAe 146-200 aircraft.
---
Tez Jet Baggage
Carry-on Baggage
Passengers on Tez Jet flights are allowed to bring one item of carry-on baggage with them on the flight, per person. This carry-on baggage must not exceed 5kg in weight.
Checked Baggage
Passengers on Tez Jet flights are entitled to one item of checked baggage with a maximum weight of 15kg. Additional baggage is available to purchase, but no one item of baggage should weigh more than 20kg.
---
Tez Jet Check-In Information
Online Check-In
Online check-in for Tez Jet flights is currently unavailable at this time.
Airport Check-In
To check-in for their Tez Jet flight, passengers must check-in at the airport before their flight. Airport check-in can be completed by visiting a Tez Jet member of staff at one of the Tez Jet check-in counters.
---
Alternative Airlines to Tez Jet
Please click on the logos below to find out more about airlines that fly similar routes to Tez Jet:
---
Book Tez Jet Flights in English
Tez Jet flights are available to book in English when you make a Tez Jet flight reservation with Alternative Airlines. We want to make your flight booking experience as hassle-free as possible and offer a quick, safe and secure system in English. Pay with more than 20 payment methods and in over 70 currencies!
---

Tez Jet Hub Airport
Manas International Airport
Manas International Airport, Bishkek, is the main airport in Kyrgyzstan, offering both domestic and international services and the hub airport for Tez Jet. Mana International Airport was finished being built in1974, with Aeroflot flying the airport's inaugural flight to Moscow-Domodedovo a year later. The airport had a major renovation in 2007 and today has the capacity to handled over one million passengers a year.
Manas International Airport is also the hub airport for Avia Traffic Company, Kyrgyzstan Air Company and Air Bishkek. They also operate flights for many airlines including Air Manas, formerly known as Pegasus Asia.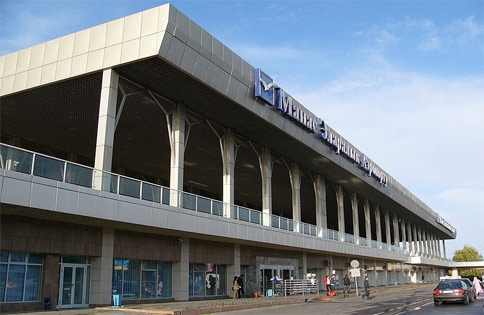 Photo credit: Gleb Osokin - Russian Avia Photo Team
---
Buy Discounted Tez Jet Tickets at Alternative Airlines
---
Tez Jet News
21st September 2019
Tez Jet airline tickets will be available to buy through Alternative Airlines
Alternative Airlines are close to finalising a deal that will make Tez Jet flights available to buy through the Alternative Airlines website. Tez Jet will be the third airline from Kyrgyzstan that is available with Alternative Airlines. The other two are Air Kyrgyzstan and Avia Traffic Company.