Search and Buy North Star Air Flights with Alternative Airlines
Make a North Star Air Reservation and Find Some Amazing Deals
---
About
North Star Air is a Canadian airline that offers passenger, charter and cargo flights. The airline is based at Thunder Bay International Airport (YQT) and offers a number of domestic flights to destinations within Canada. Overall, the airline flies to more than 15 destinations.
The airline was founded in 1997, offering seaplane flights in its first years of flying and regular flights in the years following. In 2015, the airline merged with Cargo North and took on all of its cargo services.
---
Fleet
North Star Air has a fleet made up of a mix of regional jets and narrow body aircraft. The airline has a mix of ATR 72, Douglas DC-3 and Pilatus PC-12 models.
---
Destinations
| CITY | AIRPORT | IATA |
| --- | --- | --- |
| Bearskin Lake First Nation | Bearskin Lake Airport | XBE |
| Cat Lake First Nation | Cat Lake Airport | YAC |
| Deer Lake First Nation | Deer Lake Airport | YVZ |
| Eabametoong First Nation | Fort Hope Airport | YFH |
| Kitchenuhmaykoosib Inninuwug First Nation | Big Trout Lake Airport | YTL |
| Muskrat Dam Lake First Nation | Muskrat Dam Airport | MSA |
| Neskantaga First Nation | Lansdowne House Airport | YLH |
| North Caribou Lake First Nation | Round Lake Airport | ZRJ |
| North Spirit Lake First Nation | North Spirit Lake Airport | YNO |
| Marten Falls First Nation | Ogoki Post Airport | YOG |
| Pikangikum First Nation | Pikangikum Airport | YPM |
| Poplar Hill First Nation | Poplar Hill Airport | YHP |
| Red Lake | Red Lake Airport | YRL |
| Sachigo Lake First Nation | Sachigo Lake Airport | ZPB |
| Sioux Lookout | Sioux Lookout Airport | YXL |
| Thunder Bay | Thunder Bay International Airport | YQT |
| Wapekeka First Nation | Angling Lake/Wapekeka Airport | YAX |
| Webequie First Nation | Webequie Airport | YWP |
---
Baggage
Carry-On Baggage
Passengers are entitled to one item of free carry-on baggage with a maximum weight of 6 kg. This baggage must fit within the dimensions of 40 cm x 33 cm x 20 cm.
Checked Baggage
Passengers are entitled to one item of free checked baggage. This baggage must not exceed 18 kg in weight.
---
Check-In
Online Check-In
Online check-in isn't available on North Star Air flights.
Airport Check-In
To check-in at the airport, passengers must visit one of the check-in desks at the airport of departure. Check-in desks close 30 minutes before scheduled flight departure time at all airport, except for Thunder Bay, Sioux Lookout and Red Lake, where check-in desks close 60 minutes before.
---
Hub Airport
Thunder Bay International Airport
Thunder Bay International Airport (YQT) is an airport in Thunder Bay, Ontario, Canada and is the hub airport for North Star Air. The airport mainly facilitates flights from airlines flying inside Canada, however, there are some airlines offering international flights from and to the airport as well.
North Star Air is the only airline that currently uses Thunder Bay International as a hub. However, there are a number of other airlines that fly to the airport, including Air Canada Rouge, ;Bearskin Airlines, Porter Airlines, Sunwing Airlines, Wasaya Airways and WestJet Encore.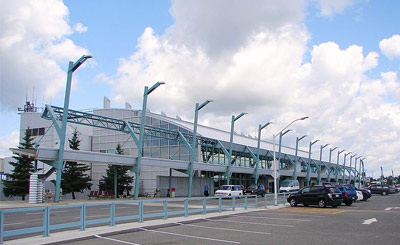 Credit: P199 on Wikimedia Commons
---
Alternative Airlines to North Star Air