Wasaya Airways Reservations with Alternative Airlines
Make a Wasaya Airways Booking and Find Some Amazing Deals
---
About Wasaya Airways
Founded in 1989, Wasaya Airways is a Canadian airline that operates scheduled passengers services throughout Canada, as well as a charter and cargo services from Red Lake Airport to Pickle Lake Airport. Wasaya Airways flies to over 25 destinations across Ontario and Manitoba. Wasaya Airways has two main hub airports — one at Thunder Bay International Airport and the other at Sioux Lookout Airport.
Wasaya Airways name 'Wasaya' is from the Oji-Cree language and translates to 'it is bright' in the English language. The name refers to the rising sun, which is also present in Wasay Airways' logo.
---
Wasaya Airways Fleet

Wasaya Airways has a fleet size of between 15—20 aircraft. Within its fleet, Wasaya Airways operates aircraft such as the Beechcraft 1900D, Cessna 208 Caravan, Hawker Siddeley HS 748, Pilatus PC-12 and Bombardier Dash 8.
---
Wasaya Airways Baggage
Carry-on Baggage
Carry-on baggage is limited to one piece per person on Wasaya Airways flights. This baggage must not be heavier than 5.9kg in weight and can't exceed 15 cm in height or length. Carry-on baggage must be stored under the passengers' seat.
Checked Baggage
Wasaya Airlines passengers are allowed two pieces of checked baggage. The combined weight of this baggage can't exceed 17.24kg in weight and each individual bag can't weigh more than 11.34kg.
---
Wasaya Airways Check-In Information
Online Check-In
Passengers are not able to check-in online for Wasaya Airways flights.
Airport Check-In
Passengers must check-in at the airport for their Wasaya Airways flight. Passengers must arrive at the Wasaya Airways check-in desk with the relevant travel documents no later than 45 minutes before their flight is scheduled to depart. Anyone who has not checked-in for their Wasaya Airways flight 30 minutes before scheduled flight departure time will be denied boarding.
---
Wasaya Airways Destinations
Attawapiskat
Kashechewan
North Bar
Sioux Lookout
Bearskin Lake
Keewaywin
North Spirit Lake
Thunder Bay
Deer Lake
Kingfisher
Pickle Lake
Wapekeka
Eabametoong
Kitchenuhmaykoosib
Inninuwug
Pikangikum
First Nation
Fort Albany
Manitoba
Poplar Hill
Wegaamow Lake
Fort Severn
Moosonee
Red Lake
Webequie
Greater Sudbury
Muskrat Dam Lake
Sachigo Lake
Winnipeg
Hearst
Neskantaga
Sandy Lake
Wunnumin
Kasabonika
Nibinamki
Sault Ste. Marie
---
Wasaya Airways Route Map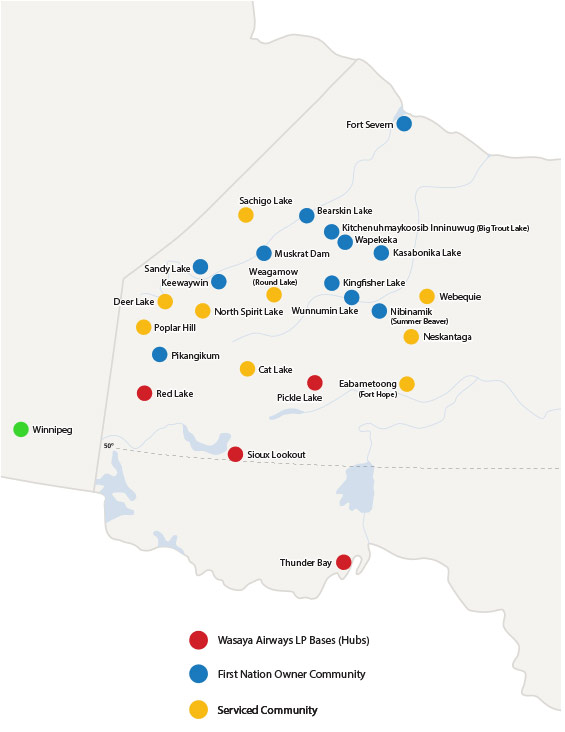 ---
Buy Discounted Wasaya Airways Tickets at Alternative Airlines
---
Alternative Airlines to Wasaya Airways