London Marathon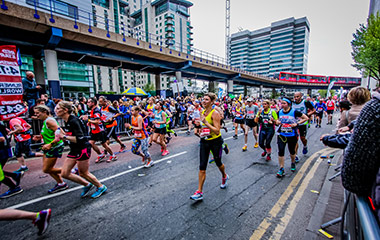 Where is it?
London, United Kingdom
When is it?
Sunday 26th April 2020
Timings - What time does the London Marathon start?
8.55am – the elite wheelchair athletes race
9am – the World Para Athletics Marathon World Cup ambulant races
9.15am – the elite women's race
10am – the elite men's race
Where to watch it? Spectator Information
The best places to watch the London Marathon are:
Blackheath - start Woolwich - John Wilson Street (Woolwich Arsenal DLR) and Woolwich Church Street (Woolwich Dockyard)
Rotherhithe station - 11 mile mark Bermondsey - 12 mile mark
Canary Wharf and the Isle of Dogs - 18 mile mark
Tower Hill - 23 mile mark - London Marathon's official cheering zone
The Strand and Waterloo Bridge - mile 25 - live music zone
Places to avoid:
The Cutty Sark - 6 mile mark The Greenwich area can get very busy, especially around the Cutty Sark. Crowds around this beautiful area of London can make spectating difficult and somewhat uncomfortable, and public transport around Greenwich can come to a halt as the roads become busier.
Tower Bridge - 12/13 mile mark Again, Tower Bridge can be incredibly busy - it's a beautiful landmark, but those wanting a good view of the runners, rather than just soaking up the atmosphere, may be disappointed.
London Marathon Route Map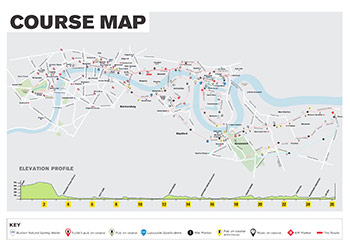 Pleas note this is the route for 2019. The 2020 map will be updated when it becomes available.