Search & Buy Mann Yadanarpon Airlines Flights
Let's fly!

Select your payment method to view total prices including any payment fees:
Airlines will always try to sit children with their parents (subject to check-in)
Some airlines will allow travel for unaccompanied minors. Please email us to check.
The fare is based on the child's age on the date of travel.
More detailed information can be found here Traveling with children
Most airlines will let infants travel with their parent(s) for free. However some airlines will charge up to 10% of the adult ticket price. Click on 'Price Breakdown' to find out more.
If you are pregnant, but due before the flight departure date, please contact us once your baby is born and has a name. We can then add him/her to your ticket.
Infants will not be given a seat. The airlines expect parents to travel with them on their lap.
Airlines regard infants as being under 24 months old.
The fare is based on the child's age on the date of travel.
More detailed information can be found here Traveling with children

Buy
Mann Yadanarpon Airlines

Flights

Mann Yadanarpon Airlines Reservations with Alternative Airlines
Make a Mann Yadanarpon Airlines Online Booking and Find Some Amazing Deals
---
About Mann Yadanarpon Airlines
Mann Yadanarpon Airlines, or also known is MYP, is a privately owned domestic airline based in Mandalay, Myanmar.
Mann Yadanarpon Airlines flies to many destinations including Yangon, Mandalay, Nyaung-U (Bagan), Heho (Inle Lake), Tachileik, Kengtung, Myitkyina, Lashio, Thandwe (Ngapali), Dawei, Myeik and Kaw-thaung. MYP plan to expand their network within the next 2 years.
The airline will expand their network to more domestic destinations after acquiring additional aircraft which they wish to seek in the near future.
The airline also offers charter services with ATR72-600 aircraft and plans to commence operations to Thailand.
Mann Yadanarpon Airlines is based at Mandalay International Airport and by using this base, MYP aims to provide convenient international flight connections to international travellers arriving at and departing from Mandalay.
Mann Yadanarpon Airlines was incorporated as a private limited liability company in July 2013 and began operations in February 2014. The airline was granted a permit by the Myanmar Investment Commission under the Myanmar Citizens Investment Law to operate air transportation services on both domestic and international routes.
---
Mann Yadanarpon Airlines Baggage Allowance
Carry-on Baggage
Passengers are allowed 5kg of carry-on luggage, of a reasonable size. This means that the bag must be able to fir under the passengers seat, or in the overhead compartment.
Checked Baggage
Passengers of Mann Yadanarpon Airlines are permitted 20kg of checked luggage.
---
Mann Yadanarpons Airlines Check-In Information
Online Check-In
Mann Yadanarpon Airlines are yet to offer online check-in for their flights.
Airport Check-In
Passengers must check-in at the airport no later than 90 minutes prior to departure.
---
Mann Yadanarpon Airlines Destinations
Myanmar
Mandalay - Mandalay International Airport
Yangon - Yangon International Airport
Bagan - Nyaung U Airport
Heho - Heho Airport
Thandwe - Thandwe Airport
Kengtung - Kengtung Airport
Tachilek - Tachilek Airport
Lashio - Lashio Airport
Myeik - Myeik Airport
Dawei - Dawei Airport
Kawthaung - Kawthaung Airport
Myitkyina - Myitkyina Airport
Sittwe - Sittwe Airport
Mawlamyaing - Mawlamyaing Airport
Khante - Khamte Airport
---
Mann Yadanarpon Airlines Fleet
ATR 72-600
---
Mann Yadanarpon Airlines Hub Airport
Mandalay International Airport
Mandalay is the second largest city and cultural centres of Myanmar in close proximity to the main tourist destinations of Bagan and Inle Lake (Heho). It's also the hub airport for Mann Yadanarpon Airlines.
Over 15 airlines currently operate to and from Mandalay International Airport, both domestically and internationally. The airport is known for having the longest active runway in Southeast Asia.
Mandalay International Airport operate services for many airlines, including Golden Myanmar Airlines, Bangkok Airways, China Eastern Airlines, Myanmar Airways International, Sichuan Airlines and Thai AirAsia.
---
Mann Yadanarpon Airlines Route Map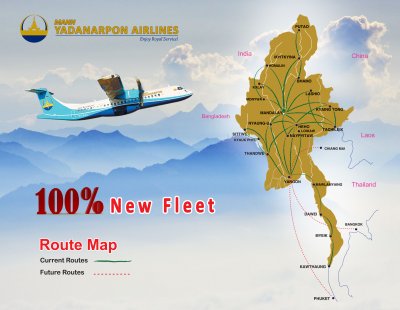 ---
Mann Yadanarpon Airlines News
May 2nd 2018
Mann Yadanarpon Airlines and Myanmar National Airlines to operate under 'Myanmar Sky Alliances'
Mann Yadanarpon Airlines and Myanmar National Airlines have reached an agreement to start a new joint operation under the name 'Myanmar Sky Alliances'. The joint operation will fly domestically and will offer additional flights to both of their respective schedules, connecting 13 destinations. Each airline will supply two aircraft and the operation will start on May 10th.
The decision to create a joint service could be due to the belief that Myanmar air travel is an oversaturated market. There are currently 11 airlines in Myanmar. Transport minister U Thant Sin Maung said that Myanmar should have just four airlines, as the majority of other ASEAN countries do not have nearly as many airlines as Myanmar.
April 2018
Good news for Mann Yadanarpon Airlines! Myanmar creates new destinations to attract tourists.
Myanmar's Hotels and Tourism Ministry is striving to encourage tourism by developing new avenues of tourism programs and creating new tourist destinations. The ministry has permitted about 1,628 hotels and guest houses with some 65,470 rooms to operate as of March 31, official Global New Light of Myanmar reported. As of December 2017, the ministry had also granted over 2,676 travel agencies, issuing 4,503 tour guide licenses, 3,449 regional tour guide licenses and 2,564 transport licenses. The ministry is also striving to promote eco-tourism, cultural tourism and community-based tourism in resource-rich areas, including historical landscapes, rivers, lakes, beaches, islands and forests.
Foreign tourists visit Myanmar mostly through three international airports, the border checkpoints as well as via luxury cruise liners. Therefore, Myanmar based airlines, such as Mann Yadanrpon Airlines, can expect to reap the benefits of international passengers on flights.
16th February 2018
Mandalay International Airport receives over 1 million passengers in 2017
Over a million local and foreign passengers entered Mandalay International Airport last year exceeding their number of 2016, according to sources from the Department of Civil Aviation. In 2017, domestic airlines such as Myanmar National Airlines, Air Mandalay, Air KBZ, Asian Wings Airways, Myanmar Airways International, Yangon Airways, Shwe Myanmar Airlines (now Golden Myanmar Airlines), Mann Yadanabon Airlines and FMI Air conducted regular flights to Mandalay International Airport.
Those airlines transported 890,000 passengers to the airport last year while just over 70,000 entered the airport in 2016. The number of international passengers arrived at the Mandalay airport last year was 430,000 bringing the total number to 1.29 million in total.
"In 2017, 1.29 million of local and foreign air passengers entered the Mandalay airport, exceeding the number of 2016," said Ye Htut Aung, deputy director general of the Civil Aviation Department. Myanmar's international airports in Yangon, Mandalay and Nay Pyi Taw were upgraded with the help of local and foreign private sectors. Moreover, discussion is underway with the tender winning foreign company to build Hanthawady International Airport, which will be the biggest one in Myanmar, in Bago Region. The airport will accommodate 12 million passengers.
7th February 2018
Myanmar embraces consumerism
Myanmar is currently experiencing a youth bulge, where 36% of the population belongs to the 10-29 age group, followed by 27% belonging to the 30–49 criteria. These age groups present not just a young and aspiring workforce but also a significant untapped consumer base for companies to target. Across all age groups, 43.7% cited employment or search for employment as the key reason for moving between states/regions to more urban areas. This population movement has a high correlation with economic development in the form of industrial zones and special economic zones, which remains geographically concentrated. Moreover, the fast-paced reforms and incoming foreign investments have led to better employment opportunities, faster growth and higher spending power especially for the Optimists (see Table below) and Aspirants who have embraced change and economic development.
Currently, only 24% of the Myanmar population earns more $120 per month as the vast majority of the population continues to be employed in the unindustrialised agriculture sector. However, this share is expected to increase to 48% by 2022 driven by rising employment opportunities in the services and manufacturing sectors. The Connected generation is characterised as 'voracious consumers' and with higher affinity for foreign brands and products, are expected to drive consumer spending going forward. There is also a slow but steady transformation of purchasing processes and decision making, especially across the urban areas driven by a rise in modern trade outlets. Burmese consumers are expected to eat out more frequently with the rapid growth of foreign food franchises established in Tier 1 cities. Local modern retail operators such as City Mart, Capital and Gamone Pwint, have increased the presence of 24-hour convenience stores, whereas Supermarket and Hypermarkets are seen not just in Tier 1 cities but also in Tier 2 and 3 cities of Pathein, Taunggyi and Mawlamyine.
13th September 2017
Myanmar's airlines squeezed by costly fuel, competition
Despite the increase in tourists using domestic airlines, industry players say Myanmar's airlines are unable to grow because of high petrol prices and the failure to consolidate a fragmented domestic air travel market. There are now 10 domestic airlines with 58 planes in total, serving both local and international travellers. The latter has been growing, according to figures from the Department of Civil Aviation (DCA). In 2015, out of two million tourists, only 7 per cent used local airlines. Last year, the number of tourists rose to 2.4 million, with 16 per cent flying local airlines.
This is, however, in stark contrast to the rest of the region, said the Union of Myanmar Travel Association (UMTA). There are some 30 to 40 million travellers visiting Thailand a year, but the kingdom has only six airlines and hundreds of aircraft, according to Mr Thet Lwin Toe, who chairs the UMTA. He said that the main barrier is the high price of the flight ticket compared with the rest of Asean (Association of South-east Asian Nations). This is due mainly to the high costs of petrol and maintenance operations, which need to be paid in US dollars, he said. The result is that most airlines are inactive during the rainy season between May and October when the south-west monsoon winds bring heavy rain to the country. Mr Thet Lwin Toe said: "During the rainy season, only three out of 10 airlines can run. The main problem for local airlines is that they can't reduce their air ticket fares."
He blamed the high price of petrol on the monopolistic conditions in the petrol market. "As far as I know, provision or supply of petrol for airlines is controlled by one or two companies," he said. "I want an international petrol distribution company to come to Myanmar, so the price will be fairer." Aircraft from other countries that land in Yangon International Airport carry their own petrol because prices in Myanmar are so high. Another reason for the lacklustre market is that airlines are not competitive. Owners are not operating airlines out of commercial interests but out of personal interests, said Mr Thet Lwin Toe.
"In Myanmar, there were 10 airlines but not enough aircraft," he said. "It is crazy. The DCA should set a principle and businessmen should cooperate in the interest of our citizens. But they are stubborn and it deters the process." The DCA governs the operations of airlines. It has the authority to quash or suspend the Air Operation Certificate. "In my opinion, airlines should take a step back to think thoroughly why they did not manage to make a profit after three years of operations, and they should consider cooperating with another airline. "If not, the DCA should take away their Air Operation Certificate. Some companies owned by famous tycoons don't care about their loss, although they didn't turn a profit, because the businessmen only care about their dignity and (maintaining) continuous operation."
DCA's efforts to ask airlines to consolidate have fallen on deaf ears, as owners prefer to engage in turf warfare in the domestic market rather than work together to expand it. As Mr Ye Hut Aung, deputy director general of the DCA, has observed, the DCA and the Ministry of Transport and Communication have always encouraged partnerships. But no new airline had applied to do so. This tendency to protect one's turf has led to airlines buying small aircraft that seat fewer than 100 people instead of investing in bigger aircraft that are more efficient in tapping into the growing number of tourists seeking to holiday in Myanmar.
For example, Mann Yadanarpon Airlines boasts of having French-made ATR-72-600 aircraft that can carry 70 passengers just to cover 13 townships around the country – even as it blames the government for not building bigger and better airports for aircraft such as Airbus, which can carry 100 to 200 passengers. "We have intense market competition among airlines. We want the government to reduce the petrol price and upgrade the airport infrastructure and facilities, making them in line with international standards," said Ms Witt Ye Maw, marketing manager of Mann Yadanarpon Airlines. The lack of infrastructural development is the reason why airlines "have difficulties" during the high season of visitors, said Ms Ma Aye Mra Tha, the assistant general manager of Air KBZ. Her company runs eight brand new ATR aircrafts, which is the type most airports in Myanmar can cater to.
At the moment, Myanmar only has three airports where Airbuses can land. The rest of the airports still need to be upgraded by the government in order to do so. She noted that the new government has only been in office for one year, so it needs time to work on airport development. She also pointed out that if Myanmar develops and more people come to Myanmar, airline operators will be able to maintain flight services the whole year round. "For now, the number of both domestic and international visitors is not enough to sustain the services during the low season," she added
Local airlines have many challenges during the rainy season every year because tourists tend to avoid the rainy season. Thus, airlines are used to operate via a code-sharing agreement with other airlines, while offering promotions with discounted fares to some destinations in Myanmar. A code-sharing agreement is an aviation commercial arrangement where two or more airlines agree to list certain flights in a reservation system under each other's names. For example, to encourage more demand in the domestic air travel sector, the government is arranging an initiative – "green season" – to promote local airlines and attract tourists who want to come to Myanmar during the rainy season.
"Rainy season is good to travel … Tourists can see Myanmar from a different point of view," said Ms Ma Aye Mra Tha. "In rainy season, some regions are nice to visit … We (at Air KBZ) and Myanmar Airways International are in cooperation and have so many agents in other countries selling tickets and promoting Myanmar as a travel destination," she added.
June 2017
Yadanarpon Airlines to expand
13 June 2016: Mann Yadanarpon Airlines plans to expand its fleet and open new routes on Thailand next year. The airline marketing manager, Wutyi Maw, told TTR Weekly at the Thailand Travel Mart Plus 2016, held last week in Chiang Mai, that the airline would add two more aircraft to serve destinations in Thailand. "Currently, we have two ATR72-600s operating just domestic routes…to increase our airline network we plan to add more two more ATR72s next year."
Hosting the event in Chiang Mai gave the marketing team a chance to see first-hand what Chiang Mai has to offer, she said. "The feedback this year is good as we met many buyers…it might be good to move the event around Thailand to offer various choice for buyers to get a wider picture of what the country has to offer… Phuket and Ranong for example are close to Myanmar, so we can in the long-run benefit from a travel boom to Phuket." The Mandalay- based airline currently operates services to Yangon, Bagan, Nay Pyi Taw, Heho, Lashio, Tachileik, Kyaing Tong, Thandwe, Sittwe, Myitkyina, Dawei, Myeik and Kawthaung.
---
Search and Buy Mann Yadanarpon Flights
Make a Mann Yadanarpon Airlines reservation and find some amazing deals with discounted Mann Yadanarpon Airlines flights and tickets at Alternative Airlines. Mann Yadanarpon Airlines flies to many destinations, offering a cost effective and safe service to all its passengers.
Let Alternative Airlines help find you cheap Mann Yadanarpon Airlines tickets and make online bookings and reservations with Mann Yadanarpon Airlines today.
Browse the most popular Mann Yadanarpon Airlines flight routes to destinations within the Myanmar region. Alternative Airlines can help you make reservations on Mann Yadanarpon Airlines. Use the following list of routes to help you plan your next flight. Book Mann Yadanarpon Airlines flights on Alternative Airlines to save big! Alternative Airlines is an online travel agency, specialising in booking lesser known airlines and remote destinations.
---
About Alternative Airlines
Alternative Airlines is an online flight search complete with customer service specialising in booking flights on lesser known airlines and to remote destinations. We offer you a wider choice of airlines supported by a team of customer service and travel specialists for help and advice on your travel plans. We specialise in finding the best available fares on the widest range of airlines and making them available to you online, with prices in the currency of your choice.
Alternative Airlines handles all your travel arrangements and payments, complete with ticketed confirmation. We do not direct you to other websites or service providers. We help you through the process. This is what makes us Alternative Airlines.Check out our reviews: Alternative Airlines - Feefo Reviews
Browse for flights, find some amazing deals, make a reservation and pay in the currency of your choice today with Alternative Airlines. Let Alternative Airlines help find you the best prices and make international and domestic flight reservations with us today.