Jetways Airlines Tickets and Reservations with Alternative Airlines
Book Your Jetways Airlines Flight Tickets and Find Some Amazing Deals
---
About Jetways Airlines
Jetways Airlines is a Kenyan registered airline company based at Wilson Airport, Nairobi. It is a fully licensed Kenyan Airline that is able to operate scheduled, non-scheduled and ad-hoc air charter services in Kenya and the greater East and Central African region.
From June 2018, Jetways will operate daily flights to Masai Mara. It currently serves daily flights to Wajir from Nairobi. To find out more about other airlines flying to Masai Mara national reserve, please visit our safari flights page. Alternatively, discover the national reserve from above with Governor's Balloon Safaris.
---
Check-In
Check-In Online
Online check-in is currently unavailable.
Check-In at the Airport/font>
Check-in counters open one hour before departure time.
---
Baggage Allowance
Each passenger is entitled to 20kgs of free luggage, which includes hand luggage.
---
Economy Class
Economy facilities
Currently, Jetways Airlines offers one class fare on its flights: the standard economy. Enjoy a warm meal onboard.
Economy seating
Enjoy comfortable and spacious seating with a good amount of legroom. The team will be on-hand to help.
---
Destinations
Jetways Airlines currently offers flights to from Nairobi's Wilson airport. The airline flies to two destinations:
Masai Mara: Designated a national reserve in 1974, the Maasai Mara is one of Kenya's most popular tourist destinations. Part of the greater Serengeti Mara ecosystem, the Mara is home to some of the best wildlife in the world, with the annual migration bringing over a million animals, especially wildebeest and the big cats.
Wajir: Wajir town is one of the oldest in Kenya; Wajir is a Borana word that means coming together, and was bequeathed to this historical town because of the different clans and pastoral communities that used to congregate to water their animals.
Schedule:
Depart from Wilson at 07.00 - Arrive at Wajir at 08.20
Depart from Wajir at 07.00 - Arrive at Wilson at 08.20
Depart from Wilson at 10.30 - Arrive at Masai Mara at 11.15
Depart from Masai Mara at 11.20 - Arrive at Wilson at 12.00
---
Fleet
The Jetways Airlines fleet currently includes 2 Fokker F70-F100 aircraft, 2 Fokker F50-F60, Q-400, and Dash 8-200.
---
Jetways Airlines Hub Airport
Wilson Airport is a local airport in Nairobi, Kenya and operates flights to many regional airports. Wilson Airport is the hub airport for Airkenya Express, Safarilink and Aeronav. Other airlines which fly to and from Wilson Airport include Airkenya Express, Fly SAX (formerly East African Safari Air) and Safarilink.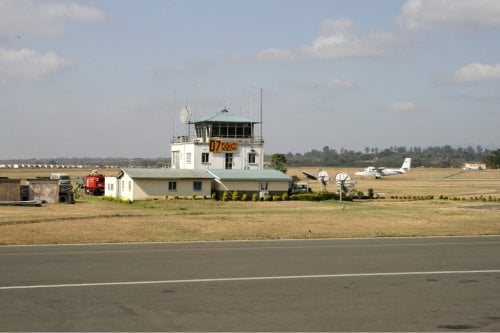 Photo credit: UA-320
---
Alternative Airlines to Jetways Airlines
Click on the buttons below to find out more about our suggested alternative Airlines: