Search and Buy Hubei Airlines Flights
Flights to China
Make a Hubei Airlines booking and find some amazing deals with Alternative Airlines
---
About Hubei Airlines
Hubei Airlines is a proposed Chinese airline to be based at Wuhan Airport. The new carrier is a proposed joint venture between Hainan Airlines and Hubei Jiaotong Investment Group due to commence in 2019. Hubei Airlines will have registered capital almost $300 USD. It plans to operate international and intra provincial regional services. Hainan Airlines is a Chinese airline headquartered in Haikou, China and has a hub at Beijing Capital International Airport as well as Haikou Meilan International Airport.
---
News
24th May 2018
Hubei and Tibet launch direct route between the two cities
Hubei airport group, owner of Hubei airlines, have announced a direct service from the end of this month between the central Chinese city of Wuhan and the capital of Tibet, Lhasa. The flight will take roughly 3 and a half hours on an Airbus A319, departing from Lhasa daily and returning from Wuhan every day except Thursday. Before the launching of this direct flight, the journey would have taken 7 hours, cutting passenger's journey time by half.
---
About Hainan Airlines
Hainan Airlines Group (HNA) is a large privately-owned airline group based in Hainan, China. Originally founded in 1989, Hainan Airlines is part of Chinese conglomerate HNA Group, and together with its affiliates the Hainan Airlines Group operates an extensive network of domestic and international services from its main hub at Haikou Meilan International Airport. Hainan Airlines is based in Hainan, China and operates serviceto many destinations includes Abu Dhabi, Aksu Airport, Almaty, Ankang, Anshan, Baise, Bangkok, Baotou, Beijing, Berlin, Chengdu, Chicago, Chifeng, Chita, Changzhi, Guangzhou, Guiyang, Guilin, Haikou, Jiamusi, Jinan, Jinzhou, Nanjing, Paris, Phuket, Paris and many others.
In 2013, Hainan Airlines retained the "Skytrax 5-Star Airline Company" title for a third year in a row and in February 2016, was listed as one of World's Top 5 safest airlines by JACDEC. Hainan Airlines has codeshare agreements with many airlines including Air Berlin, American Airlines, Brussels Airlines, EVA Air, Garuda Indonesia, Hong Kong Airlines, Korean Air, S7 Airlines. Hainan Airlines is one of the seven Asian airlines rated as 5-star by Skytrax, along with All Nippon Airways, Asiana Airlines, Cathay Pacific, Garuda Indonesia, Qatar Airways and Singapore Airlines. Hainan Airlines' fleet consists of Boeing 787 Dreamliner, Airbus A330-200, Airbus A330-300, Boeing 787-800 and Boeing 737-700.
Hainan Airlines Route Map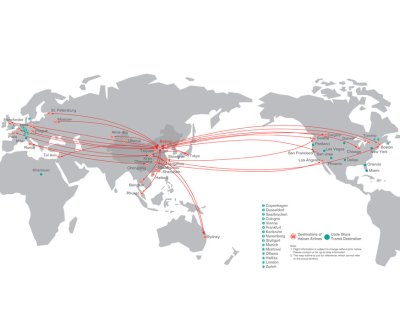 ---
Pay your way
Pay for flights in USD or 70 other currencies of your choice with Alternative Airlines.
Choose from over 18 payment methods, including PayPal, Apple Pay , Fly now Pay later and Alipay
Check out all of our payment methods here.
---