Fuji Dream Airlines Tickets and Reservations with Alternative Airlines
Book Your Fuji Dream Airlines Flight Tickets and Find Some Amazing Deals
---
About
Fuji Dream is a domestic airline that commenced its operations in July 2009. The airline is headquartered in Makinohara, Shizuoka in Japan with its hubs in Shizuoka Aiport (FSZ) and Nagoya Airfield (NKM). The airline was founded in 1993, and in 2004 became an active member of IATA.
The Fuji Dream Airlines commenced its flights to include two daily flights to Komatsu and one daily flight each to Kagoshima and Kumamoto, from its home town of Shizuoka. On April 2010, the airline began three daily flights to Fukuoka and one daily flight to Sapporo. The airline currently flies to 14 destinations on four islands in Japan that includes Hokkaido, Honshu, Kyushu and Shikoku.
The airline purchased its first jets, two Embraer 170 from its parent company Suzuyo & Co., Ltd. on November 2007 which they received on February 2009. The agreement between Embraer and the airline was revised in June 2009, which led the airline to purchase Embraer 175, which was delivered in January 2010. On October 22, 2010, a new contract between Embraer and the airline was signed for the purchase of one 84-seat plus one optional Embraer 175. The Fuji Dream Airline's fleet grew to eight in 2012 and now it currently has 16 jets with one on order.
---
The Fleet
As of January 2020, the airline uses 16 aircraft with one on order.
2 x Embraer 170STD
1 x Embraer 170SE
2 x Embraer 175LR
11 x Embraer 175STD with one more on order
---
Class Information
The airline only offers one cabin class at this current time which is economy class.
Economy Class
What facilities are available?
Within Fuji Dream Airlines economy class you can enjoy a variety of tasty meals along with hot and cold beverages to choose from. You can stay entertained on the flight by reading a newspaper to keep you connected with the world and also read the airlines inflight magazine 'Dream 3776'.
What are the seats like?
You'll relax in soft, smooth leather seats which are all ergonomically designed. The width between seats is 46 cm and the distance between the front and rear of the seat is around 79 cm. You'll enjoy an ample amount of legroom to stretch those legs.
---
Destinations
Domestic Destinations
As of January 2020, Fuji Dream Airlines flies to 14 domestic destinations within four Japanese Islands.
| ISLAND | CITY | AIRPORT |
| --- | --- | --- |
| Hokkaido | Sapporo | New Chitose Airport (CTS) |
| Honshu | Aomori | Aomori Airport (AOJ) |
| Honshu | Hanamaki | Hanamaki Airport (HNA) |
| Honshu | Izumo | Izumo Airport (IZO) |
| Honshu | Kobe | Kobe Airport (UKB) |
| Honshu | Matsumoto | Matsumoto Airport (MMJ) |
| Honshu | Nagoya | Nagoya Komaki Airport (NKM) (HUB) |
| Honshu | Niigata | Niigata Airport (KIJ) |
| Honshu | Shizuoka | Shizuoka Airport (FSZ) (HUB) |
| Honshu | Yamagata | Yamagata Airport (GAJ) |
| Kyushu | Fukuoka | Fukuoka Airport (FUK) |
| Kyushu | Kagoshima | Kagoshima Airport (KOJ) |
| Kyushu | Kitakyushu | Kitakyushu Airport (KKJ) |
| Kyushu | Kumamoto | Kumamoto Airport (KMJ) |
| Shikoku | Kochi | Kōchi Airport (KCZ) |
---
Baggage Allowance
Carry on Baggage
The airline allows passengers to take with them one piece of carry on baggage that weighs up to 10 kg and has an overall dimension of 45 x 35 x 20 cm.
Checked Baggage
Passengers are permitted to take a total baggage weight of 20 kg and a dimension of 50 x 60 x 120 cm. to be at the airport 3 hours prior to departure.
---
Hub Airport
Shizuoka Airport (FSZ) is Fuji Dream Airlines primary base with one runway and serving around 700,000 passengers yearly. The airport serves 10 airlines including All Nippon Airways, Beijing Captial Airlines, China Airlines, China Eastern Airlines, China United Airlines, Fuji Dream Airlines, Jeju Air, Okay Airways, Shanghai Airlines and Sichuan Airlines.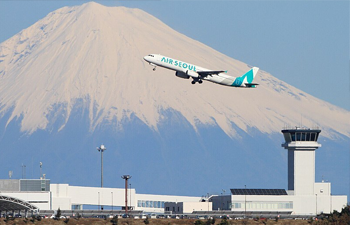 ---
Alternatives to Fuji Dream Airlines
---
Airline Alliance
The airline currently is not part of any airline however it does offer codeshare flights for Japan Airlines.
---
Frequent Flyer Program
The airline doesn't offer a frequent flyer program at this current time.
---
Frequent Flyer Program
The airline doesn't currently offer any WiFi connectivity onboard at this current time.