FlyWestair Reservations with Alternative Airlines
Make a Booking and Find Some Amazing Deals
FlyWestair has now rebranded as FlyNamibia. You can still use our search form at the top of the page as normal to search for flights on FlyNamibia. Or, to find out more info on FlyNamibia, click on the FlyNamibia logo below.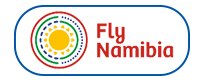 ---
About
FlyWestair is a Namibian airline that offers scheduled passenger services. It's based at Windhoek Eros Airport in Namibia. The airline flies domestic flights within Namibia, as well as international flights to destinations within South Africa. Altogether, Flywestair flies to more than five destinations.
The airline is actually called Westair Aviation. Westair Aviation has existed as a charter airline since 1967. However, when it launched scheduled flights in 2019, it wanted to separate its charter flights from its scheduled flights. Therefore, it created the Flywestair brand, which is the name and brand that it flies all of its scheduled flights under. The airline launched with flights flying from Windhoek to five destinations — Ondangwa, Cape Town, Johannesburg, Walvis Bay and Oranjemund. Although, Oranjemund was removed as a destination shortly after. To start with, the airline only flew to the domestic destinations within its schedule but, by 2020, it was flying internationally too.
When booking Flywestair flights with Alternative Airlines, you can pay for your flights using Namibian dollar or a choice of 160 other currencies.
---
Destinations
Flywestair flies to destinations across Namibia and to South Africa, including Windhoek, Ondangwa, Cape Town, Johannesburg and more.
Destinations
| CITY | AIRPORT | AIRPORT CODE |
| --- | --- | --- |
| Ondangwa | Ondangwa Airport | OND |
| Walvis Bay | Walvis Bay Airport | WVB |
| Windhoek | Hosea Kutako International Airport | WDH |
International
COUNTRY
CITY
AIRPORT
AIRPORT CODE
South Africa
Cape Town
Cape Town International Airport
CPT
Johannesburg
O.R Tambo International Airport
JNB
---
Baggage Allowance
Carry-On Baggage
5kg (maximum) hand baggage is allowed free of charge. Any carry-on baggage must fit in the overhead locker or under the seat. Prohibited items are allowed not allowed onboard the aircraft, including any fluid exceeding 100ml.
Checked Baggage
All passengers are entitled to 20kg of free checked baggage. Any baggage exceeding 32kg won't be accepted by the airline due to international health and safety regulations.
Passengers that have booked their Flywestair flight with Alternative Airlines can find more details of their baggage allowance on their e-ticket.
Excess Baggage
Excess baggage allowance will need to be purchased at the airport and is subject to aircraft weight capabilities.
---
Economy Class
The airline only has one cabin class: Economy.
Within Economy, there are three ticket fares that passengers can choose from, which each give a different level of flexibility and benefits, such as whether the ticket can be amended or refunded. The onboard experience is the same for all fares.
Seating
The airline does pre-seat selection and allocates any particular seat in the aircraft at the time of check-in and boarding.
There is storage in the overhead locker as well as under the seat. Seats have fold-down trays and padded headrests.
---
In-Flight Entertainment
The airline has an in-flight magazine, which explores Namibian lifestyle, art, business and travel.
---
WIFI
WIFI is not available on FlyWestair flights.
---
Food and Drink
Light meals and snacks are available onboard FlyWestair, including sandwiches, breakfast sandwiches, crisps and hot and cold drinks.
---
Check-In Information
Check-In Online
Online check-in is available for Flywestair flights. Passengers can check-in through the Flywestair online check-in page. Passengers will need their booking reference and last name to check-in.
Check-in at the Airport
Airport check-in deadlines are different for each airport. It's recommended that passengers inform themselves of the recommended check-in deadlines for the airport they are departing from. But as a guide, the following check-in times usually apply for Namibian airports:
Domestic: Opens one hour prior to departure and closes 30 minutes before.
Regional and international: Opens two hours prior to departure and closes 50 minutes before.
---
Frequent Flyer Programme
Flywestair Frequent Flyer
Flywestair launched its frequent flyer program in 2020. The frequent flyer program gives its members a range of benefits for choosing to fly with Flywestair, including the opportunity to earn and spend air miles, priority check-in, extra baggage allowances and more.
---
Airline Alliance
The airline is not part of an airline alliance program.
Codeshares
Although the airline is not part of an airline alliance, it does have codeshare agreements with a small number of airlines. This means that even if the passenger has a reservation with FlyWestair and has a ticket where the airline's name is indicated as the carrier' another (partner) airline may operate the actual flight. Codeshare partners include: RwandAir
---
Fleet
As of January 2020, Flywestair has a diverse fleet with various aircraft models, including the following:
Embraer ERJ 145
Beechcraft Hawker 400XP
Beechcraft King Air 350ER
Piper Cheyenne 2
Cessna Conquest C425
Reims Cessna F406
Cessna C404 "Titan"
Cessna C402 "Businessliner"
Cessna C310
Cessna C208B "Caravan"
Cessna C210
---
Hub Airport
Windhoek-Eros Airport
Windhoek-Eros Airport (ERS) is an airport in Namibia's capital, Windhoek and the hub airport for Flywestair. The airline has used Windhoek-Eros as its hub ever since it launched scheduled flights in 2019. The airport has two runways and one terminal building. The airport serves up to 100,000 passengers each year.
Other than Flywestair, Air Namibia is the only other scheduled airline to use the airport.
---
Alternative Airlines to Flywestair
Other airlines that fly similar routes are Condor, South African Airways, Ethiopian Airlines and Air Namibia.
---
Travelling with Infant
Flywestair gives special assistance for those travelling with an infant. Passengers who are travelling with an infant would have an addition of a 10kg checked baggage allowance per infant. In addition, one stroller and one car seat would also be accepted for free.
---
Cancellation Policy
Per fare rules, Flywestair flights cannot be cancelled for a refund. This means that all tickets are non-refundable by default.
If you purchase a Flywestair ticket through Alternative Airlines, you can add Cancellation Protection to your booking, which covers you for a refund if you need to cancel your flight for any of the reasons set out in the terms and conditions.
Cancellation Protection brings peace of mind any time you book a Flywestair flight by protecting your money if something outside of your control causes you to miss your flight or makes you unable to use it.