Closest Airports to Yellowstone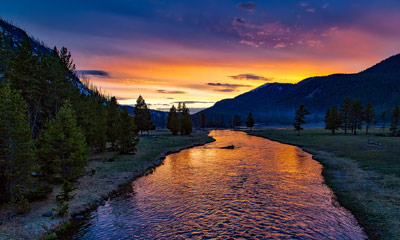 Airports in Yellowstone National Park: Idaho
Idaho Falls Regional Airport (IDA): Conveniently close to Yellowstone's West Entrance, Grand Teton National Park and the Yellowstone Teton Territory. Many airlines operate domestic flights out of this airport.
Airlines that fly to IDA include Allegiant, who flies from Las Vegas and seasonally from Oakland and Los Angeles. Delta also flies from Salt Lake City, Utah and seasonally Minneapolis. United Express, operated by SkyWest Airlines on behalf of United Airlines, flies from Denver Colorado.
Airports in Yellowstone National Park: Wyoming
Jackson Hole Airport (JAC): This airport, near Jackson, Wyoming, is situated completely within Grand Teton National Park, meaning you're in for some jaw-dropping views if you land here! This airport is closest to the southern entrance of Yellowstone
Airlines that fly to JAC: The Jackson Hole Airport is serviced by American Airlines, Delta Air Lines, Frontier Airlines, Skywest Airlines and United Airlines seasonally. American Airlines flies to Dallas and seasonally to Los Angeles. Delta flies seasonally to Atlanta and Minneapolis, as well as Salt Lake City. Frontier has seasonal flights to Denver, Colorado and United cover Chicago, as well as seasonal flights to LA, Houston, Texas, and San Francisco.
Yellowstone Regional Airport (COD): This airport is located in Cody, Wyoming, and acts as a year-round gateway to the national park.
Airlines that fly to COD: This full-service Wyoming airport is served year-round by a Delta Connection operated by SkyWest Airlines through Salt Lake City, Utah. United express also have flights to Denver and, seasonally, Chicago.
Airports in Yellowstone National Park: Montana
Bozeman Yellowstone International Airport (BZN): Bozeman Airport is an international airport based in Bozeman, Gallatin County, Montana.
Airlines that fly to BZN: Airlines such as Frontier, Alaska Airlines and Allegiant Air fly to this airport year-round from domestic locations in the USA. Other airlines fly to this airport on a seasonal basis. This is airlines such as United, Delta and American Airlines.