Search and Buy Equaflight Services Flights Online
Make an Equaflight Services reservation at Alternative Airlines
---
About
Equaflight Services, often simply called Equaflight, is an airline based in Pointe-Noire in the Congo that operates flights to Brazzaville, Pointe-Noire, Luanda and Port-Gentil. The airline was founded in 1996 and operates scheduled and chartered flights from its base at Pointe Noire Airport in the Congo, for the Republic of Congo government and para-governmental organisations, within the oil and mining industry.
---
Baggage
Carry-on Baggage
Unless otherwise stated to you or on your ticket, Equaflight Services offer passengers one piece of carry-on baggage.
Checked Baggage
Equaflight Services operates baggage allowance which will correspond to the destination and fare paid. Therefore, you baggage allowance will be available on your ticket, or by contacting the airline directly.
---
Check-In Information
Online Check-In
Equaflight Services are yet to offer online check-in for their flights.
Airport Check-In
The check-in time for Equaflight Services varies depending on the airport. You must report at the Equaflight check-in desk, allowing plenty of time to complete check-in and pass security.
---
Economy Class
There is currently only one class on this airline due to the typically smaller planes in its fleet. However, the service during the flight is pristine, providing customers with a comfortable and enjoyable flight.
Economy Class Facilities
The cabin offers a very simple service. Due to its short flight times, there's no entertainment or food and drink served on the flight.
Economy Class
The seating will vary depending on which aircraft you are flying in. However, on the Embraer ERJ 135, passengers are arranged in a 2-1 formation, allowing plenty of room between passengers and in front of other seats. On the Beechcraft 1900C VIP aircraft, seats are even roomier, with seats arranged in a 1-1 formation with each seat by the window, providing the maximum luxury seating arrangement when travelling as it is the most spacious and passengers can stretch out. In the Dornier DO 228-200, passengers can expect a 1-1 seat formation, allowing plenty of space between other passengers.
---
Alternative Airlines to Equaflight Services
Please click on the logos below to find out more about airlines that fly similar routes to Equaflight Services:
---

Equaflight Services Hub Airport
Pointe Noire Airport
Agostinho-Neto International Airport, known as Pointe Noire Airport, is an international airport serving Pointe-Noire in the Republic of Congo. It was inaugurated in 1934, with a new passenger terminal being developed, opening in 2006.
The airport also runs services for airlines such as Air France, Air Côte d'Ivoire and Royal Air Maroc. Trans Air Congo also is also based at the airport. Korongo Airlines and Congo Airways also operate flights to the Democratic Republic of the Congo.
---

Destinations
Equaflight Services offer scheduled flights to the following destinations:
Republic of the Congo
Brazzaville
Pointe-Noire
Gabon
Port-Gentil
In addition, under the Equajet brand, it flies to the following:
Angola
Luanda
---
Map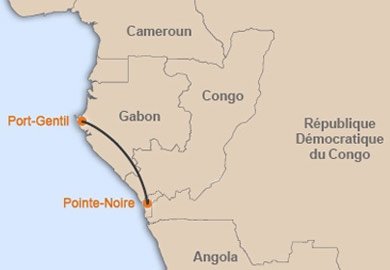 ---

Fleet
Equaflight Services currently operate their services from the following fleet:
ATR 42-300
ATR 42-320
Embraer ERJ 135
Beechcraft 1900C VIP
Dornier DO 228-200
---